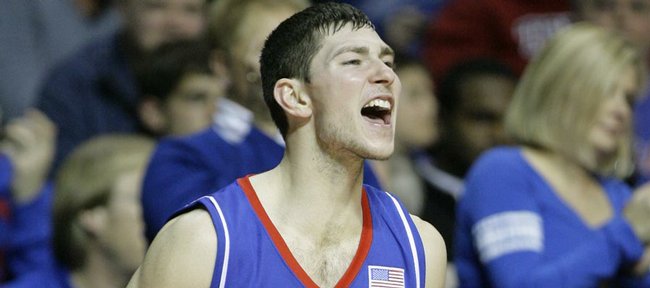 Tyrel Reed paid the price for being the only freshman on the 2003-04 Burlington High boys basketball team.
"Ask him the Cheez Whiz story from the state tournament. He'll remember," Cornell University senior guard Geoff Reeves said with a laugh.
Reed indeed has vivid memories of "a little prank my teammates played on me," prior to the Wildcats' 74-60 Class 3A state title victory over Minneapolis on March 4, 2004, in Hutchinson Sports Arena.
"Before the game, they held me down and put Cheez Whiz on me," recalled Reed, Kansas University's 6-foot-3, 185-pound junior combo guard.
"I couldn't do much about it. I probably weighed 150 pounds back then," added Reed, who scored 16 points — all in the second half — to Reeves' 10 in a game that capped Burlington's historic 26-0 season.
Tonight will be a walk down memory lane for Reed, Reeves and a batch of Burlington natives who will be in Allen Fieldhouse for a 7 p.m. matchup between Reed's Jayhawks (13-0) and Reeves' Big Red (12-2).
"It was in the local paper there, and everybody was like, 'Jan. 6, Jan. 6. We'll be there,''' Reeves said.
"It's rare two guys (from such a small town) play D-One, especially in the fieldhouse," added Reeves, who has 18 tickets for family members and friends. His mom told him the local Rotary Club purchased 50 tickets.
Of course, there's a good chance most of those individuals are KU fans.
"For me, it's just another game. I'm fortunate enough to be close enough to home to get family to all the games," Reed said. "I'm sure he's excited to come back home to Kansas, be able to play in front of a lot of fans who know who he really is. It's going to be a fun game."
Reeves — he has started and come off the bench in his Cornell career — averages 6.9 points per game off 47.8 three-point shooting (22 of 46). Key reserve Reed averages 4.6 ppg off 40.5 percent three-point shooting (15 of 37).
Reeves — who by the way is a triplet; his two sisters, Erica and Alyssa, played at Burlington High, as did Reed's sis, Lacie — was born and raised as a KU fan.
So was Reed.
"They were always the team to watch in Kansas. Everybody loved them," Reeves said. "I remember going to games back in middle school. I remember how great the atmosphere was. It'll be great to be on the court."
Big Red coach Steve Donahue, whose two-time defending Ivy League champs already have won games at Alabama, UMass, St. John's and LaSalle, said this game was scheduled with Reeves in mind.
"We love to get him home first and foremost, and two, play in one of the most historic arenas in all of sport," Donahue said.
Cornell, which has won 10 consecutive games, ranks second in the country in three-point field goal percentage (43.4). KU is third at 42.9.
"We've got to pressure the ball and not give open looks because everybody on that team can shoot it," Reed said.
"They can flat-out shoot it," KU coach Bill Self agreed. "They have six guys shooting a three-point percentage higher than Sherron (Collins), which is pretty remarkable because Sherron is shooting 41 percent from three."
Playing time: Self on Tuesday said it has been a challenge trying to find minutes for what he deemed his "deepest team (in seven seasons)."
"I think last year's team was easier to coach because everybody knew who we were going to play through. Everybody knew who was going to get the shots. Everybody was happy with who was going to get the shots," Self said.
"Now you have those same guys (Collins, Cole Aldrich), plus an improved cast and a freshman come in who is arguably one of the best two freshmen in the country. Now you are managing not only playing time, but you've also got to manage minds and egos. I'm proud of our guys. I believe they've given of themselves and are starting to get it. If we get it, we'll be a difficult team to guard in March."
Self talks to his players about playing time.
"I do challenge them, 'Put yourself in the coach's seat.' Our job is to get guys better and win games. It's not one of those equal-opportunity things. From this point forward, it certainly is not," Self said. "Not everybody is going to be happy every day. I know as a player I was not happy every day. That's life.
"We will play the guys who play the best in practice and those that maybe don't play as well in the game may not get as long an opportunity to prove themselves because we've got guys champing at the bit."
Collins a finalist: KU's Collins is one of 20 finalists for the Bob Cousy Award, the Naismith Memorial Basketball Hall of Fame announced Tuesday. It is presented to college basketball's top point guard. Official Web site is www.cousyaward.com.
Cornell coach Donahue on tonight's game: "People here (in Ithaca, N.Y.) wonder what to do against Kansas. I don't think there's a formula to beat Kansas. I'm good friends with Fran Dunphy (Temple coach who suffered 84-52 defeat to KU on Saturday). I know what they tried to do.
"They have a little chip on their shoulder. Sherron and Cole want to get back where they were the year prior. You combine them with a wealth of young players, and you have another great team."
His Big Red team will not back down.
"From Day One when they won the league as sophomores, I was amazed at their poise and confidence. You'll see it in our team. Whether we're good enough to beat a team like Kansas is another story. You'll see intelligence," Donahue said.
More like this story on KUsports.com