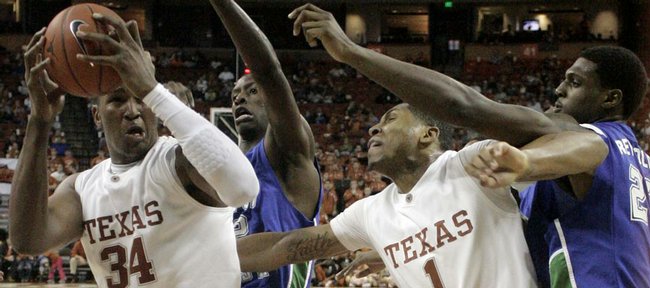 Austin, Texas — It's not very often a coach calls a victory a "huge step backward."
Texas coach Rick Barnes was disappointed, though, watching his No. 2 Longhorns stumble and misfire their way through a 76-70 victory over scrappy Texas A&M-Corpus; Christi on Saturday.
"I don't think at any point in time I thought we were going to lose that game, it was just really disappointing," Barnes said. "We took a huge step backward. Lack of effort, lack of concentration."
Harsh words for a team off to one of the best starts in school history. Texas (13-0) had been impressive through the first six weeks of the season, winning the first 12 games by at least 11 points, including big victories over North Carolina and Michigan State.
With that run, Texas was probably expecting to cruise right into Big 12 play.
Instead, the Longhorns can expect some tough practices and more stern comments from Barnes after shooting 35 percent and getting outrebounded, 47-37, against an opponent that should have been the latest blowout victim.
If not for 25 turnovers, the Islanders (5-7) might have had a chance to pull off the upset.
"We played terrible. Point blank," UT senior forward Dexter Pittman said. "We're better than that."
Pittman scored 18 points, and Jordan Hamilton scored 17, but the rest of the Longhorns were targets of Barnes' criticism.
Even Damion James, who got his fourth consecutive double-double with 14 points and 10 rebounds, left too many boards for the taking, Barnes said.
Kevin Palmer scored 28 for Texas A&M-Corpus; Christi (5-7), which cut the lead to 74-68 with 36 seconds left before Hamilton made two free throws.
"They're used to beating people by double digits. We stayed with them the whole time," Islanders forward Demond Watt said. "The turnovers killed us. If we cut down on those, we might have pulled out this game."
Texas started slow and struggled to shoot the entire game. Freshman guard Avery Bradley went 0-for-8 from the field.
More like this story on KUsports.com