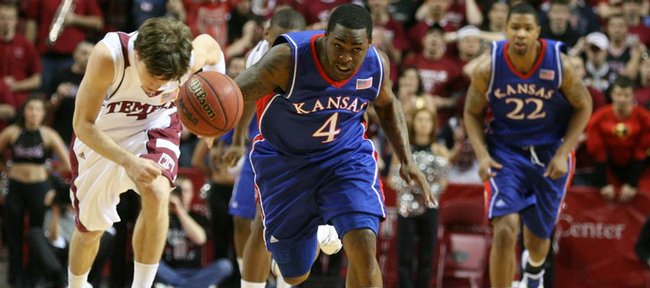 Philadelphia — Now that looked like the No. 1 team in the nation that tore into the Liacouras Center and blitzed Temple, ranked 18th, 84-52, Saturday evening.
Playing in front of a split-loyalty crowd of 10,206, Kansas University put on its best show of the season, dominating on offense, defense and in transition.
Afterward, Sherron Collins talked about how nice it is to play with so much talent. He indicated improved teammates and new ones have done so much to relieve pressure on him and co-star Cole Aldrich, but on a day Collins played a near-perfect game, he got that analysis a little backward.
Clearly, it was Collins and Aldrich who took the burden off teammates less experienced in the challenge of playing a big game on the road. Collins scored KU's first seven points, on a steal and layup, a jumper and a deep three-pointer. Aldrich dominated the boards and intimidated the Owls into settling for jumpers.
For all the improvements throughout the roster, one thing hasn't changed from last season: Collins and Aldrich remain the Jayhawks' best, most important players.
"That's what you've got to do in order to get confidence on the road is have your best players play good early, and it takes the lid off of it for everybody else," Kansas coach Bill Self said of Collins' quick start. "... For a team that has two preseason All-Americans to come in and give of themselves because it's best for the team I think makes a pretty strong statement."
Self called his team's effort in a 30-point victory against Belmont "soft," and Collins, one of the farthest-from-soft players in Kansas basketball history, made sure his team personified toughness against Temple.
"I just had to get back to being myself," Collins said. "Coach told me I wasn't being aggressive enough, so I just got back to being myself."
For Collins, aggressive means penetrating to break down the defense. It means pressuring the ball and the passing lanes at the other end. It means giving the big man a deep target for an outlet pass and flying after receiving it. It doesn't necessarily mean putting up a lot of shots. Collins attempted just nine field goals, made six and scored 14 points to go with four assists and three steals. He did not commit a turnover.
Collins sometimes seeks reasons to play with a chip on his shoulder, so when Temple became a fashionable upset pick, he said that made him eager to turn this into a statement game for the nation.
"We were on the losing radar all day, everybody's losing radar," Collins said. "It was our first true road game (forgetting UCLA). Most people had us on their losing radar. We don't take that well."
No easy puzzle to solve for a defense on any day, Collins' chipped shoulder helped him to put Temple in scramble mode.
"That mixing of quickness and strength is definitely an asset for him," Temple guard Ryan Brooks said. "We play against some quick guards, but that strength is what makes him different. That strength is what helps him get to the basket in traffic."
Extraordinary depth definitely is a strength for Kansas, but it's largely the dynamic duo of Collins and Aldrich that makes this team worthy again of a No. 1 ranking.
More like this story on KUsports.com