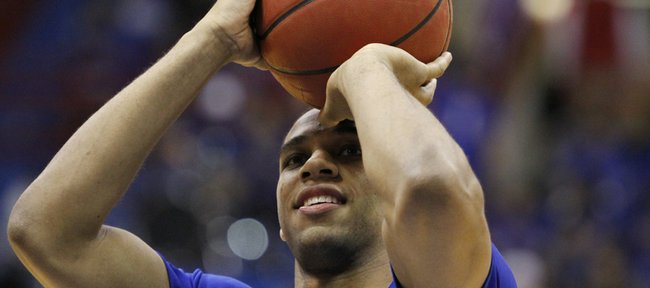 Stillwater, Okla. — Freshman Xavier Henry, who led Kansas University's basketball team to a rousing victory over Oklahoma on Monday, today goes for a season sweep of Big 12 teams from his home state.
"It'll be fun," Oklahoma City native Henry said of a 3 p.m. clash against Oklahoma State at sold-out Gallagher-Iba Arena. "It'll still be just another game, but this time it'll be in Oklahoma. I sent a few tickets to some family and friends.
"I know the arena. I've been to a couple games there as a kid. It's crazy in there," added Henry, who scored 23 points off 9-of-13 shooting and grabbed five rebounds in KU's 81-68 Big Monday victory over OU.
It marked the 6-foot-6 Henry's fifth-straight double-digit scoring outing and followed a 24-point effort against Colorado on Feb. 20.
"I enjoyed it just like every other win," Henry said. "I wasn't overly ecstatic because I prepared for that team the same as I prepared for K-State or Texas or anybody else in the conference or any regular game. I didn't bank more on that game than any other."
In fact, he has said repeatedly that Monday's result classified as just another win.
"People probably wanted me to be more happy for the win," the former Putnam City High standout said, "but I was happy as I could be. Not just because it was Oklahoma, but because we won another game and at least sealed a tie for the Big 12 championship. Now we've got to win at least one of the next three games so we'll have the Big 12 championship to ourselves."
The Jayhawks (27-1 overall, 13-0 Big 12) lead Kansas State (23-4, 10-3) by three games with three to play. KSU, which travels to Allen Fieldhouse on Wednesday night, plays host to Missouri (21-7, 9-4) at 7 tonight in Bramlage Coliseum.
The above-mentioned teams are headed to the 2010 NCAA Tournament. A win today would take the Cowboys (19-8, 7-6) off the bubble and into the Big Dance.
"It would definitely assure them that," KU coach Bill Self said. "From a sleepless-night standpoint, I think everybody (at OSU) would be able to rest comfortably knowing they had knocked us off and solidified their bid."
The Cowboys' hopes of winning likely rest on the shoulders of James Anderson. The 6-foot-6, 210-pound junior from Junction City, Ark., averages a Big 12-best 22.5 points (off 46.9 percent shooting) and 6.1 rebounds per game.
"He has a great chance to be a player in the league," Self said of Anderson, who ranks fifth on OSU's all-time scoring charts — 20 points behind fourth-place Desmond Mason.
"He's a great talent, a great scorer. He can score in the post, off the bounce, off the catch. He has great range and a great in-between game," Self added.
Anderson, who has cashed 35.3 percent of his threes (59 of 166), erupted for a season-high 31 points three times — against Missouri, Oklahoma and Baylor. He had 30 points against Kansas State.
"He does everything well," said KU junior Brady Morningstar, who, along with Marcus Morris, figures to guard Anderson today. "He's probably a lottery pick. He can do it all, both inside, outside."
Anderson leads all active Big 12 scorers in career 30-point games (nine) and 20-point outings (38). He's a free-throw-shooting machine, having hit 176 of 219 for 80.4 percent.
"He's the most coachable player I've ever coached," OSU coach Travis Ford told the Daily Oklahoman. "He's got a great attitude every single day. His teammates love him. And he can back it up on the court. He can drive it, shoot threes, and he's the best defender on our team."
Pundits are calling Anderson one of the greats in OSU history. That's high praise, considering the school has produced Byron Houston, Richard Dumas, Bryant Reeves, John Starks, Adrian Peterson, Randy Rutherford, Joey and Stephen Graham, Bob Mattick, Tony Allen and Bob Kurland, the game's first 7-footer who played for the Cowboys' (then known as the Aggies') 1945 and '46 NCAA title teams.
"Absolutely. He has to be considered one of the best," Ford told the Oklahoman.
"It'd be a great honor if I could be in that conversation," Anderson said. "I'm just playing. All I'm thinking about is this team and whatever I can do to help us get to the tournament. That's my whole focus."
More like this story on KUsports.com