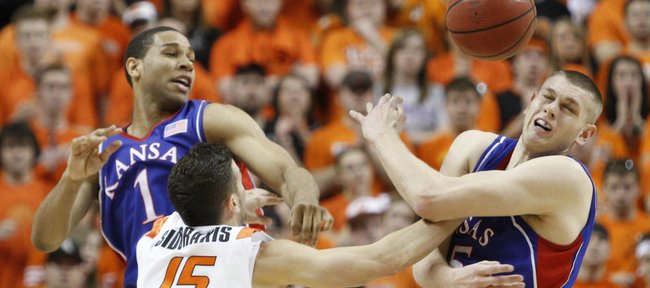 KU scoring — Collins 22, Xavier Henry 17, Aldrich 11, Marcus Morris 10, Taylor 8, Markieff Morris 6, Reed 3.
KU was 27-for-58 from the floor (46.6 percent), 8-for-20 from three (40 percent) and 15-for-23 from the free-throw line (65.2 percent).
OSU was 32-for-53 from the floor (60.4 percent), 10-for-19 from three (52.6 percent) and 11-for-17 from the free-throw line (64.7 percent).
OSU out-rebounded KU, 36-26. OSU had 16 turnovers, whlie KU had 12.
James Anderson finished with 27 points on 9-for-19 shooting.
FINAL: OSU wins, 85-77
Muonelo makes the second free throw, and Xavier follows with a long three to cut the lead to six.
Anderson is fouled in the frontcourt, but he only makes one of two.
Taylor drives on the next possession, but his shot is blocked. The KU coaches clamor for a foul, but none is called.
Anderson is fouled again, and he makes both this time.
Collins airballs a three, and that should about do it. OSU fans rise to their feet, sensing the upset is near.
Pilgrim adds an uncontested layup, and Collins follows with a three. Self calls timeout.
OSU finishes off its victory, and students flood the court, amkgin it a sea of orange.
The Cowboys win, 85-77.
OSU 79/KU 71 — 1:18 left in game
Anderson and Collins trade two free throws. KU can't afford to trade.
KU gets a steal, and Collins finishes on the other end for a layup. KU cuts the deficit to nine for the first time since the first half.
Muonelo makes one of two at the line. OSU is called for a cheap foul, and Xavier Henry makes two free throws. KU cuts the lead to eight with 2:36 left.
KU's attacking defense forces OSU into another turnover, as a pass sails into the stands. Travis Ford puts both hands on his head.
Xavier misses a shot inside, and OSU gets points off the runout, as Anderson slams home an uncontested attempt.
Collins drives and puts in a layup, but time is running out for KU.
Muonelo misses the first of two free throws. Ford calls timeout.
OSU 74/KU 63 — 3:42 left in game
Lots of fouls and lots of free throws lately, and that benefits KU. The Jayhawks want to lengthen this game, and the best way to do that is by scoring without having any time run off the clock.
KU gets a steal off its full-court press, but once again, Collins turns it over with a chance to build momentum. This time, he's called for a carry.
Xavier Henry has a three-pointer blocked, but he comes down with the rebound and puts in a tough 15-footer.
KU still can't get a stop. Muonelo drives into the lane and right by Xavier in the middle for a layup.
Collins answers with a deep three, and Self calls timeout with KU down 11.
Anderson is fouled by Marcus Morris, and that's Marcus' fifth foul. That's a crushing blow for KU.
OSU 69/KU 55 — 6:45 left in game
OSU milks the shot clock, and Anderson delivers at the end with a drive in the lane and shot off the glass.
Reed answers for KU, making a baseline shot with a foul — Page's fourth. The Jayhawks need to get stops, though.
It doesn't happen on the next possession. OSU beats the press, and Aldrich is forced to goaltend inside.
KU pushes it, and once again, Xavier Henry drives to the middle of the lane to put in an easy two.
Aldrich gets it deep in the lane, but he misses the short hook. That's a huge miss for KU, which once again was on the verge of grabbing some momentum.
Taylor hits a three from the top against OSU's 2-3 zone. Nice confidence shown there from the sophomore.
KU once again blows a chance at momentum. The Jayhawks get a stop, but Taylor misses a layup in transtion. On the other end, Page is left open for a three that swishes through.
Xavier follows with a long two, but Page squirts free again, popping in another three-pointer. Page is 4-for-4 from three.
OSU 57/KU 42 — 11:31 left in game
Muonelo hits a three out of the timeout. OSU back up 19.
KU pushes the pace, though, and Xavier Henry drives by his man to get an easy two in the lane.
Anderson misses a three, and Taylor rattles in a baseline floater on the other end. KU makes up one point with Aldrich and Collins on the bench.
OSU 54/KU 38 — 13:37 left in game
Marcus Morris makes one of two free throws, but OSU can't keep possession. Marcus eventuallly comes up with the rebound, and he takes a dribble before putting in an emphatic, one-handed dunk.
KU presses, and Aldrich races up the court to steal a pass. KU doesn't score off the possession, but the Jayhawks are showing some life.
KU needs a shot to go down but can't get it. Collins misses a layup, and Taylor misses a floater in the lane. OSU coach Travis Ford calls timeout to try to get his team re-focused. KU missed an opportunity to grab momentum there.
OSU 54/KU 35 — 15:42 left in game
Muonelo puts in his first shot of the second half — a 19-footer. Maybe OSU can keep up its red-hot shooting.
KU races back up the court, and Collins swishes a three. It looks like the Jayhawks are going to want to pick up the pace in the second half.
Matt Pilgrim puts in a stickback jam, and Collins shows horrible shot selection on the other end, putting up a fallaway jumper that bounces away.
Just when all looks lost, Collins scoops to Aldrich, who somehow floats in a short shot inside while getting fouled. Aldrich pumps his fist to show some emotion, and his free throw trims OSU's lead to 16.
Collins shows some emotion, but it's directed at the wrong place. After getting called for a charge, he screams at the official. He then starts to hand the ball to that official before snatching it away at the last second to throw it to another official. Collins is walking on thin ice there, and the KU coaches try to settle him down.
Another three from Anderson. KU has no answer for him today.
KU scoring — Aldrich 8, Collins 7, Markieff Morris 6, Marcus Morris 5, Xavier Henry 3.
KU was 11-for-28 from the floor (39.3 percent), 2-for-10 from three (20 percent) and 5-for-11 from the free-throw line (45.5 percent).
OSU was 19-for-31 from the floor (61.3 percent), 6-for-11 from three (54.5 percent) and 1-for-2 from the free-throw line (50 percent).
Both teams had nine first-half turnovers. OSU had 20 rebounds to KU's 15.
James Anderson had 15 first-half points on 6-for-11 shooting.
Halftime thoughts
• KU needs to hit threes to make a comeback, but the Jayhawks might be wise to look inside first. Aldrich, Marcus and Markieff combined to make 8 of their 12 shots in the first half.
• KU needs better shooting from Collins, but more importantly, it needs more fire from its leader.
• The Jayhawks will get a boost when Marcus Morris re-enters the lineup after getting in foul trouble. I wouldn't be surprised to see him go the rest of the way for KU.
• So who should guard Anderson? I'm still thinking Marcus is the best option, followed by Morningstar. I'm not sure if anyone could have guarded him on a couple of those shots, though.
OSU 45/KU 29 — Halftime
Not much Morningstar could do about that Anderson attempt. From 19 feet, Anderson swishes a baseline shot with Morningstar right in his face.
Anderson dishes to Moses for an emphatic dunk, but Collins follows with a three for KU. The Jayhawks also shot quickly enough to get a two-for-one at the end of the half.
Anderson misses, and Collins frees up Xavier Henry for a three at the buzzer. The wide-open try hits back iron, though, and KU misses an oppourtnity to make a mini-run at the end of the half. Xavier slaps his hands together in frustration.
OSU takes a 45-29 lead into the break.
OSU 41/KU 24 — 2:38 left in 1st half
Collins misses a forced three at the end of the shot clock. He's 0-for-5 to start this game.
Collins misses the front end of a one-and-one, but Aldrich is there for the rebound and stickback. Where would KU be in this game without second-chance points?
Anderson makes it look easy, going around Xavier for a layup off the glass.
Marcus Morris gets his second foul on an offensive rebound attempt. That's a huge whistle, as he'll have to sit out the rest of the half.
Aldrich has a shot blocked inside, and in transition, Anderson swishes a three from the corner, sticking out his tongue after the shot goes through. That's 13 points for Anderson on 5-for-9 shooting, and Self uses his third timeout. OSU has its largest lead at 36-20.
Collins misses another open three. Not only is he not hitting shots, he isn't providing the normal emotional spark that he usually brings to the Jayhawks.
Collins is fouled, but he misses the front end of the one-and-one. Collins is 0-for-6 from the floor and 0-for-2 from the free-throw line.
Collins is fouled on a drive, and he breaks his drought, making both free throws.
Anderson creates for OSU on the other end, driving by Morningstar before finding Marshall Moses for a layup.
Collins puts in his first field goal, a shot in the lane, but Muonelo answers with an open three from the corner. OSU is up 17. KU's largest deficit this season before this game was 11 at Nebraska.
OSU 29/KU 17 — 7:59 left in 1st half
Collins drives to the lane and kicks out to an open Morningstar, but the KU junior misses the open three. He's now 0-for-8 from three in his last five games.
A good double-team results in a steal for KU, but Aldrich leads Xavier Henry too far in a pass up the court. Henry can't chase it down, and that's turnover No. 7 already for KU.
Aldrich breaks a slump for KU, pivoting a few times before putting in a layup while leaning toward the rim. Marcus Morris follows with a layup on the next possession with a foul, and KU has settled down a bit on the offensive end.
Collins tries a jump pass to the perimeter, and his pass is stolen. Collins, Xavier and Aldrich all have two turnovers each.
Marcus Morris hits an open shot with his foot on the line, and even though the Jayhawks have had problems with giveaways, they have been getting pretty good shots off againt the Cowboys. Defensively, though, KU hasn't performed well so far, as OSU is shooting 55.6 percent (10-for-18).
KU is especially struggling inside, where OSU has made eight of its 11 shots (72.7 percent). Remember, opponents have shot around 38.7 percent against the Jayhawks from two-point range in Big 12 play.
Xavier gets caught in a screen again, and Anderson hits a three. How long will this continue before KU switches to someone else defensively?
In transition, Page pulls up for a deep three that swishes through. Just like that, OSU is up 12 again.
OSU 21/KU 11 — 11:44 left in 1st half
Tyrel Reed guards Anderson out of the timeout, and he's late getting around a screen. That half-second is all that Anderson needs, as he swishes a three from up top.
In transition, no one for KU steps up to take Page, and he gladly steps up for the open three-pointer. Big mistake for KU, as it's no secret that the short guy is in there for his shooting prowess. Timeout Self, as Collins checks back in for KU.
Henry misses a long two, but Markieff Morris is there for the rebound and stickback.
Markieff Morris tries to dribble in the lane, and he has it stolen away. On the other end, Xavier Henry does his best bull-fighting impression, moving out of the way as the Obi Muonelo came toward him. Muonelo follows with the easy layup.
Markieff hits a three, but it's negated because of a three-second-in-the-lane call. Muonelo follows with a 15-footer over a defender, and Self uses another timeout to try to break up OSU's 12-2 run.
Collins misses a three, but Marcus' hard work under the basket forces Muonelo's second foul. The Cowboys aren't very deep, so that could be a big whistle.
KU 9/OSU 9 — 14:18 left in 1st half
Great start for KU, as Tyshawn Taylor swipes the ball away from OSU's Keiton Page. Taylor drops the ball to Marcus Morris on the break, and he's fouled hard. Marcus misses both free throws, though.
KU starts the game with Xavier Henry on Anderson. The second possession, Henry loses Anderson in a bunch of screens, and Anderson sinks a long two. I'm surprised Marcus isn't guarding Anderson.
Cole Aldrich gets two on an offensive rebound tip. KU is one of the best in the Big 12 at offensive rebounding, and OSU is one the best in the league in defensive rebounding. That will be an interesting aspect to watch.
Xavier Henry buries a three, but KU has been turnover-prone so far. Collins throws a pass away, and Page takes it the distance for a layup and foul. KU has three turnovers in just over three minutes.
Marcus Morris settles things for KU, hitting a 17-foot jumper for KU.
Aldrich misses a turn-around. He looks a bit gassed, as the teams have gone a long time without a media timeout.
3:06 p.m.
In the pregame introductions, James Anderson was introduced as "Big Game James Anderson." This would be the game to show it.
2:18 p.m.
Our pregame chat is open. I'll be talking there until gametime.
Just a reminder to use the "Submit a question" link to post a score prediction, to submit a comment or to ask a question.
Today's random question: Who will be KU's most improved player next season?
2 p.m.
Welcome back to the Newell Post Live, coming to you from Gallagher-Iba Arena in Stillwater, Okla., where the No. 1 Kansas Jayhawks are getting set to take on the Oklahoma State Cowboys.
I know there were earlier reports that OSU's best player, James Anderson, might not play today because of back spasms. I can tell you that, right now, I'm watching him shoot three-pointers in his warmup gear as part of the Cowboys' pre-game activities. My bet is that he'll play today.
Also of note: KU's C.J. Henry is going through pre-game drills in his warmup gear. We haven't seen that in a few games from him. If this game gets out of hand either way, I'm guessing we might see him.
Please be sure to vote in the poll on the left and also use the hashtag #kubball to have your Tweets appear in the grid on the left side of the page.