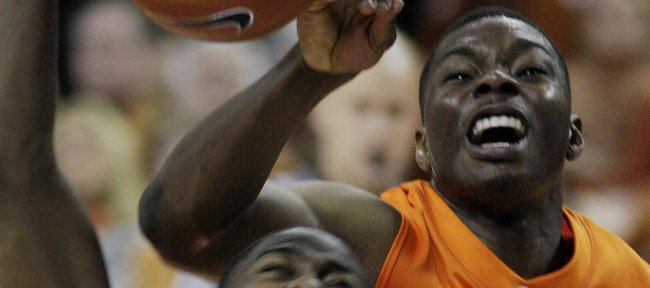 Stillwater, Okla. — Obi Muonelo has played in some hostile arenas in his four seasons at Oklahoma State.
The toughest?
"I would probably say Allen Fieldhouse," said Muonelo, a 6-foot-5, 220-pound senior guard from Edmond, Okla.
He has lost a pair of games to KU in Lawrence — 78-67 last season and 87-57 his freshman campaign.
"It's just so compact and so close. Everything seems like it's right on top of you, kind of similar to Gallagher (Iba Arena in Stillwater, Okla.). Allen Fieldhouse was crazy. It's difficult to hear when you're in there."
Barring an appearance in the 2010 Big 12/and or NCAA tournaments, his final OSU-KU game will tip off at 3 p.m. today in Gallagher-Iba Arena, site of a 61-60 Cowboy victory his sophomore season.
A starter, Muonelo takes a 13.3 scoring, 5.3 rebound average into the contest. He's a 43.5 percent shooter, yet a 44.5 percent marksman from three-point range (65 of 146). Muonelo's overall three-point percentage is third best in the league, trailing only Nebraska's Eshaunte Jones, who has attempted just 84 treys, and Missouri's Marcus Denmon, who has hoisted 143.
"When we do our shooting drills, the best shooter (on OSU team) is probably Keiton. He can shoot for a long period of time and make a lot of shots. We'd see how many threes we can make in a minute, and he'll make like 92 or 93 threes. He's an incredible shooter," Muonelo said of Keiton Page, a 5-9 sophomore guard from Pawnee, Okla.
Page has cashed 36.5 percent of his threes (58 of 159). James Anderson has hoisted the most of any Cowboy, making 59 of 166 for 35.5 percent.
Muonelo is known as one of the hardest workers in the conference.
He has been known to arrive at the gym as early as 4 a.m. to put up shots.
"I've been doing it since high school," Muonelo said. "You've got to go to sleep around 10, so you get at least six hours of sleep. If you go to sleep early, you wake up early. Early to bed, early to rise, makes you healthy, wealthy and wise," he added with a laugh.
Seriously, not many college students get up that early.
"It was something I just learned to do. My brother and I read books on Michael Jordan and Larry Bird. That's why I started doing it, because that's what they did."
He remembers the messages in the books well.
"It's Michael Jordan's biography and Larry Bird's biography," Muonelo said. "Larry Bird used to get up in the morning and shoot 100 free throws every morning. Mentally, what that does is, you're at the gym while everyone else sleeps, and when you get on the free-throw line at games, you remember that. That's why I started doing it in high school. I've just continued it up to this point, and I've been successful."
This year, Muonelo has made just 53 of 88 free throws for 60.2 percent.
Bubble talk
Oklahoma State (19-8, 7-6) is considered an NCAA bubble team right now.
"Everybody knows we're going to see the ESPN talk, but coach (Travis) Ford tells us not to concentrate on that," Page told the Daily Oklahoman. "He keeps it quiet."
Ford said: "Not once have we talked about anything remotely, because it's not about that with this team. This time last year, we talked about it every day with our team — every day. We talked about where we were, what we might need to do and how it would be great to make the tournament because you had guys who had never made it sitting in that locker room last year."
Tradition-rich schools
Bill Self played point guard four years and was an assistant coach seven seasons at Oklahoma State. He's in his seventh season as head coach at Kansas.
Pinch him. He must be dreaming.
"Two of the most tradition-rich schools in the league are Kansas and Oklahoma State," said hoops historian Self, whose current employer has won five national championships and been to 13 Final Fours. "Oklahoma State won a couple national championships (1945, 46) and has been to (six) Final Fours.
"You talk about Dr. Allen and Mr. Iba," he said of legendary coaches Phog Allen of KU and Henry Iba of OSU. "Oklahoma State's fans see it as ours do, too. They have great respect for the game (at both places)."
More like this story on KUsports.com