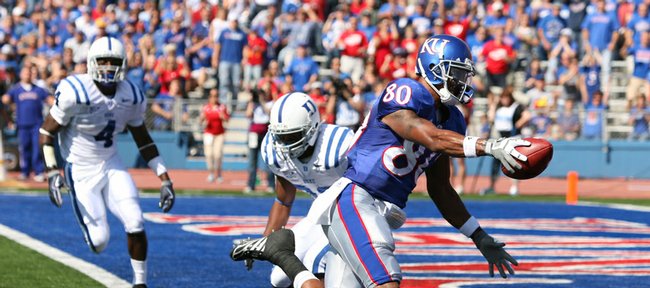 When former Kansas University wide receiver Dezmon Briscoe declared himself eligible for the 2010 NFL Draft, he knew there were aspects of his game he would have to improve.
So without hesitating, Briscoe's agent got him in touch with former Olympic sprinter Michael Johnson, a man known the world over for his wheels. During the time he and Johnson spent training together, Briscoe learned more than he thought was possible about the proper way to run.
"He's definitely helped me a whole lot with my starts, as far as getting my elbows bent and driving my knees forward and keeping my torso straight and a bunch of stuff like that that I didn't know about," said Briscoe, who spent the days leading up to the NFL combine working out in McKinney, Texas.
The idea was not only to improve Briscoe's burst off the line of scrimmage but also to bring down his 40-yard dash time, the one measurable that, year after year, seems to impact directly the order in which wide receivers are selected in the draft. A year ago, Maryland wideout Darrius Heyward-Bay wowed scouts with the second-fastest 40 time (4.3 seconds) among receivers in combine history. One month later, the Oakland Raiders selected Heyward-Bay seventh overall, ahead of higher-profile wideouts Michael Crabtree (Texas Tech), Jeremy Maclin (Missouri) and Percy Harvin (Florida).
Briscoe, one of the most accomplished wideouts in KU history, said his current best 40-yard dash time was in the "high 4.5's."
"The area I've targeted the most is probably my 40," Briscoe said. "You have to work harder because basically it's your job now, and you're competing with everybody else to be a higher draft pick, so I've definitely been working hard. I think it's been paying off."
The 6-foot-3, 202-pound playmaker from Dallas said he did not challenge Johnson to a race during the workouts.
"It's weird. A couple of other guys who are down here training with me, we sit back and joke around about it," Briscoe said. "I mean, it's just crazy being around one of the fastest dudes in the world."
Briscoe and former KU teammate Kerry Meier will take part in the most popular portion of the NFL combine Sunday in Indianapolis, when receivers, running backs and quarterbacks go through a series of physical drills, including bench-press tests, 10-, 20- and 40-yard dashes, vertical-jump tests, broad-jump tests and agility drills, such as the 20- and 60-yard shuttle drills, and cone drills, which measure lateral quickness and body control.
While Briscoe prepared with the help of a world-class athlete, Meier solicited assistance from someone a little closer to home.
"First and foremost, I went to my older brother (Shad) because he's been through the stuff that I'm going through," said Meier, whose brother was a tight end at Kansas State and played six seasons in the NFL with the Tennessee Titans and New Orleans Saints. "When I found out I was going to the combine, he was the first person I called. He gave me every little thing he could remember and every little extra tip that could help me out."
Meier said his brother's memories of his own course through the combine painted a picture of a place where players did whatever they could to sell themselves to teams. Whether that meant outworking others in drills or schmoozing with agents during down time, Shad told his younger brother to be prepared for it. Meier also said that Shad encouraged him to pay attention to every detail.
"The part that kind of blows my mind is that in all of these drills, there's so many rules you have to follow," Meier said. "You can't put your hand down here, you can't put your other hand down there. It's not always stuff you're going to use when you're playing football."
Meier will be wearing bib number WO25 and will be in group No. 5. Briscoe will wear bib number WO08 and will be in group No. 4. Coverage of the combine can be seen on the NFL Network, Sunflower Broadband channel 154. Sunday's action will air from 10 a.m. to 6 p.m.
Kansas safety Darrell Stuckey will get his shot at the drills Tuesday. Stuckey will wear bib number DB46 and will work in group No. 11.
More like this story on KUsports.com