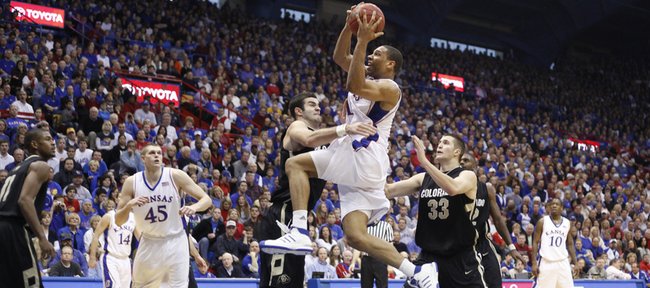 Kansas freshman Xavier Henry was selected as the Big 12 newcomer of the week, the conference announced Monday.
Henry, a 6-foot-6 guard from Oklahoma City, Okla., averaged 18 points and six rebounds in the Jayhawks' victories over Texas A&M; and Colorado last week. He made 12 of 25 shots from the floor (48 percent), was 4-for-8 from three-point range (50 percent) and hit eight of 11 free throws (72.7 percent).
Henry is averaging 16.8 points in KU's last four games.
Henry has won Big 12 newcomer of the week three times this season, as he also took the honor on Dec. 7 and Dec. 14.
Kansas State's Denis Clemente and Oklahoma State's James Anderson were selected as the Big 12 co-players of the week.