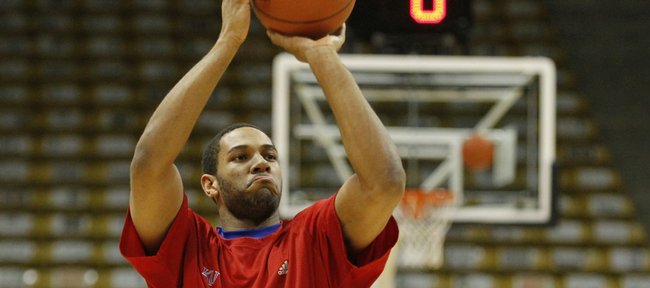 Putnam City, Okla., High graduate Xavier Henry — whose mom, dad and aunt played basketball at Kansas University — never followed the fortunes of his in-state Oklahoma Sooners closely.
"I didn't like OU, so whenever somebody beat them, I wasn't ecstatic or like, 'Oh man, my team got beat.' It really wasn't a big deal to me," Henry said.
The KU freshman guard maintains there's no extra incentive heading into today's 8 p.m. clash against the Sooners in Allen Fieldhouse.
"I always knew what day that game was on, so I'll just say that," Henry said. "I won't say I look forward to this game as opposed to any other team, (but) I've always known it was on Monday."
Henry — he has played against the likes of OU's Tommy Mason-Griffin, Tiny Gallon, Willie Warren and Steven Pledger in the past — said the incentive tonight is to wrap up at least a share of the Big 12 Conference title. KU leads Kansas State by three games with four to play.
"It doesn't go to playing the state school. It goes to the league-title part of it," Henry said. "I'm thinking about going undefeated and just winning every game we play from now on."
KU enters 26-1 overall and 12-0 in the Big 12; OU is 13-13, 4-8.
"We've got to do everything we can to get ready for an Oklahoma team which hasn't had an unbelievable year, but they've got really good players, and they're very offensive-minded, maybe one of the best (offensive teams) in the league. So we're going to have to guard better," KU coach Bill Self said.
OU sophomore standout Willie Warren (16.3 ppg) sat out Saturday's 83-68 home loss to Kansas State because of an ankle sprain. Coach Jeff Capel told the Daily Oklahoman that Warren was "out indefinitely" after having an MRI taken on Friday.
The Sooners have double-digit scorers in Mason-Griffin (14.0), Tony Crocker (11.6), Gallon (10.1) and Cade Davis (10.0)
Last year revisited
KU junior Tyshawn Taylor scored a career-high 26 points in KU's 87-78 victory over OU last season in Norman, Okla.
"I remember feeling the same way that I felt tonight," Taylor said after scoring 17 points and dishing six assists in Saturday's 94-74 victory over Colorado. "Not really worrying about anything, just playing and being aggressive. I played pretty well."
Mum's the word
There's no official word whether there will be a trophy presentation if KU wins and stakes a claim to at least a tie for the league title tonight.
"We're much more worried about beating Oklahoma than we are about planning a ceremony," KU associate athletic director Jim Marchiony said Sunday night.
Trying to break the tie
KU senior point guard Sherron Collins today will be shooting for his 124th career victory, which would be most in a four-year span in KU history. Like Collins, C.B. McGrath, Raef LaFrentz and Billy Thomas won 123 games (1995 to '98).
As a side note, Collins, who has missed six games in his career (all victories), has 117 victories in games in which he has played. Thomas, who missed three games in his career (all victories), has 120. LaFrentz, who missed nine games (seven victories), has 116 wins in games he entered. McGrath had a batch of did not play/coach's decision in his career.
KU junior Brady Morningstar, who also has 123 wins in four years, did not enter any games in his 2007-08 red-shirt season.
Stats, facts
KU has won five straight games versus OU and nine straight in Allen Fieldhouse. ... Since the inception of the Big 12 Conference, Kansas is 13-4 against Oklahoma — 11-2 in regular-season play and 2-2 in the Big 12 tournament. ... Bill Self is 6-3 versus the Sooners; Jeff Capel is 0-4 against the Jayhawks.
More like this story on KUsports.com