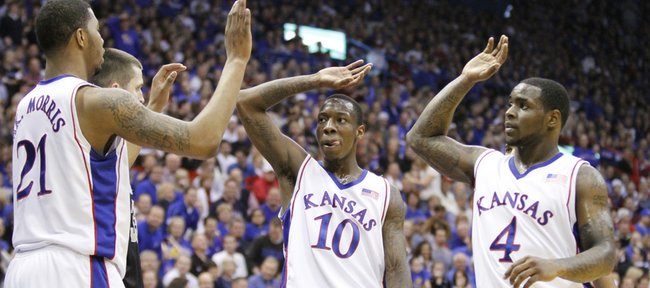 KU defeats CU, 94-74
Taylor turns it over, and Robinson follows with a hard foul. Self checks in four new players from the bench, including Jeff Withey, Conner Teahan and Johnson.
Robinson scraps for an offensive board, and after losing it for a second, he sticks a layup in. That's a positive play that he needed badly.
Robinson tries a crazy move inside and ends up forcing it up at the bottom of his jump. He tries to make something happen every single time he touches it, which is sometimes more a curse than a blessing.
Jordan Juenemann checks in for his first action in a long time. His last minute came in the Temple game.
Bzdelik refuses to check out its starters. This final score will be closer than the game actually was.
Johnson drives to the lane and puts in a layup off the glass.
The Jayhawks win by 20, just like a smart guy on the Cram Session predicted.
KU 90/CU 66 — 3:17 left in game
Markieff Morris with a nice move in the post, falling to his back shoulder for a fadeaway off the glass and in.
Aldrich is double-teamed in the post and breaks it to perfection. He takes a couple dribbles back, analyzes the floor, then finds a cutting Xavier Henry for a layup.
Collins with another open three-point attempt, and he puts it in. His line won't look pretty tomorrow, but his strong finish will make it look better than it was.
Robinson grabs an offensive board, but he blows the layup. On the other end, Xavier Henry has to guard two players on the perimeter, and Levi Knutson puts in a three from the corner. "That's you!" Aldrich screams at Robinson after the shot goes through. Self drops his head on the sideline, shaking it from side to side. Even though Robinson had flashes earlier in the season, he's been a liability lately.
KU 81/CU 57 — 7:16 left in game
Reed falls down trying to front his man in the post, but he pops back up quickly to come away with a steal. It turns into three points for KU, as Collins puts in an open three.
Reed forces another steal, this time knocking it away from Higgins. Collins misses a three, but Aldrich goes way above the rim to slam home the follow. Not sure how CU could miss the big man on the box out. Bzdelik calls timeout, perhaps to ask his players that very question.
KU 73/CU 55 — 10:44 left in game
Collins shows good vision on a drive, bouncing a pass to Xavier on a backdoor cut for an easy layup. KU just beat CU at its own game.
Wow, there's an NBA move from Xavier. He faked his man left, then drove right, driving to put in a left-handed layup with a foul. The CU defender was two steps behind Xavier on that move.
Everything's going right for Taylor in this one. He confidently spots up from 15 feet in transition and rattles in the jumper.
Another great play by Taylor with the shot clock winding down. He had an open look from three, but instead made one more pass, slinging it to the hot-shooting Xavier Henry for a three-point attempt that swished through. Self even smiled after that one, clapping his hands together and yelling out, "That a way. That a way."
Higgins tries a drive toward the rim, and Aldrich blocks it into the courtside seats. That's five blocks for Aldrich.
KU 62/CU 45 — 14:43 left in game
Taylor comes around a screen and recognizes he can beat his man to the basket. He does just that, putting in a layup while also getting bumped by Higgins. Taylor completes the three-point play.
KU breaks the press, and Morningstar lobs to Markieff Morris for an alley-oop lay-in. KU has a chance for 100 points if CU keeps up the frantic pace.
Taylor puts in another leaning layup, and KU steals the inbounds pass. Morningstar dishes to Markieff, who is fouled on a thunder dunk attempt. CU calls timeout, and the KU fans rise to their feet, mostly for the outstanding play of Taylor today (10 points, 4-for-5 shooting, four assists).
KU 55/CU 41 — 15:57 left in game
Nate Tomlinson loses control on a drive, and in frustration, he screams at the official right in front of me. Tomlinson was lucky to avoid a technical for that.
Aldrich elevates and straight-up stuffs Burks on a driving layup attempt. The next time down, though, Aldrich is whistled for a foul as Higgins puts in a bucket, and Aldrich slams the ball to the ground, turning his head to the side before screaming, "Bad [freaking] call!" to himself.
Not much defense to start the second half for either team. Taylor puts in a layup, and Markieff follows with a short shot. Relphorde puts in a jumper for CU. KU's lead is sticking at either 13 or 15.
Ill-advised shot for Collins, who forces up a double-pump attempt from 14 feet that comes up short. The interesting thing is, a few seconds earlier, he motioned for Taylor to settle down offensively, only to put up a wild shot of his own. Collins' shooting slump won't be broken in this game (2-for-8 so far).
KU scoring — X. Henry 12 (4-for-10 shooting), Aldrich 11 (5-for-6 shooting), Collins 7, Taylor 6, Marcus Morris 5, Markieff Morris 4, Reed 3.
KU was 18-for-34 from the floor (52.9 percent), 6-for-11 from three (54.5 percent) and 6-for-10 from the free-throw line (60 percent).
CU was 11-for-28 from the floor (39.3 percent), 3-for-8 from three (37.5 percent) and 9-for-10 from the free-throw line (90 percent).
KU out-rebounded CU, 22-14, in the first half. Both teams had eight first-half turnovers.
Halftime thoughts
• I'm not sure Self could have asked for a better line for Taylor. Six points on 2-for-3 shooting, four assists, two rebounds and one block with just one turnover. The guard played in control and within himself. So far, the starting switch has paid off for Self.
• A big key for KU has been taking care of business on the boards. In the first game between the two teams, CU was able to bring down a much higher percentage of rebounds than its season average. The rebounding numbers today (22-14 KU) are more in line with what we would expect statistically from the two teams.
• KU needs to avoid fouling CU, as the Buffaloes are 76.3 percent from the line this season. One of the only reasons CU has kept it this close was by getting to the free-throw line 10 times (and making nine of its tries there).
• That might have been the best we've seen Aldrich offensively this year. He looked confident and smooth with his hook shots, and there's not much CU can do to defend them.
KU 48/CU 34 — Halftime
Aldrich with a block, and it leads to a transition opportunity for KU. Collins rolls in the layup after a defender runs by, and the crowd shows a bit of life after a quiet stretch.
Xavier Henry knocks away a loose ball, and he dives headfirst into the CU bench trying to save it. He can't keep it from going out of bounds, but Self (and the KU fans) applaud the effort.
Collins picks up his second foul, and he joins Morningstar and Marcus Morris on the bench with two fouls.
KU breaks the press, and Markieff Morris finishes the play, throwing in a violent, one-handed slam. KU definitely looks like it has found its legs today.
Nice execution for KU on the last play of the half, as Markieff Morris hits a cutting Xavier Henry for a layup.
The Jayhawks take a 14-point lead into the break.
KU 41/CU 28 — 3:36 left in 1st half
Marcus Relphorde has a shot goal-tended, and that's CU's first field goal in 4 1/2 minutes.
Markieff Morris has shown some bounce in his step on the offensive boards. He grabs a three-point miss from Collins and finishes with a layup over a defender.
With the deficit so large, CU throws a full-court press in against KU. That had to be the last thing that CU coach Jeff Bzdelik wanted to do in this game, especially with the Buffaloes' ball-control style on offense.
Tyrel Reed gets an open three look, and he buries it. It's amazing how much better KU's offense looks when the Jayhawks hit 7 of 11 threes (64 percent).
After opening up a 21-point lead earlier, KU's lack of focus defensively allows CU to make a run. Dwight Thorne II and Burks hit jumpers, and Casey Crawford follows with an uncontested three. Self calls timeout following CU's quick 7-0 run.
KU 33/CU 14 — 7:46 left in 1st half
Taylor uses his quickness to drive by his man and get to the lane, and he draws attention before kicking out to Collins for a three that he swishes. That's a perfect example of where Taylor's presence in the game (and ability to get to the basket) could potentially help Collins get out of his recent funk.
Cory Higgins fires his pass directly to an official thinking it's his teammate, but the ref ducks out of the way and lets it go out of bounds. CU has failed at all sorts of funky passes in this one.
Aldrich with another nice hook shot off the glass. That shot has been money for him today over the shorter Buffaloes.
The next possession, Aldrich puts in another hook shot from the baseline. Aldrich now 5-for-6 from the floor.
Taylor slices through two defenders, putting in a leaner with a foul. The crowd gives the up-and-down Jayhawk some extra applause heading into the break, as he's playing one of his best games of the Big 12 season.
KU is currently on an 11-2 run.
KU 22/CU 13 — 10:52 left in 1st half
Taylor with another assist, this time a lob to Aldrich before the big man puts in a hook shot.
Xavier Henry breaks to the perimeter, and he swishes another three. I don't remember seeing a KU player better at hitting that kind of three-point shot — one where he runs out to the perimeter to catch a pass before turning all his momentum back to the basket for the long shot.
Colorado calls timeout. Remember, the Buffs fell into a deep hole against KU in Boulder as well.
Xavier misses his first three, but Aldrich breaks to the basket at the correct time, as the offensive rebound falls into his hands. He follows with the stickback, and he's already up to six points for KU.
KU with mass substitions, subbing in four players — including Elijah Johnson — to the lineup. Bill Self said a couple days ago that he wanted his guys fresh for this game, and it looks like he's following through to try to make that happen.
Nice execution by KU in the half-court set. Marcus Morris sets screen for Collins. Collins uses the screen, drawing a double-team. Collins zips a pass to Marcus. Marcus puts in short shot with a foul.
Marcus and Markieff Morris accidentally double-team a CU big man up top, leaving Dufault open under the basket for a layup. I heard Self across the court as he punched his first into an open hand: "What are you doing?"
KU 11/CU 7 — 15:50 left in 1st half
Tyshawn Taylor starts strong on KU's first possession, throwing a nice lob to Cole Aldrich for an easy layup.
Sherron Collins misses his first three, and he passes up his next open look, instead firing to the corner to Xavier Henry, who makes the three-pointer.
Collins gets all the way to the rim, but he stumbles a bit on his shot attempt and misses the layup try.
Xavier Henry puts in his second three, a guarded try from straight on. Aldrich can't get out to CU's Austin Dufault on the perimeter, though, and Dufault answers with a three of his own.
Taylor gets an open look from three, and he swishes it. Five points for Taylor already, and KU has made three of its four threes so far.
2:30 p.m.
Our pregame chat is open. I'll be talking there until gametime.
Just a reminder to use the "Submit a question" link to post a score prediction, to submit a comment or to ask a question.
Today's random question: Do you watch figure skating?
2:12 p.m.
Welcome back to the Newell Post Live, coming to you from Allen Fieldhouse where the top-ranked Kansas Jayhawks are getting set to take on the Colorado Buffaloes.
Here are some notes about Colorado, which enters with a 12-13 record.
• Colorado is getting out-rebounded by an average margin of 39-28 in Big 12 play. Against the Jayhawks in Boulder, though, CU was only out-rebounded 45-41.
• In its first game against KU, CU had 14 offensive rebounds, while KU had 13.
• CU freshman Alec Burks has scored in double figures in each of the 23 games he's finished this year.
• CU guard Cory Higgins has hit 42 of his 48 free throws (87.5 percent) in his last five games. He also draws 6.1 fouls per 40 minutes, which is 110th nationally.
• Colorado's opponents make 51.8 percent of their two-pointers. The national average for two-point field-goal percentage is 47.6 percent.
We'll have our pregame chat in a few minutes, but in the meantime, be sure to vote in our poll on the left and also use the hashtag "#kubball" to have your tweets appear in our grid on the left.