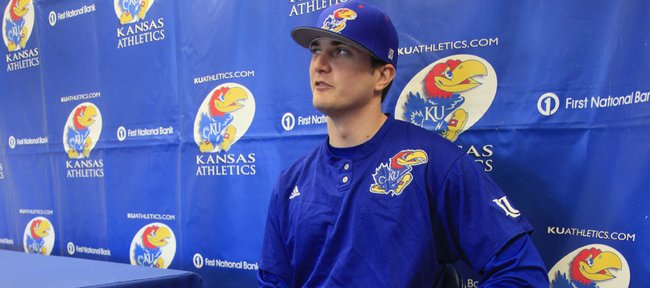 Videos
KU baseball media day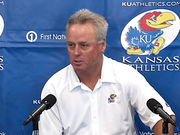 Head Kansas baseball coach Ritch Price addressed the media at the 2010 media day.
If Kansas University's baseball team is worried about replacing All-American Tony Thompson in its lineup for the first several weeks of the season, it sure isn't panicking about it.
"Obviously losing Tony is one of the most devastating losses in the country for any team," senior starting pitcher Cameron Selik said Wednesday at the team's Media Day. "But he will be back, and he'll be the same guy he was last year. We've got enough quality arms and bats to step up and get the job done while he's out."
Thompson, a 6-foot-4 junior from Reno, Nev., recently broke his left knee cap after fouling a ball off of his knee. The third baseman is expected to miss four to six weeks. Entering his junior campaign, Thompson was a unanimous preseason All-America selection and also was the preseason favorite for Big 12 Player of the Year. He won the conference's Triple Crown last year, leading the league in batting average (.389), home runs (21) and RBIs (82) before earning All-American status in three different publications.
"Those numbers are so good that you could split them between two players, and both guys would have had good years," KU coach Ritch Price said. "There's no more swelling in his knee, and doctors are hopeful that the fracture will start to heal."
While it does, Price said he planned to use multiple players to fill the void. Red-shirt freshman Jake Marasco, sophomore utility man James Stansfield and red-shirt freshman Jordan Dreiling all will be asked to step in at the hot corner for the Jayhawks in the early going.
As for replacing Thompson's bat, junior outfielder Brian Heere said that burden would fall on the entire lineup.
"There are a couple of guys who are going to have to step up," Heere said. "But you can't put any more pressure on yourself. You just have to go out there and take care of business and do what you do."
After being picked to finish last in the Big 12 in each of the last three preseason coaches polls, the Jayhawks have been tapped as the No. 2 team in the league this season behind Texas.
Coincidentally, the Jayhawks, who finished fifth in the Big 12 in 2009, swept Texas a season ago, and Price believes that his team's lofty preseason ranking this season has as much to do with last year's successes as anything. Not that he minds.
"I do like the swagger that's in our dugout," said Price, who's set to enter his eighth season as the KU skipper. "Those guys think they're good, and that's half the battle."
The other half, of course, is producing. And with a team that returns as many young and talented arms on its pitching staff as KU, Price can't help but believe that the 2010 squad has a chance to be special.
"The thing we're most excited about is that we have the best depth in the bullpen that we've ever had," Price said.
Junior Brett Bochy is expected to serve as the team's setup man, while sophomore Colton Murray, red-shirt junior Wally Marciel and senior Travis Blankenship provide depth and experience in the 'pen.
They'll be supporting a projected rotation that includes junior T.J. Walz as the Friday night guy, Selik as the No. 2 starter and senior Brett Bollman as the No. 3.
Price said behind them he has seen impressive stuff from red-shirt freshman Thomas Taylor and true freshman Tanner Poppe. Price also said sophomore Lee Ridenhour, who's recovering from ankle surgery, also should factor into the mix.
With a talented pitching staff and a productive lineup in place, Price said the team's biggest question mark would be at catcher, where Stansfield will slide into the spot previously occupied by four-year starter Buck Afenir. However, Price indicated that he recruited the multi-talented Stansfield with the idea of moving him behind the dish this season.
During the 2009 season, which ended with a loss to North Carolina in the regional round of the NCAA Tournament, the Jayhawks had more wins against Top-25 opponents than any team in the country. Still, their overall RPI was just 47. This year, Price took steps to ensure that won't happen again. In addition to their usual rough road through the Big 12, the Jayhawks will travel to LSU in March to take on the defending national champion.
"We love our schedule this year," Selik said. "Everyone on the team's excited to go down and play at LSU. We're probably the only team in the country that's willing to go to LSU and play a weekend series against one of the top teams in the country, you know, the reigning champs. We'll take on anybody at any time."
KU headed North
A wintry weather forecast has forced cancellation of this weekend's Kansas University home baseball openers against Eastern Michigan.
Instead, the Jayhawks will begin the season with a 5 p.m. Monday doubleheader against EMU at the Metrodome in Minneapolis.
KU's first home game is now scheduled for 5 p.m. Tuesday against Wichita State.