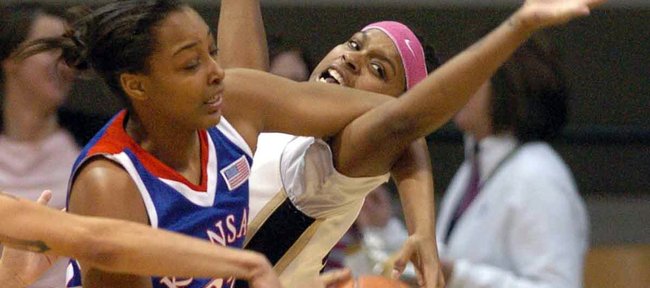 Document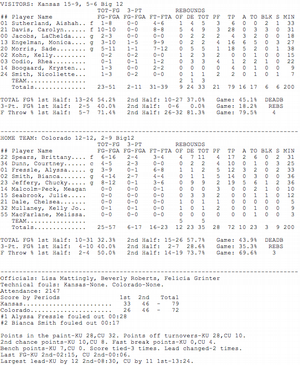 Kansas University freshman Carolyn Davis was darn-near-perfect on Tuesday night at Coors Events Center.
Davis, a 6-foot-3 freshman forward from Houston, went 10-for-10 from the field and 8-for-8 from the free-throw line, good for a game-high 28 points in the Jayhawks' 79-72 women's basketball victory over Colorado.
Davis, who barely missed her career-high of 29 points, grabbed nine rebounds and blocked three shots. The only blemish on her stat line? Three turnovers in 31 minutes.
Davis, who tied the Big 12 Conference record for field-goal percentage in a game, was clutch at the line late. She iced two free throws that gave KU a five-point advantage with just :25 remaining.
Freshman Monica Engelman, who scored 16 points and tied a career high with six assists, went 4-for-4 from the line with less than a minute to play. She also tied a career high in steals with three.
Senior Sade Morris totaled 18 points off 5-of-11 shooting and 7-of-12 free throwing. Morris also added five boards and five assists in 38 minutes.
Colorado, which was led by guard Chucky Jeffery (19 points), had five players score in double figures.
The Buffs, who trailed the entire second half, pulled within three points with 4:42 left. With both teams in the double bonus, it became a battle at the line. KU hit 15-of-18 free throws in the last four minutes including six straight in the last 18 seconds.
KU led early, 6-2, only to be hit by a 17-2 CU run. Senior guard Bianca Smith (14 points) hit back-to-back threes in that spurt.
KU closed the half on a 25-4 run, but Brittany Spears (17 points) cashed a three as time expired keeping the Buffs within striking distance, 33-26. Spears had 11 rebounds for CU (12-12, 2-9).
The Jayhawks (15-9, 5-6) won in Boulder for the first time since the 2004-05 season.
KU (15-9, 5-6) will meet Texas Tech at 5 p.m. Sunday in Lubbock. The game will be televised on ESPNU.
More like this story on KUsports.com