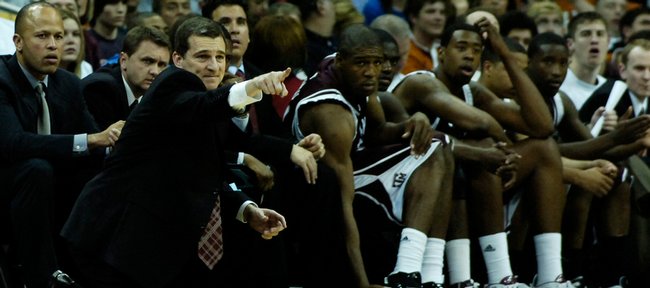 College Station, Texas — Texas A&M; freshman Khris Middleton rooted for Kansas University's basketball team from afar Saturday night.
The 6-foot-7, 215-pound Aggie starter realized it would take a KU home victory over Iowa State to keep the Jayhawks firmly positioned at No. 1 heading into today's 8 p.m. KU-A&M; Big Monday clash in Reed Arena.
"Hopefully Kansas is No. 1. Hopefully we'll have a chance to play another No. 1 team and hopefully knock them off this time," Middleton said last week.
"You want to give your all for the fans for them being there."
He scored a point and grabbed four rebounds in 15 foul-plagued minutes in the Aggies' narrow 72-67 loss to then-top-ranked-Texas on Jan. 16 in Austin.
Tonight gives A&M; a second chance to claim the program's first-ever victory over a top-ranked team.
"You get fired up every game. I think Big Monday ... Kansas players might not. It seems they are on every week," A&M; coach/former KU guard Mark Turgeon said. "They are a heck of a road team. They take on challenges. They are probably more used to it. Hopefully the bright lights and not being familiar (with it) doesn't hurt us."
Topeka Hayden High graduate Turgeon, who, like most all former KU players, follows the Jayhawks closely, is mighty familiar with KU's style of play.
"They will play man-to-man primarily. We're going to play man against them," said the 45-year-old Turgeon, who praised the Jayhawks' "motion and high-low stuff that Bill (Self) runs."
Turgeon is 0-3 versus KU.
The Jayhawks prevailed, 73-53, Jan. 19, 2009, in Allen Fieldhouse after downing the Aggies, 77-71, in the Big 12 tournament on March 15, 2008, in Kansas City, and also, 72-55, on March 8, 2008, in Reed Arena.
Sherron Collins and Cole Aldrich scored 16 points apiece, while A&M; senior Bryan Davis scored eight points and grabbed six rebounds in last year's game in Allen — one in which KU led, 40-23, at the break.
"Kansas is a real good team with a lot of good players. I look forward to playing against them," Davis said. "Big Monday is Big Monday and big Kansas coming down here ... I'm looking forward to playing that game."
So is Turgeon.
"To play the No. 1 team on your home court when you have a lot of confidence is something you dream about. We know we'll get Kansas' best shot. It should be a heck of a game," he said.
The Jayhawks realize the Aggies have a first-team all-league candidate in Donald Sloan, a 6-3 senior who averages 18.3 points and 4.0 rebounds a game. He has 51 assists, 64 turnovers.
"He's the heart of their team," KU's Sherron Collins said. "I've seen him four years. I know how good he is."
This game has implications in the league race. KU is 10-0; A&M; 7-3.
"It will be a great environment," KU coach Bill Self said, "because theoretically if they win out and knock us off, they'll put themselves in great position to maybe play for the league championship. We've got to be really good, just like we were going down to Austin (last week in win at Texas). I think the guys will be focused going to College Station."
Times have changed
Turgeon admits his mind-set has changed since his days coaching at Wichita State.
"I used to sit in Wichita and be like, 'Man, the Big 12 is no good. We should be in the NCAA Tournament, not these Big 12 teams.' I was wrong," Turgeon said.
"We were No. 2 in RPI (as conference) my first year, No. 3 last year, and now we are No. 1. Every game is so hard. We have to play well every night to give ourselves a chance to win. It's a grind out there."
Quick healer
Derrick Roland recently told reporters he hopes to return to the court this season. The 6-4 senior from Dallas broke the tibia and fibula in his lower right leg in a Dec. 23 loss at Washington.
"It's just Derrick talking right now. I've not talked to doctors. I can't even think about that with him," Turgeon said.
"He's a quick healer. It'll be hard for me to put him back in. It will take a lot of doctors to approve it. Of course, his bone has to heal completely. He's pain-free right now, so he probably thinks it's farther along than it is. We'll see."
Robinson probable
KU freshman Thomas Robinson (concussion) practiced Sunday and is listed as probable for tonight's game, Self indicated.