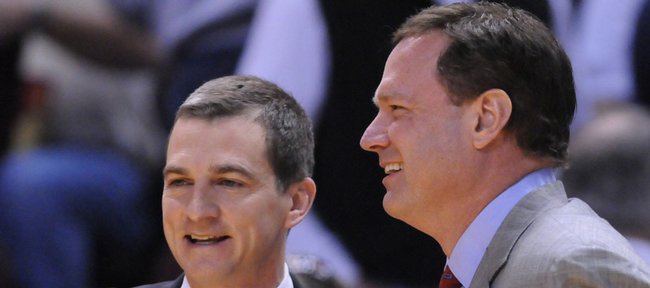 College Station, Texas — A group of reporters from Big 12 country huddled a week ago in Texas' Erwin Center to discuss possible candidates for conference men's basketball coach of the year.
Those mentioned prominently included ...
• Kansas University's Bill Self, whose preseason favorites are a perfect 10-0 heading into the stretch run.
• Kansas State's Frank Martin, whose Wildcats have exploded on the national scene while being ranked in the top 15 a majority of the 2009-10 campaign.
• Missouri's Mike Anderson, whose Tigers are in the upper echelon despite losing a lot from last year's NCAA Elite Eight squad.
• And, last but not least, Texas A&M;'s Mark Turgeon, whose Aggies take an 18-6 overall record, 7-3 in league play into today's Big Monday clash against KU (8 p.m., Reed Arena).
"What Turgeon has done since Derrick Roland broke his leg has been amazing," one highly respected scribe gushed.
Turgeon's Aggies, who lost the team's second-leading scorer to a gruesome injury in a Dec. 23 loss at Washington, have won nine of 12 games since that fateful day.
"Absolutely," Self said, asked if former KU point guard Turgeon could be tapped the league's top coach in '09-10. "So could some other guys, too.
"Mark has done a great job with his team. He and his staff absolutely have done a great job. They get out and guard you."
The Aggies have taken on the personality of Turgeon, who was known as a guy who got the most out of his ability as a gritty, undersized point guard.
"You know me. I usually don't get too high or too low. It's too long of a season, with too many ups and downs," said a modest Turgeon, not ready to anoint himself top dog in the league.
Still, he likes the way the Aggies have responded since the squad's most significant injury.
"Derrick has had a lot to do with that," Turgeon said of the 6-foot-4 Dallas senior, who has started working out in the pool and holds out hope of returning before season's end. "He was so positive through the whole thing. Now he's walking around without crutches. He's happy, smiling, leading.
"If he'd have cried, moped and felt sorry for himself, I think we would have, too. He has a lot to do with how we've continued to play."
The Aggies, who are led by double-digit scorers Donald Sloan (18.3 ppg) and Bryan Davis (10.5), have become a feel-good story locally while winning over a sometimes-skeptical fan base.
A&M;, which has averaged 9,182 fans in 13 dates in Reed Arena (official capacity is listed at 12,989), has drawn crowds of 13,021 for Baylor, 13,648 for Texas Tech, 10,316 for Colorado and 11,109 for Oklahoma.
"It's been a lot of work," third-year A&M; coach Turgeon said. "Probably the most disappointing thing has been our student support since I moved down here, actually our crowd support. I was expecting more coming off what Billy (Gillispie, predecessor) built up in the program and what we've done the last four or five years as a basketball program.
"I do think the student body feels connected now. I think the town feels connected to us," Turgeon added. "We are very accessible people. We are not bigger than the game. We are not bigger than our fans. I think you see a group of fans that feel they are invested in a basketball team. The crowd has jumped on board. We are becoming a basketball crowd."
And that is not easy in football country.
"We don't really know how to cheer — to be quite honest with you — at a basketball game. I guess it's called 'yell' (instead of cheer) down here, excuse me," he added with a laugh.
"We are getting there. It'll take time, but I'm proud of what we've built this season. We have three home games left, and I expect there to be record crowds."
Turgeon has been brutally honest in media sessions since leaving Wichita State to replace the wildly popular Gillispie.
He had a miserable time his first season in College Station despite leading A&M; to a 25-11 record, which included one victory in the NCAAs. His second Aggie team went 24-10, also losing in the second round.
"It's been a lot harder than I expected. Our first year ... we won 25 games, but it was not a lot of fun," Turgeon said. "I like the kids I was coaching, but the expectations on me were a little unfair.
"I'm really pleased with the success we've had, because it's not easy to keep it going, especially — don't take this the wrong way — (at) Texas A&M.; We don't have a lot of history. To keep it going over this long a period of time ... hopefully we can continue to finish this season strong. No one knows what lies ahead, but I'm pleased with our success and what we've accomplished."
Turgeon — 25-29 in two seasons at Jacksonville State — went 128-90 in seven years at Wichita State. His 2006 Shockers reached the Sweet 16.
"We've won more games than when you take over a bad program," Turgeon said. "(But) it's much easier taking over a bad program than a good one."
Why's that?
"No expectations. You can get your guys in quicker," Turgeon said. "You see guys take over bad programs, all of a sudden they have seven or eight new guys the next year. I don't want this to sound negative, (but) it was harder than I anticipated when I took the job.
"I think if it would have been my first job, I wouldn't have made it," added the 45-year-old Turgeon. "I had two other jobs. I'd been through ups and downs. I've been part of good coaches, good staffs — Roy Williams and Larry Brown — so it helped me get through everything I needed to get through. I was mature enough most of the time to make the right decisions."
He now sounds like a guy who'd like an extended stay in College Station.
A Big Monday victory over No. 1 KU tonight — Turgeon is 0-3 versus his alma mater — would classify as the biggest regular-season victory of his still-young career.
"It'll be great for the nation just to see our support," Turgeon said of the home Big Monday appearance on ESPN. "I don't know what's going to happen. Who knows? But I know our building is going to be full, and it's going to be loud, and our fans are going to be behind us.
"That's really neat for our program and for everybody to see around the country — to see how special college basketball is becoming in College Station and has been the last four or five years."
And as far as that coach-of-the-year business?
"The older you get, you don't care about publicity. You just care about the bottom line," Turgeon said. "You don't care how you do it, who does it for you, you don't care who gets the credit. I just want the guys playing to their abilities. I've been doing this long enough. I think coaching in games sometimes is a little overrated. It's preparing guys for the game. I think we do a pretty good job of that."
More like this story on KUsports.com