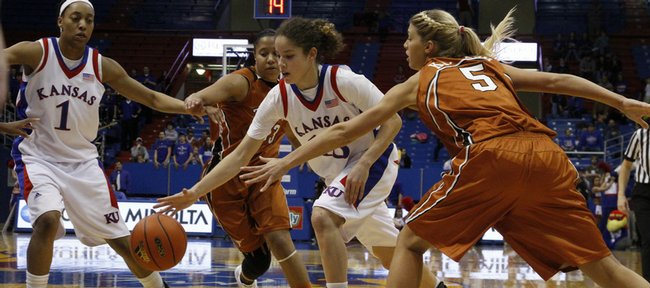 Document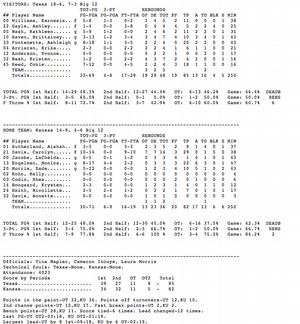 Forget, for a moment, that the Kansas University women's basketball team's bid to upset No. 14 Texas fell short in double overtime on Saturday.
Or that the 85-82 loss marked the Jayhawks' second straight inside Allen Fieldhouse, where the team began the season 11-1.

On Saturday afternoon against the Longhorns — a day in which usually efficient KU senior Sade Morris shot just 5-of-22 from the field — a pair of Kansas freshmen showed why the future of the program has the potential to be mighty fruitful.
Forward Carolyn Davis and guard Monica Engelman, neither of whom had started a collegiate game as recently as three weeks ago, combined to score 51 points and were the primary reason the Jayhawks, playing without arguably their top two players, were able to overcome a five-point halftime deficit and take one of the conference's top teams to two overtimes.
"They're playing with a lot of confidence, and they're playing with a tremendous amount of emotional maturity," said KU coach Bonnie Henrickson, whose team has carried on surprisingly well in the wake of season-ending injuries to All-American wing Danielle McCray and standout point guard Angel Goodrich. "That's not to say they don't make mistakes — they do. But they don't let one mistake turn into two or three mistakes. They're able to bounce back, and they've showed resiliency, which is difficult for young kids to do, especially in this league."
Davis was easily the best player on the court against Texas, finishing with game-highs in points (29), rebounds (14) and blocks (five), and Engelman wasn't far behind. The San Antonio native built on a dominant first half (14 points on 5-of-7 shooting) by hitting a pair of big shots late in the game, including a long three-pointer with 14.6 seconds remaining in the second half to force the first overtime.
"I knew I was going to be a contributor, but I never expected for Danielle to be hurt," Engelman said of her recent emergence as a top scoring option. "I always knew that I had to come to practice every day and be ready for anything ... and this is just how the situation turned out to be."
In the end, though, their combined efforts Saturday weren't quite enough.
Kansas' other three starters combined to shoot just 8-of-32 from the field, and the Jayhawks failed to protect a four-point lead with 24 seconds remaining in the first overtime, as Texas guard Ashleigh Fontenette hit a game-tying three-pointer with one second left to force a second overtime.
"We have to look at this game and find all the mistakes we made and just correct them," Davis said. "We didn't make a lot of big mistakes, but the little mistakes are what's hurting us right now, and that's what we've got to clean up."
Still, if the next three years go anything like Saturday's game did for the Jayhawks' freshman duo, fans of the program will have plenty to which to look forward.

"I haven't had that many emotions running through my head in a long, long time," said Engelman, who finished with a career-high 22 points and added six assists. "It's almost driving me crazy. You don't know if you should be excited or what, so you've just got to keep playing basketball."
More like this story on KUsports.com