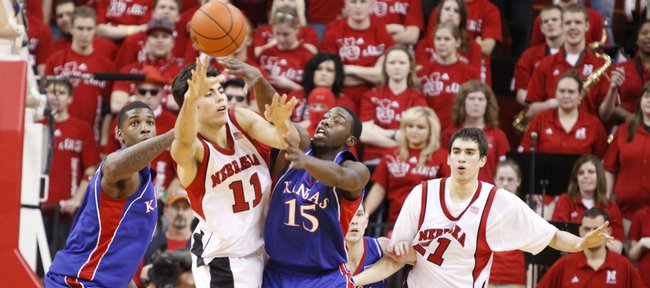 Kansas University freshman guard Elijah Johnson, who has played just 11 minutes overall during the Big 12 season, said it has been easy to stay positive during this period of inactivity.
"There's no reason to be negative about it. I'm not a super-hero. I can't come in right away and just win a national championship. I have to learn first," said Johnson, a 6-foot-2 Las Vegas native who hasn't entered the last four games.
"I think I learn more on the bench than I would have on the floor, just watching Sherron (Collins) and Tyshawn (Taylor) do different things that work in tight situations. I see it through coach (Bill) Self's eyes. I see the bigger picture. It's not a rush. You've got to learn first, then I can give him what he wants," Johnson added.
Self said he has not forgotten about Johnson.
"Elijah could be the Cole of 2008, bide his time, bide his time — Thomas (Robinson) could be also — and then when they get an opportunity make the most out of it," Self said.
He was speaking of then-seldom-used freshman Cole Aldrich's huge contribution in the 2008 national semifinals against North Carolina.
"I think about that a lot, too," Johnson said. "Cole was All-American, and he didn't come in and take over the team right away. He took his bullwhippings every day in practice like I take now. I feel it's making me stronger. I feel that's the best talent in the country. If I'm going through that every day, next year will not be a walk in the park, but close."
Self noted that Johnson, a player he called the "odd man out (of the rotation) this year," nevertheless will "score a lot of points here."
Johnson, who hopes that's the case, said he believes he made the smart call to play and not red-shirt.
"You never know, my number could be called still. The season is not over. Anything can happen. You've got to be prepared for all situations," Johnson said.
He was asked if he ever thinks about the fact he might be playing 30 minutes a game at some other school.
"No. I wouldn't learn as much as I learn here," he said. "I wouldn't play against Sherron Collins every day at practice either."
Self's future discussed
Kansas University coach Bill Self, 47, who has 399 career victories entering Saturday's 7 p.m. home game against Iowa State, was asked Thursday if he'd coach until his mid 70s.
"I will not coach until I'm 75. That can be the big byline tomorrow," he said, laughing. "Coaching into your mid-to-late 60s ... I think that will not be as common an occurrence going forward as it has been in large part because of all the tension and other things that go along with the job."
Self said he's mighty happy at KU.
"There's no other job for me out there. From my vantage point right now I cannot imagine there being a better place to coach in large part because of the commitment everybody has made here," he said. "It's better here now than it's ever been and it doesn't have anything to do with me. It has to do to with the commitment our administration and our donors have made to make this the best it can be.
"The (his) office is great, but the new facilities, academic center and revamped apartments (for players) ... we might not have the best facilities here in every area but as a combination I can't imagine anybody having any better."
Free throw views
Brady Morningstar's botched free-throw attempt at Texas had almost 2.5 million YouTube views as of Thursday night.
"I'm glad I can be a lot of entertainment for people. Maybe I should try to do movies or something," Morningstar joked. "It's a sports blooper. I'm sure I'll be on (blooper shows) and that for the next 10 years getting laughed at. Oh well, I'll laugh too."
Self said the clip of Morningstar losing control of the ball, then firing up a jump shot from the line, will be talked about a long time.
"I'm sure that will make the end-of-season video and all that stuff. Brady is the one guy who can handle it because he can laugh at himself, and that's definitely worth laughing at," Self said.
Fatherly advice
Self said his dad, Bill, Sr., gave him great advice when Self was deciding whether to leave Illinois for KU in April of 2003. ESPN's Dick Vitale had cautioned Self it might be difficult to replace a legend in Roy Williams.
"He (dad) told me, 'So you're not going to take the job because you're scared? If you don't take it, that's fine, but don't not take it because you don't think you're good enough. Don't not take it because somebody else won there. That's the stupidest thing I've ever heard in my life. If you just want to be comfortable, stay, but if you want to stretch your limits, don't let anybody else's success keep you from doing that.' It was good advice."
— The Associated Press contributed to this report.
More like this story on KUsports.com