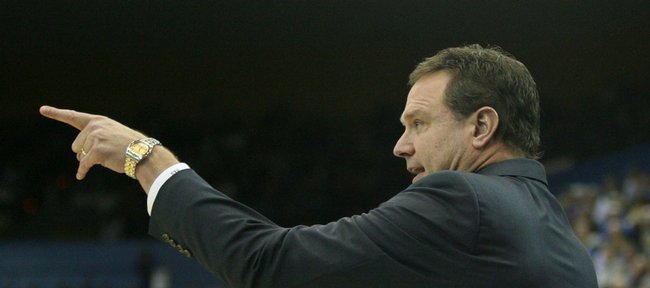 Bill Self has won 399 games in 17 seasons as an NCAA Div. I men's basketball coach.
But who's counting?
Not Self, who says it'll be business as usual when the Jayhawks take on Iowa State with his personal milestone victory No. 400 on the line at 7 p.m. Saturday in Allen Fieldhouse.
"Trust me, the only reason I'm interested in us, our staff, winning our 400th game is because that means we would have won our next game. I could care less about that stuff," said seventh-year KU coach Self, who picked up his 399th victory against 146 losses (73.2 percent) on Monday night at Texas.
"It's no big deal at all, trust me," Self added.
Somebody in KU's traveling party informed Self after Monday's 80-68 victory over the Longhorns that a milestone was on the immediate horizon.
"When we started out losing 18 in a row and (went) 6-21 and 10-17 at ORU, we were hoping we could get to 100," Self said.
It was indeed rocky at the beginning at Oral Roberts University, where Self finished his four-year tenure with 18-9 and 21-7 seasons. He went 74-27 in three years at Tulsa, 78-24 three years at Illinois, to go with his 192-41 mark at Kansas.
Self now has won 82.4 percent of his games at KU, best percentage of any coach not named Karl Schlademan, who went a perfect 1-0 (100 percent).
Roy Williams, the only other KU coach who won more than 80 percent of his games, went 418-101 in 15 seasons (80.5).
Self's Jayhawks are putting up some mind-numbing numbers.
The Jayhawks have won 55 straight home games, second-best streak in KU history behind the 62-game streak in the Williams era that ran from February of 1993 to December of '98.
Overall, Self's teams have 122 home victories against six losses.
The six defeats were all close games.
KU fell to Texas A&M; by three points, Oral Roberts by seven (2006-07), Kansas State by four, Nevada by two (2005-06), Iowa State by two in overtime (2004-05) and Richmond by one (2003-04).
In his first six seasons here, Self won one NCAA title, five straight Big 12 titles and three conference tourney titles. KU at 9-0 has a three-game lead in this year's conference chase.
Self's KU teams are 98-21 in Big 12 play, with a 49-3 record in the fieldhouse, unheard of 38-15 record on the road and 11-3 mark in conference tourney action.
Self was asked about the victories starting to "pile up" at KU.
"I don't know about that," he said, "but when you have good players you should win games. To me, we've had as good a players as anybody."
Two of Self's players say they will try to make sure KU takes care of business Saturday in giving their coach his 400th victory.
"That's the first I've heard of it. I'm sure we will do our best to get that done," junior Brady Morningstar said.
"That'll be a lot of motivation," senior Sherron Collins said. "We didn't know about that. Coach probably wouldn't be one to tell us. That'll be more motivation to get the win."
Recruiting: Self was in Wichita on Tuesday night to watch Perry Ellis lead his Wichita Heights team to a 67-54 victory over Wichita Southeast.
Ellis, a 6-8, 210-pound sophomore small forward, scored 20 points and grabbed 12 rebounds. He had three blocks and four crowd-pleasing dunks. Ellis according to Rivals.com already has scholarship offers from KU, Kansas State, Kentucky, Memphis, Oklahoma and Wichita State. Arizona, North Carolina, Stanford, Oklahoma State, Tennessee and Texas also have shown great interest.
Inching closer to Carolina: KU entered the season with 1,970 all-time victories, third-best mark of any school. The Jayhawks trailed North Carolina by 14 games and Kentucky by 18. Currently, KU has 1,993 victories, just four behind UNC's 1,997. Kentucky has 2,011.
More like this story on KUsports.com