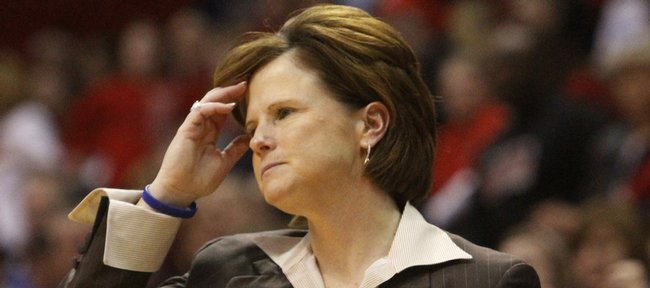 Document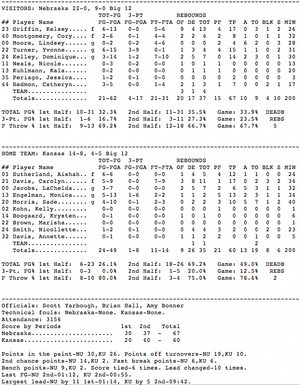 For a while Wednesday night, it looked like the Kansas University women's basketball team was on the verge of its biggest victory, arguably, in coach Bonnie Henrickson's six-year tenure at the school.
In the end, however, the Jayhawks couldn't overcome a number of late-game miscues — including three straight turnovers during one key stretch — in falling, 67-60, to undefeated and No. 3-ranked Nebraska for just their second loss of the season at Allen Fieldhouse.
"You're shooting 69 percent in the second half, you'd be advised to get shots up," said Henrickson, whose team's strong second-half comeback attempt fell just short. "And we went three possessions without doing that. If you're going to beat a team like Nebraska, you've got to be tough. It's a missed opportunity. That's gut-wrenching. They attacked us, and we didn't respond."
Still, it was hard to argue with the effort.
Following a lackluster first half that sent them into intermission with a 10-point deficit, the Jayhawks responded by opening the second half with possibly their best stretch of basketball this season. They connected on their first 10 field-goal attempts, erasing the Nebraska lead before tying the game at 41 with 14:10 remaining. They took their first lead at 13:38 and didn't miss a field goal until 12:18 remained.
Like it always seems to, however, reality eventually set in.

The Huskers turned three straight Kansas turnovers — one by LaChelda Jacobs, two by freshman guard Monica Engelman — into points, part of an 11-2 run in which Nebraska was able to regain the lead, 55-53, with 6:53 left.
Kansas managed to keep things close over the next five minutes, until Nebraska corralled an offensive rebound following a missed Lindsey Moore free throw and Yvonne Turner connected on an uncontested three-pointer to give the Huskers a 64-57 lead with 1:12 remaining and effectively end the Jayhawks' hopes of an upset.
"You just have to keep pushing," said Engelman, who followed her 16-point performance against Kansas State on Sunday with 13 points against the Huskers before fouling out. "You can't be passive. If it means going to the boards, getting offensive rebounds, that's toughness. Going after loose balls, running in transition, picking up your person."
In the end, it came down to turnovers and rebounding. Kansas, which had won three straight after dropping four of its first five in Big 12 Conference play, turned the ball over 19 times and gave up 20 offensive rebounds that the Huskers turned into 14 second-chance points.
The loss also negated a pair of particularly strong offensive performances from Kansas forwards Carolyn Davis (17 points, 11 rebounds, three blocks, two steals) and Aishah Sutherland (12 points on 6-of-6 shooting), both of whom have picked up the offensive slack since All-America candidate/leading scorer Danielle McCray suffered a season-ending anterior
cruciate ligament injury last week.
"I feel like we've gotten over the fact that she's not going to play anymore, and we're just trying to focus on what we need to focus on to play now," Davis said.
It was hard to watch Wednesday's game, however, and not wonder whether the presence of either one of the Jayhawks' injured standouts — McCray or point guard Angel Goodrich — would have swung things the other way. Goodrich, after all, had proven adept at protecting the ball, while McCray typically has been the team's offensive spark plug over the course of the past two seasons.
But afterward, Henrickson showed little interest in discussing what-ifs.
"What I love about our group right now is we don't feel sorry for ourselves," she said. "We don't want anybody to feel sorry for us. We want to win, and we've just got to find a way to do that."
More like this story on KUsports.com