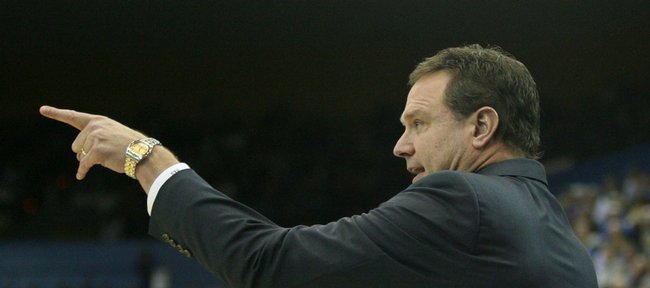 Austin, Texas — Kansas University basketball coach Bill Self disagrees with those who say his Jayhawks can wrap up the Big 12 regular-season title with a win tonight at Texas.
"There's no way it can be ended tonight. Hey, we started 10-0 a few years ago and lost four of our last six," Self said, speaking from 10 until 10:10 a.m., Monday, on the Big 12 coaches teleconference.
He was referring to the 2004-05 season in which KU opened 10-0, then closed poorly in tying for the conference crown. "No way it'll be ended tonight either way. There are a lot of games left."
KU opens the 8 p.m. contest at 8-0 in the league, with Texas A&M; and Kansas State at 6-3 and Texas and Missouri at 5-3.
"I don't think we're going to have to talk about the league race to get our guys amped up to play. This is Texas and Kansas. I think that right there in itself is plenty to get the guys jacked up," Self said.
Texas enters having dropped two of its last three league games and three of five.
"The whole thing is they are fine. As the season plays out, that will play out to be the case," Self said of the 19-4 Longhorns.
This opens a stretch of three straight Big Mondays for KU. The Jayhawks travel to Texas A&M; next Monday then play host to Oklahoma on Feb. 22.
"It really is," Self said asked if that is a demanding slate. "The thing is we played in Boulder and got back at 4 a.m. (Thursday). We took Thursday off and had one day prep for Nebraska and one for Texas. That's not a perfect world for any coach. But it's great exposure. You'll never hear us complain about being on Big Monday, but three in a row like that with two of 'em being on the road, I think it's a tough draw. By the end of the day hopefully it'll make us a little bit tougher and harder."
Asked about entering as the country's No. 1 team for the second straight week, he said: "Being No. 1 this time of year means very little. It's nice from a fan standpoint. We don't put our hope in, or our thoughts into, 'Hey we've got to protect something.' We don't need to protect anything. We just need to play as hard as we can and enjoy and embrace whatever comes our way because it makes us tougher and harder. Maybe we've handled it better (than some teams), maybe we haven't. We'll find out a lot more. Just because you are No. 1 and lose doesn't mean it's because of the ranking. It's probably because you played away from home and just got beat."