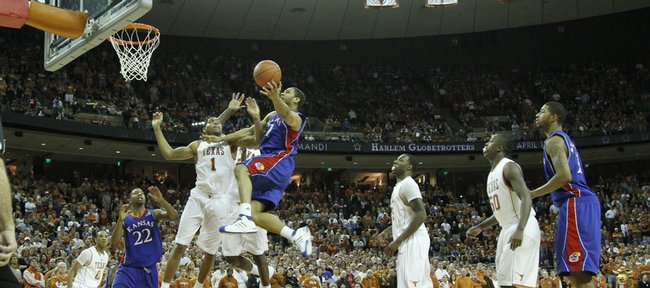 KU scoring — Marcus Morris 18, Xavier Henry 15, Collins 15, Morningstar 8, Markieff Morris 8, Taylor 7, Aldrich 7, Reed 2.
KU was 26-for-65 from the floor (40 percent), 6-for-13 from three (46.2 percent) and 22-for-29 from the free-throw line (75.9 percent).
UT was 22-for-59 from the floor (37.3 percent), 7-for-14 from three (50 percent) and 17-for-23 from the free-throw line (73.9 percent).
KU out-rebounded UT, 45-34. UT had 17 turnovers, while KU had 10.
FINAL: KU defeats UT, 80-68
Two straight misses for UT, and that will seal it. Collins hits two free throws to put KU up 12 with 1:17 remaining. The Rock Chalk Chant filters down from the rafters.
With 46.1 seconds left and KU up 13, Taylor fouls Brown on a three. Self doesn't even look at Taylor as he comes back to the bench.
KU fans stay standing in the final rows of the Erwin Center for the final minute.
The Jayhawks close out an impressive 80-68 victory.
KU 68/UT 58 — 2:17 left in game
I'm not sure what the officials just called there. They assessed a technical foul to Aldrich, and that fouls him out of the game. I didn't see Aldrich doing anything besides patting James on the head, and James was the one that retalliated.
Morningstar loses his free-throw attempt on the way up, and he tries to re-shoot it after releasing it. The shot bricks away.
Meanwhile, Brown hits the two technicals, and UT takes the ball. James drives, gets an early whistle, puts in the basket, then gets the two with the continuation. His free throw cuts KU's lead to eight.
Taylor drives to the basket and is fouled, but he misses both free throws.
Luckily for KU, Brown pins the ball to his hip on his way up the court, and he's whistled for a double dribble.
Xavier Henry is fouled on a drive, and he makes both free throws.
Collins breaks the press by himself, and he throws a hook pass over his head to Tyrel Reed, who upfakes before putting in a layup.
KU has a blown assignment on the other end, and Gary Johnson gets the ball inside for an uncontested slam. UT calls timeout, and Self yells in frustration, furious at his team's recent defensive effort.
KU 64/UT 51 — 3:48 left in game
Collins finally gets a shot over the UT trees, putting in a quick layup off the glass on a drive.
Morningstar misses a pair of crucial shots — a pull-up from 16 feet and a left-handed layup — and J'Covan Brown follows the misses with a layup and then a tough three-pointer. The Longhorn fans are on their feet for the first time in the second half.
Collins puts up a wild fadeaway for an airball, but Xavier Henry rips down the board. After another miss, Markieff battles for a rebound, then puts in the stickback with a foul. As a bonus, he makes the free throw as well.
Brown misses a driving layup, and Aldrich comes down with the important rebound. The KU big man tries to clear out space by swinging his arms, and he's fouled from behind by James before James crashes to the floor. Aldrich tries to pat him on the head, and James isn't having it, swinging his arm wildly in Aldrich's direction.
KU 57/UT 40 — 6:47 left in game
Marcus Morris delivers once again, dribbling from the top of the lane before driving in to put in a layup off the glass.
Collins tracks down a loose ball, passing to Marcus for a two-handed slam. That's six straight points for Marcus.
Marcus with another nice play, bringing the ball up the court before dishing to Morningstar, who cans the three.
Morningstar follows an Aldrich miss with a tip, but it rattles out. He screams in frustration.
The next possession, Morningstar goes under the basket before throwing out to Xavier for a three, but his shot hits back iron.
The Jayhawks look gassed out there. UT has played 12 players, while Self has only used eight. The energy is so bad that Self calls timeout to give his players a rest.
Xavier Henry rips down two offensive boards before getting a short shot to go in. Self likes the toughness, pumping his fists on the bench.
After a foul, the entire arena hears one screamed word from Self: "TYSHAWN!" He might get benched again for whatever he just did.
KU 46/UT 32 — 11:28 left in game
Collins gets rejected by Pittman on a layup attempt but draws a foul. Pittman, earning his reputation as one of the nicest players in the Big 12, helps Collins off the floor.
Collins keeps getting rejected on drives by Pittman. He still keeps trying, though.
Collins has missed two open threes in a row. Those might be costly if UT can pull closer in the next few minutes.
UT puts on a press, and KU looks haphazard in its half-court offense afterwards. Self screams to his players, and Collins twirls his arms on the bench, trying to tell one of his teammates where he should have been.
Taylor puts in a two in transition, and Self yells at him as he's returning to the defensive end, cupping his hand in a C to signal the play call.
Whatever Taylor did defensively, it wasn't the right thing. KU looked like it was in some kind of zone, but it gave up a wide-open look to James from three that he swished. Self and KU assistant coach Joe Dooley are furious, with Self swiping his arm in an uppercut in frustration. Self is so mad he calls a timeout, and Taylor comes to the sideline with his shoulders shrugged and his palms facing the sky. Self yells at him, then benches him.
Great hands by Marcus Morris, who catches a low, low bounce pass from Collins. I'm not sure another big man on KU's roster even catches that pass. Marcus follows with a turn-around in the lane and continues to make his case for first-team All-Big 12.
KU 40/UT 28 — 15:59 left in game
As we predicted, Marcus Morris gets the defensive assignment on James to start the second half.
KU gets a steal, and cashes in on its first possession, as Collins lobs over the top to Xavier for an alley-oop slam.
Markieff Morris with a block on Pittman, and KU runs the break afterwards, with Xavier Henry rolling in a shot from under the basket.
Marcus Morris fights for, and comes up with, a defensive rebound between two Longhorns. He's shown such great energy in Big 12 games.
Great move underneath the basket by Aldrich, who gets James up in the air to draw a foul. That's James' third foul, and that's also the risk UT takes by putting James defensively on the bigger Aldrich. Pittman checks in for James.
KU scoring — Marcus Morris 8, X. Henry 5, Collins 5, Morningstar 5, Markieff Morris 4, Aldrich 4, Taylor 3.
KU was 12-for-30 from the floor (40 percent), 5-for-9 from three (55.6 percent) and 5-for-7 from the free-throw line (71.4 percent).
UT was 9-for-28 from the floor (32.1 percent), 4-for-6 from three (66.7 percent) and 2-for-3 from the free-throw line (66.7 percent).
KU out-rebounded UT in the first half, 20-16. Texas had nine turnovers, while KU had six.
Damion James was 6-for-9 for 15 points in the first half.
Halftime thoughts
• What a great scenario for KU to have in the second half. No players have two fouls, meaning KU can match up defensively however it wants. I'd expect to see Marcus Morris on Damion James to start the second half.
• When other teams have beaten UT, most of the time they've outscored them. KU has gone the other direction tonight, winning with defense. The Longhorns are just 5-for-22 from inside the arc (23 percent). UT came in shooting 52.7 percent from two-point range. KU's bigs have done a great job of making it tough for the Longhorns' bigs inside.
• KU's free-throw count is low (seven attempts), but that hasn't mattered so far because of the Jayhawks' defense. Still, the Jayhawks could stand to improve offensively, as the Longhorns most likely will try to speed the pace of play up in the second half.
• Great first half for the twins, who combined for nine of the Jayhawks' 20 rebounds. And five of KU's rebounds were team rebounds, meaning no one pulled those down.
KU 34/UT 24 — Halftime
James has put on a display offensively. He puts in a long jumper, then on the next possession, uses a quick first step to drive inside before dropping in a left-handed layup. James=15, rest of the Longhorns=six.
After drawing traffic on a drive, Xavier Henry lobs a pass across his body to Aldrich, who puts in the short shot.
Avery Bradley puts in a three from the corner for UT. The Longhorns are lucky this game is as close as it is, as they're shooting way over their average from three (4-for-6, 67 percent).
Markieff blocks a shot with three seconds left, and Collins' half-court shot at the buzzer is on line but clangs off the backboard. Credit Self on the final UT possession, as it looks like he told Tyshawn Taylor to foul the Longhorns just as they were getting into their set. Because it was only KU's sixth team foul, UT had to reset what it was doing offensively and wasn't able to get as good of a shot off.
The Jayhawks take a 34-24 lead into the break.
KU 30/UT 17 — 2:58 left in 1st half
Two free throws for Aldrich. KU's run is up to 14-0.
I hadn't considered this, but this might be a tough offensive matchup for UT. The Longhorns are extremely reliant on two-point shots for their offense, as that's where 60.7 percent of their offense comes from (that's the 12th-highest split nationally).
Meanwhile, KU is extremely stingy when it comes to two-pointers on defense, as opponents make just 41.8 percent of their attempts (second nationally). So far, UT is just 3-for-15 (20 percent) from two-point range.
Taylor hits a three from the corner. On the other end, Collins pokes away a steal and tracks it down before it goes out of bounds. His shot is blocked, but Marcus scraps for the board and puts it in for two.
Markieff with a steal, and even though Collins gets knocked down, he throws in a long three. Timeout UT, as KU has a 22-0 run. "Let's go Jayhawks" streams down from the upper deck.
Texas can't get anything to go down. UT misses two easy shots from inside, and Markieff clears the board. Meanwhile, a UT band member next to me bangs his music stand into the metal bleachers below him in frustration.
Texas' drought ends in an unusual way, as James banks in a three from the side. That ends a 10-minute, 56-second scoreless streak for UT. Wow.
KU 20/UT 14 — 6:43 left in 1st half
Aldrich makes a move on Pittman, but his turnaround is an airball.
Markieff with a three from the top that rattles in, and that ties the score at 14.
Morningstar uses quick hands to poke away a pass, and he puts in a layup at the other end. That's an 8-0 run for KU, but credit the defense for that instead of the offense.
Markieff blocks a Pittman shot, and the UT fans clamor for a foul. That would have been the second foul on Markieff.
Marcus Morris has checked back in, and he finishes with a layup to push KU's lead to four. UT calls timeout, and the Longhorns haven't scored in the last five minutes, 50 seconds.
The Morris twins are ripping down nearly every defensive rebound for KU.
Xavier Henry curls around a screen and knocks down a 17-footer. That might get his confidence going.
UT is 0-for-9 with four turnovers during this current drought.
UT 14/KU 11 — 11:41 left in 1st half
UT throws a zone at KU, and the Jayhawks get an open look, but Henry's three-point attempt is way off.
J'Covan Brown puts in a three, and UT is a perfect 3-for-3 from three-point range early. Remember the Longhorns statistically are an average three-point shooting team.
James fights for a loose ball, and he puts in a layup underneath. Timeout KU, and Self comes out onto the court before and after the timeout to jaw with a ref about a no-call. He's lucky to not have picked up a technical there.
Marcus is headed to the locker room, though I don't know what his ailment is. That would be a big loss for KU, though whatever it is, it doesn't look serious, as Marcus is walking just fine.
Aldrich kicks out to Morningstar, who drains a three in rhythm.
Morningstar is now on James, and though the KU guard slips, he gets up in time to challenge James' jumper, which bricks off the rim.
UT 10/KU 8 — 15:32 left in 1st half
KU's defense has settled down, and on the other end, Marcus Morris puts in a two with a foul. His free throw puts KU up one.
Questionable call on Markieff Morris, and, if I remember right, the same official has called all four fouls on KU. Self isn't happy about it, but it's hard for him to get his voice to go all the way across the court.
James with another three over Henry. Self needs another defender on the potential All-American.
At the break, the official gathers Marcus Morris and Johnson to make sure they will play nice with each other from here on out.
UT 7/KU 5 — 16:35 left in 1st half
Sherron Collins with an offensive foul, and KU is up to three team fouls. Collins doesn't like the whistle, griping at the official for an extended length of time.
Following a UT miss, Collins drives to the other end for his first two.
UT 7/KU 3 — 17:41 left in 1st half
Henry misses his next three-point attempt, and Dexter Pittman slams one home on the other end, drawing a foul on Brady Morningstar.
James follows with a three-pointer over Henry. Xavier has to guard him closer than that.
KU 3/UT 1 — 18:37 left in 1st half
Henry, like last game, gets off to a good shooting start, rattling in a three from the corner.
UT 1/KU 0 — 19:15 left in 1st half
Xavier Henry starts with the defensive assignment on Damion James.
On Texas' first possession, Gary Johnson gets it inside and is fouled by Cole Aldrich. One more whistle, and KU could be looking at a long half. Johnson makes one of two free throws.
8:10 p.m.
Pretty cool new tradition for the UT students during the starting lineups, as during the introduction video with the lights off, the students open up their cell phones and wave them back and forth. It looks a bit like lighters at a concert.
7:07 p.m.
Our pregame chat is open and available by clicking this link or the link in the upper-left corner of this blog. I'll be talking there until gametime.
Just a reminder to use the "Submit a question" link to post a score prediction, to submit a comment or to ask a question.
Today's random question (stolen from a KUsports.com message board topic): Who is the better No. 45 for KU, Raef LaFrentz or Cole Aldrich?
6:50 p.m.
Welcome to the Newell Post Live, coming to you from the Erwin Center in Austin, Texas, where the top-ranked Kansas Jayhawks are getting set to take on the No. 14 Texas Longhorns.
Even though it rained most of the day here in Austin, I have no complaints about the weather. It was 50 degrees here, and last night, I went outside to make a phone call in my short-sleeve T-shirt. I could get used to the weather here in the winter, that's for sure.
A few minutes ago, we had a stampede of Texas students down the aisles to get to their seats. For such a large student population, I guess I was expecting the Longhorn student herd to be more than a few hundred. Then again, we are in the land of football, so I guess I shouldn't be too shocked.
To their credit, the students that are here already seem to be into it. They should be, as this game should be one of the best in the Big 12 conference season.
Cole Aldrich was the first player to enter the court, and he stopped to chat with ESPN's Bob Knight and Brent Musberger for a few minutes before starting his stretching. I'd be interested to know what outspoken Knight might have said to the KU big man.
Let's get to some notes on Texas, which enters with a 19-4 record. We'll have our pregame chat a little bit later.
• Texas, like Kansas, has struggled mightily with free throws lately. The Longhorns made 10 of their 27 attempts against Oklahoma on Saturday and have made just 58 percent of their free throws in Big 12 play. UT has made just 61 percent of its free throws this season.
• The Longhorns also aren't a great three-point shooting team, making just 34.3 percent of their long-range tries (national average is 34.1 percent). UT doesn't shoot a lot of threes either, as only 20 percent of its scoring comes from three-pointers.
• In UT's four losses, it has given up an average of 31 free-throw attempts. When UT's opponent shoots at least 27 free throws, the Longhorns are 2-4. When UT's opponent shoots 26 free throws or fewer, the Longhorns are 17-0.
• Texas defends shots well, as opponents are making just 30.7 percent of their three-pointers (42nd nationally) and 42.1 percent of their two-pointers (16th nationally).
Be sure to vote in our poll in the left and also use the hashtag #kubball to have your Tweets appear in our grid on the left.