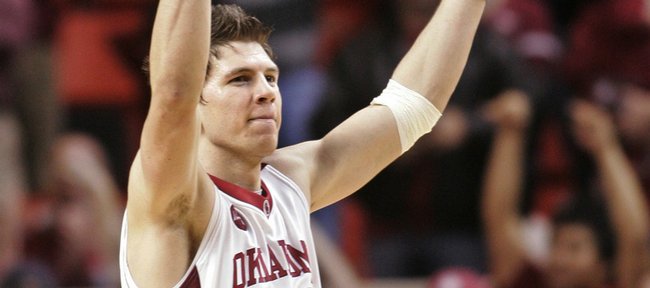 Oklahoma 80, No. 9 Texas 71
Norman, Okla. — Tommy Mason-Griffin scored 24 points, Cade Davis added 20 points and 10 rebounds for the second double-double of his career, and Oklahoma beat Texas on Saturday in a game dedicated to the memory of late Sooners star Wayman Tisdale.
The Longhorns (19-4, 5-3 Big 12) cut a 19-point, second-half deficit to five in the final two minutes, but were hampered the whole game by 10-of-27 free throw shooting.
No. 10 Kansas State 79, Iowa State 75
Ames, Iowa — Denis Clemente scored a season-high 30 points, including six three-pointers, and Kansas State beat Iowa State for its fourth straight road win.
Curtis Kelly and Jacob Pullen added 15 points each for the Wildcats, who also extended their winning streak over the Cyclones to eight games dating to 2006.
Texas A&M; 78, No. 20 Baylor 71
College Station, Texas — Bryan Davis scored 22 points, and B.J. Holmes hit three late three-pointers to lead Texas A&M; to a victory over Baylor.
Missouri 84, Colorado 66
Boulder, Colo. — Marcus Denmon scored a career-high 22 points, Kim English had 21 points, and Missouri routed the Buffaloes.
Texas Tech 81, Oklahoma State 74
Lubbock, Texas — John Roberson scored a season-high 28 points to lead Texas Tech past Oklahoma State.
The win halted a two-game skid for the Red Raiders (15-7, 3-5 Big 12) and extended the Cowboys' losing streak to three.
The Red Raiders started the second half with a 13-4 run to go up, 48-30, with about 15 minutes remaining. They had no turnovers in the first 10 minutes.
Keiton Page scored 22 points to lead Oklahoma State (16-7, 4-5).
More like this story on KUsports.com