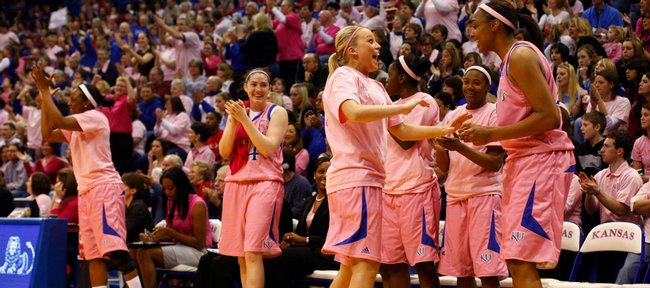 Document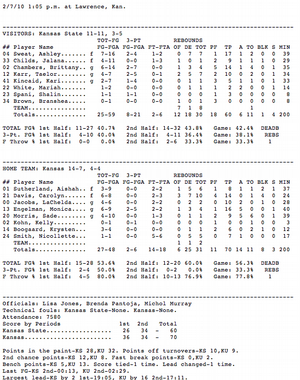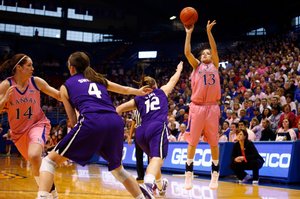 For the first time since arriving at Kansas University, Danielle McCray didn't come to play.
"I shed some tears before the game," McCray said. "I knew I would, but I kept strong during the game."
So did her KU women's basketball teammates.
Inspired in part by McCray's presence as an ex-officio assistant coach and a large Think Pink throng in Allen Fieldhouse, the Jayhawks outlasted longtime nemesis Kansas State, 70-60.
It was only the second victory for Kansas over its Sunflower State rival in the last 19 meetings.
McCray tore the anterior cruciate ligament in her left knee during Thursday's practice session, ending her college career and leaving her in fourth place on the school's all-time scoring chart.
The stunning injury had a sobering effect on her teammates and a self-absorbing effect on McCray.
"I talked to her late last night," KU coach Bonnie Henrickson said, "and I thought she was a little sad."
Minutes later, she called McCray again and challenged her to come to the game, don a uniform and sit on the bench.
"I told her I knew it would be hard," Henrickson said, "but I asked her to do one thing: 'When your teammates look at you,' I told her, 'I want them to see strength and confidence.'"
That she did, although at times McCray acted more like a cheerleader than an assistant coach while sitting among Henrickson's coaching cadre and occasionally scribbling a note.
"It wasn't fun to sit on the bench," she said, "but it was exciting to see what happened."
The Jayhawks came out like gangbusters, forging a lead of as many as 16 points before settling for a 36-26 halftime lead. Those 36 points, incidentally, were one more than the Jayhawks' total output in an early-January loss to the Wildcats in Manhattan.
K-State made a run in the second half, closing within five, but the Jayhawks clinched it by making nine of 11 free throws in the last minute and a half.
Perhaps a bit surprisingly, freshman Monica Engelman — the player Henrickson tapped to replace McCray — finished as the Jayhawks' leading scorer with 16 points. Engelman also contributed five assists, four rebounds and zero turnovers in a route-going performance.
"I was a little bit nervous," Engelman said about her first start, "but I owed it to (McCray) to go out and be aggressive."
But it wasn't all Engelman. Carolyn Davis, another freshman, had a double-double with 14 points and 10 boards, and LaChelda Jacobs chipped in with a season-high 10 points.
Seven KU players scored six or more points. Kansas had 22 points off the bench, while K-State, with only eight healthy players, counted 10 points from its reserves.
Senior Sade Morris compared the Jayhawks' mind-set to Sunday's theme of breast-cancer awareness.
"People with breast cancer have had to fight," Morris said, "but we had our fight, too, because it's kind of been a struggle for us."
KU officials pegged the crowd at a season-high 7,580.
"Everybody contributed … everybody," Henrickson said, "and the crowd was better than we were."
In winning its third straight, Kansas evened its Big 12 record at 4-4, but six of the Jayhawks' remaining eight league games are against ranked teams, starting with unbeaten Nebraska here Wednesday night.
More like this story on KUsports.com