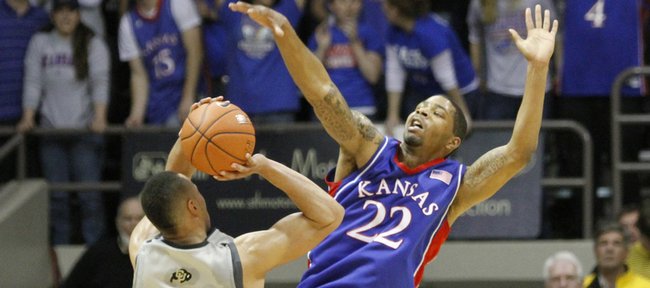 Marcus Morris was eager to depart Boulder, Colo. — elevation 5,430 feet — late Wednesday night, even if it meant arriving back in Lawrence about 3:15 Thursday morning.
"I'll definitely gain my wind back for sure," Morris, Kansas University's sophomore basketball forward, said of his desire to exit Rocky Mountain Country ASAP.
"I didn't have any wind at all," Morris added of his condition during Wednesday night's 72-66 overtime victory over Colorado in Coors Events Center. "It's not an excuse, but the altitude really had a big effect on me."
To the casual observer, it appeared Morris actually grew stronger as Wednesday's game progressed.
He scored six of KU's points in overtime as the Jayhawks (21-1 overall, 7-0 Big 12) doubled the Buffs (11-11, 2-6), 12-6, in the five-minute extra session.
He showed incredible effort on what KU coach Bill Self called the biggest play of the game.
Morris grabbed the rebound of a Brady Morningstar miss and clanged an inside shot. Morris then grabbed his own rebound and missed again. He grabbed his own rebound once more and scored off the glass to give the Jayhawks a 67-60 advantage at 2:41.
"Maybe," Morris said, asked if it was the biggest play of his still-young college career. "Nothing was really going our way. I was missing right around the rim. Just to have the composure to keep getting it back and to put it in was good."
Morningstar said that play, "got everyone pretty excited right there. It was a heck of a play, a huge play by him."
Morris was honest when asked if he could have made a similar play in crunch time a year ago.
"Probably not," he said. "Just with the mind-set I have now ... I feel I'm a major part of this team and I have to be one of the players who makes clutch shots and big shots."
Morris, who averages 17.4 points and 8.1 rebounds a game in conference play (12.7 ppg, 6.0 rpg overall), also had a pivotal play on defense. He guarded CU guard Cory Higgins, who missed a long three as the final seconds ticked off the clock in regulation, the game tied at 60.
"I thought if he's going to hit the shot from way out there, then it's the shot we're going to lose by," said Morris, who wanted to make sure Higgins didn't drive past him for an easy two-point bucket.
Morningstar, who is known as KU's defensive stopper, said he could envision a similar defensive role for Morris.
"People don't realize how well he can slide his feet when he really wants to. When he locks in and tries to guard, he can really be a good defender," Morningstar said.
Morris wasn't totally pleased with his individual effort Wednesday. He made two of seven free throws on a night KU made 18 of 38. Marcus' brother, Markieff, went 3-of-9 from the line and has now made just six of 20 (30 percent) in Big 12 games.
"Kieff's got to get back in the gym. We talked about it. I've got to get back in the gym, too. I shot two for seven," Marcus said. "I talk to him, tell him, 'Just keep shooting them. At least you're getting fouled. At least you're going up strong.' But we've got to make them."
Academic honor
KU center Cole Aldrich has been named to the 2010 CoSIDA Academic All-District Seven basketball team. Aldrich will now appear on the national ballot for CoSIDA Academic All-America. The last KU player to be named Academic All-America first team was Ryan Robertson in 1999.
"This has been one of my goals ever since I said I was coming back after last year," said Aldrich, a communication studies major who was a 2009 Academic all-Big 12 second team pick last year. "Not only do I want to graduate, but also do well in the classroom. I want to show people the stereotype that basketball players or athletes are just in it for the sport is not true."
Sportsmanship honor coming
NCAA officials will recognize former KU athletic director Bob Frederick as the inaugural winner of the NCAA's administrator's sportsmanship award at halftime of Saturday's KU-Nebraska game (5 p.m., Allen Fieldhouse). The NCAA's John Blanchard and Robert Vowels will make the presentation to Frederick's widow, Margey. The award goes to an NCAA administrator who "shows the highest respect for intercollegiate athletics, demonstrates respect for competition, student-athletes, coaches and officials, and encourages student-athletes to demonstrate positive sportsmanship and integrity."
More like this story on KUsports.com