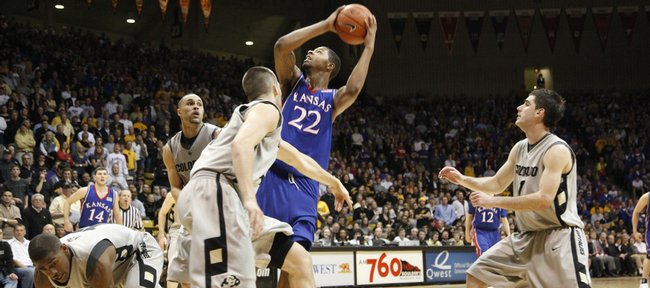 FINAL: KU wins, 72-66, in OT
Morningstar with a steal, and on the other end, Marcus Morris' motor is going crazy, as he rips away three or four straight offensive boards before putting in a layup. Self loves the effort, clapping his hands and pumping both fists ahead of him.
Relphorde follows with a layup and foul, but he misses the free throw. The next CU possession, Higgins is fouled and hits two free throws, cutting KU's lead to three.
Collins misses a fadeaway, but Marcus Morris snatches the offensive rebound. Collins thinks about putting up an open three, but he wisely resets the offense.
With the shot clock winding down, Collins squirts by his defender and under the basket, putting in a layup to put KU up five.
Dufault misses a wide-open three, and Morningstar rips down the board between two CU players. He gets fouled and makes one of two free throws.
Higgins is fouled, and he makes two free throws. Marcus Morris is immediately fouled after KU gets it inbounds. Marcus makes both free throws, putting KU up six with 26 seconds left.
CU misses two three-point attempts, and that will do it. Marcus Morris clears the rebound and is fouled.
The Rock Chalk Chant starts with 7.5 seconds left in overtime. So does the "O-ver-ra-ted" chant from CU fans.
KU escapes with a 72-66 victory.
KU 65/CU 60 — 3:13 left in overtime
Aldrich gets fouled inside, but he only hits one of his two free throws.
KU gets a defensive stop, with Morningstar snatching the rebound. On the other end, Morningstar drives to the right, putting in a 10-foot bank shot off the glass. KU up three.
Knutson misses a jumper, and this time, Marcus Morris rips away the defensive rebound. This is the most intensity I've seen from KU since the first half.
Collins drives to the left, then fires back left to Marcus Morris, who puts in a layup. Timeout CU, and Collins rips out his mouthpiece, screaming to the KU fans on this side.
CU 60/KU 60 — End of regulation
Morningstar lobs it to Aldrich, but the big man doesn't catch it cleanly.
KU heads to overtime for the second straight game.
CU 60/KU 60 — 0.6 seconds left in 2nd half
Higgins puts up a long three with one left on the shot clock. It bangs off the backboard without touching rim. Shot-clock violation. KU will have the ball with 2.0 seconds left under its own basket.
CU tips the ball out of bounds. That's a break for KU, which will have it on its own end of the court with .6 seconds left. Self calls timeout.
CU 60/KU 60 — 10.6 seconds left in 2nd half
KU nearly forces a 10-second call in the backcourt. CU gets it across at nine seconds.
Bzdelik calls timeout to set up a play.
CU 60/KU 60 — 38.2 seconds left in 2nd half
Dufault puts in a shot inside. Collins follows with a bad entry pass to Collins that sails out of bounds.
Taylor immediately sprints down the floor, missing a wild shot. Self pushes in his temples. Relphorde follows with a layup, and CU is down one.
Aldrich bricks a baseline shot, and CU clears the rebound, the fans going wild.
KU has put up some bad shots, but Tomlinson wins the bad-shot award tonight, hoisting up a 25-footer with time left on the shot clock. It bounces away, and KU brings down the rebound.
Morningstar has a two-on-one break, but his pass is stolen under the rim.
Collins misses a jumper, and CU grabs the loose-ball rebound. Morningstar is called for a block on the other end, and Relphorde makes both free throws to put CU up one.
Collins forces up a shot, and an official bails him out with a whistle. I didn't see much contact there. Collins will have two free throws coming up.
Collins makes one of two free throws.
CU can hold the ball and essentially have the last shot.
KU 59/CU 54 — 3:53 left in 2nd half
Markieff Morris' free-throw shooting is going to become a factor if this one stays close. He makes one of two, and is just three for his last 13 from the line. Self will have to pull him if KU is leading by a slim margin late.
Collins tosses a crosscourt pass into the third row. KU appears a bit rattled and Self senses it, calling for a timeout.
Knutson misses the front end of a one-and-one. Throw the stats out the window for this game.
Collins drains an 18-footer confidently, but the next time down, he forces up a shot with tons of time left on the shot clock. His decision-making hasn't been the best in this game.
While pressured, Morningstar chucks a nice bounce pass to Marcus Morris, who finishes inside with a layup and foul. Credit Morningstar for being confident enough in himself to make a tough pass in a close game.
KU 54/CU 49 — 7:59 left in 2nd half
Two more free-throw misses, this time from Marcus Morris. KU is now 12-for-25 (48 percent) from the line.
Nice lob to Aldrich, who finishes with an ugly but effective layup. The next time down, Aldrich show nice body control, avoiding a charge before putting in a jumper off the glass and in.
Relphorde drives for a layup to trim KU's lead to three, but Collins answers immediately with a tough shot in the lane over three defenders.
CU gets another offensive rebound, and the fact that the Buffaloes are out-rebounding the Jayhawks 31-28 at this point might be the biggest shock of the game.
KU 48/CU 45 — 11:34 left in 2nd half
I've figured out Colorado's play No. 1. One guard penetrates, draws a second defender, then kicks out for a three. The Buffs pull it off again, as Tomlinson wiggles past Collins, then throws back to Trey Eckloff for a three. KU hasn't figured out the best way to defend that play yet.
Big steal for Collins, and he finishes on the other end with an uncontested layup.
This game will most likely be decided by the team that can get to the free-throw line the most. CU has eight team fouls and KU has six, meaning we'll have free throws on every foul the rest of the way. Remember, CU came into the game shooting better than 77 percent from the line.
KU 42/CU 40 — 14:54 left in 2nd half
Collins breaks his slump, curling around a screen before dropping in a finger-roll. KU had 21 points in the first 10 minutes and just 17 in the next 12 minutes.
KU gets it inside two possessions in a row, and the results are positive. Marcus Morris follows his own miss with a stickback, and Aldrich follows the next time down with a tip-in for two.
KU 34/CU 34 — 18:38 left in 2nd half
Knutson with another three. The next possession, KU's defenders once again converge on a driving CU player, and the pitch goes out to Knutson for a three that he swishes.
Timeout Self, as CU has rallied to tie it after KU led by 16 in the first half.
KU scoring — Aldrich 9, Taylor 6, Marcus Morris 5, Markieff Morris 5, Morningstar 3, Reed 3, Collins 2, X. Henry 1.
KU was 12-for-24 from the floor (50 percent), 4-for-12 from three (33.3 percent) and 6-for-15 from the free-throw line (40 percent).
CU was 11-for-31 from the floor (35.5 percent), 5-for-12 from three (41.7 percent) and 1-for-5 from the free-throw line (20 percent).
CU out-rebounded KU, 22-18, in the first half. CU had six turnovers, while KU had four.
Halftime thoughts
• What a strange first half. This one is playing out exactly opposite of what the numbers would suggest. CU, which is getting out-rebounded by 14.4 in conference, is out-rebounding KU by four at half? Hmm.
• Both teams with awful free-throw shooting is surprising, too. Remember, CU was third in the nation in free-throw shooting, and it is just 1-for-5 tonight.
• KU needs to force-feed it more inside. Aldrich, Marcus Morris and Markieff Morris combined to go 7-for-8 in the first half. As the old saying goes, If it ain't broken, don't fix it.
KU 34/CU 28 — Halftime
Collins is off tonight, but that hasn't stopped him from shooting. Another three bricks away, and he's 1-for-7 from the floor and 0-for-5 from three for two points.
Aldrich with an athletic move underneath, dribbling around a defender before putting in a two with a foul.
Conner Teahan checks in. Is this for defensive purposes, perhaps to guard CU's perimeter players better?
Taylor with a bad pass to Aldrich, and after a CU tip-in, he almost turns one bad play into two. He races up the court out of control, and after banging into a defender, he draws a foul on the Buffaloes. Taylor is lucky, because from my view, it didn't look like the CU defender did anything wrong on that play.
It ends up not mattering, as Taylor clanks both free throws. KU now 6-for-15 from the free-throw line (40 perceent).
Aldrich blocks a shot at the end of regulation, and CU coach Jeff Bzdelik is steamed that there wasn't a whistle. He rips off his jacket and glares at an official before making his way to the locker room.
KU takes a 34-28 lead into the half.
KU 30/CU 26 — 2:50 left in 1st half
With the shot clock ticking down, Relphorde drains another three for CU. Not horrible defense by Markieff, but the high-arching shot fell through.
Xavier Henry draws three defenders on a drive, then kicks out to Tyshawn Taylor for a three. Good decision by Henry, who would have picked up a charge had he taken one more dribble or step.
KU is giving up points defensively in threes. Levi Knutson with a three. Nate Tomlinson follows with a three from the corner. KU coach Bill Self calls timeout.
Higgins beats KU down the floor, and his reverse lay-in gives CU an 8-0 run. The Colorado fans are making some noise now.
KU 26/CU 15 — 7:41 left in 1st half
I just saw one of the most unprofessional displays I have ever seen in my life.
Frustrated that Collins wasn't whistled for a foul, CU athletic director Mike Bohn rose from his seat and came over to press row to verbally berate the Big 12 official next to me that is in charge of evaluating the referees.
Yells and screams followed. "Why isn't that a foul?" "They aren't giving our guys a chance!" All this with arm gyrations and a voice loud enough for three sections around to here — and all this to someone on press row who can't call any fouls and has no say on what is called and what isn't. The display went on for a good two to three minutes. Bohn then banged his chair on the way back, ending his tirade.
I'm still a bit shell-shocked that I saw anyone do that, much less the athletic director of a Big 12 school.
Dufault hits another three, and Marcus Relphorde follows with a layup and foul. But Aldrich hits a tough turn-around on the baseline to end CU's mini run.
KU 21/CU 8 — 10:06 left in 1st half
Tyshawn Taylor with a steal, and he ignores contact on the other end to put in a layup with a foul. A few seconds later, he completes the three-point play.
Morningstar is playing as well during this stretch as I can remember him playing during his career. With the shot clock winding down, he penetrates before finding Markieff Morris underneath for a jam. Morningstar didn't panic in the least, even with the shot clock under five.
KU pushes it inside the zone defense, and Markieff Morris puts in a 12-footer with a foul. Markieff misses his free throw, though, and he's missed seven straight from the free-throw line.
The CU fans are getting on Markieff, though I can't exactly make out what they're chanting. It sounds like, "Don't shoot parents," but I'm not 100-percent sure on that.
Collins penetrates, then pitches to Tyrel Reed for a three. That's at least five straight made three-pointers for Reed.
Marcus Morris adds to the long-range display, draining a three from the corner. KU has come out focused tonight, and CU calls timeout in the midst of a 17-2 KU run. Collins flips his hands in the air toward a corner, motioning for the KU fans there to rise to their feet.
KU 7/CU 6 — 15:47 left in 1st half
Colorado opens in a zone defense, perhaps to try to make up for its lack of size inside. After a Marcus Morris jumper goes in, the zone seems to work, as Sherron Collins and Xavier Henry settle for long three-point attempts that bounce away.
Cole Aldrich has been dominant on the defensive end, blocking two shots in the first couple minutes.
CU's Austin Default and Casey Crawford are both left open for three, and they hit consecutive treys. KU continues to struggle to defend the perimeter, as Big 12 opponents are making more than 40 percent of their threes so far against the Jayhawks.
Two good plays for Brady Mornignstar, one a lob to Aldrich for a dunk, and the second a three from the top.
8:06 p.m. CST
That's a new one. The P.A. announcer just introduced Xavier Henry as "ZAH-vuh-ray".
7:06 p.m. CST
All right, our pregame chat is open and available by clicking this link or the link in the upper-left corner of this blog. I'll be hanging out there until gametime.
Just a reminder to use the "Submit a question" link to post a score prediction, to submit a comment or to ask a question.
Today's random topic: Cocoa Puffs or Fruity Pebbles?
6:45 p.m. CST
Quick update: CU staff members are putting newspapers on each chair in the student section. Wonder what those will be used for ...
6:35 p.m. CST
Welcome back to the Newell Post Live, coming to you from the Coors Events Center in Boulder, Colo., where No. 1 Kansas is getting set to take on the Colorado Buffaloes.
The trip to Boulder is always a nice stop on the conference tour. The mountains are a pleasant change, and Pearl Street has to rank as one of the top spots to be in the Big 12.
Hair seems to be a little bit longer here. And whenever I think of Boulder, I can't help but think of Cartman's voice from when he introduced the CU Buffaloes on TV a few years back (Check it out if you haven't seen it).
It's just a shame that, when the basketball game actually starts, it is played at what Big 12 players seem to consider the worst arena in the league.
It's not my favorite, for sure. It's missing something, though I'm not sure exactly what that something is. Perhaps it's a center-hung video board, which most arenas nowadays seem to have. Maybe it's a different color scheme, as the gold/creme seats are striking, but not necessarily in a good way.
Shouldn't one of the league's nicest cities at least have an arena that ranks in the top half?
I guess that's a discussion for another time. On a side note, while walking up to the arena, I saw two deer eating grass only 50 feet away from the Coors Events Center. That's not something you see every day.
We'll try to get a chat in later, but for now, here are some notes about Colorado, which enters with an 11-10 record.
• To say Colorado has struggled on the backboards this year might be an understatement. CU has been out-rebounded by an average of 6.7 rebounds per game. In Big 12 play, the Buffs have been out-rebounded by 14.4 rebounds per game.
• Opponents are making 51.6 percent of their two-point attempts against CU.
• CU actually has done a decent job defending three-pointers this season. Opponents have made just 32.3 percent of their long-range tries against the Buffs (national average is 34.1 percent). Only 21.6 percent of the points CU has given up this season has been from three-pointers (national average is 27.0 percent).
• CU does not turn it over much, averaging just 10.9 turnovers per game. The Buffs average 15.4 takeaways per game.
• The Buffaloes get a lot of their scoring from the free-throw line, averaging 25 free throws per game while hitting 77 percent of those tries (third nationally). In fact, 25.1 percent of the Buffs' offense comes from the free-throw line.
• CU is 10-1 at home this season, with its only loss coming to Kansas State. The Buffaloes beat Baylor, 78-71, on Jan. 12.
Be sure to vote in our poll on the left, and if you're Tweeting, use the hashtag #kubball to have your messages appear in our grid on the left side.