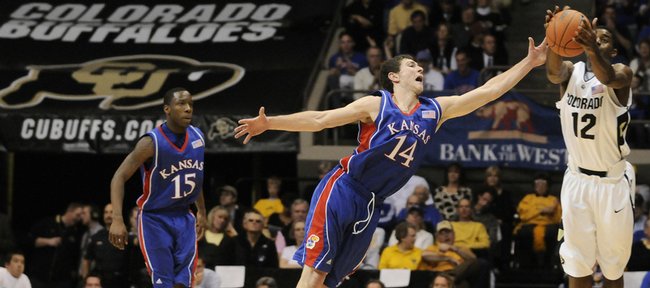 Boulder, Colo. — Kansas University's basketball team last Saturday won in Kansas State's Bramlage Coliseum for the 21st time in 22 seasons.
It's off to another so-called home-away-from-home tonight.
The No. 1-ranked Jayhawks (20-1, 6-0) meet Colorado (11-10, 2-5) in an 8 p.m. tip in 11,064-seat Coors Events Center, where KU has won six consecutive games and 17 of the last 18.
"Hopefully the weather will be good, so some of our fans can get there," KU coach Bill Self said.
His Jayhawks pasted the Buffs, 73-56, last Jan. 17 before a crowd of 10,212, that included about 6,000 Crimson and Blue supporters.
"I know Colorado is drawing better, (but) it's been really nice seeing that many people there support us," added Self, who is 12-0 versus the Buffs, 6-0 in Boulder.
The Buffs admittedly were shocked and embarrassed last season as KU fans chanted, "This is our house!" as the final seconds ticked off the clock.
"It's the biggest opportunity we've had this year. We'll have more CU fans this time than KU fans, hopefully," Colorado senior Dwight Thorne said in an interview with the Boulder Daily Camera.
Considering the game falls on a weeknight instead of Saturday, there's a darn good chance CU will have a majority tonight. KU families from Western Kansas might not be able to make the trip to Boulder with work and school on the agenda for Thursday.
For the record, the Buffs have averaged 5,416 fans in 11 home dates. CU drew crowds of 6,957 for Baylor (78-71 win), 10,852 for Kansas State (87-81 loss) and 7,108 for Nebraska (72-60 win).
"They are 10-1 at home," said Self, whose KU teams have won by 15, 15, 12, 29, 13 and 17 at Coors. "It's the best team Colorado has had in recent memory. I think four of their last five losses have all been under six points."
The Buffs most recently have had close calls against K-State, Iowa State (64-63) and Texas A&M; (67-63) to go with larger defeats to Oklahoma State (90-78) and Texas (103-86).
"Their personnel is better. The kid from Grandview is very good," Self said of Alec Burks, a 6-foot-6, 185-pound freshman guard from Missouri, who has emerged as one of the top rookies in the Big 12.
Burks, CU's second-leading scorer behind Cory Higgins (16.3 ppg to 18.3), suffered a left knee sprain in Saturday's loss at Iowa State. He wore a knee brace at practice Monday and Tuesday, according to the Denver Post. Burks said he hopes to play in tonight's game, but it will likely be a game-time decision.
Burks has hit 53.1 percent of his shots, including 11 of 40 threes. He's contributed 4.7 boards per game.
"That is a great get by Colorado and obviously a recruiting blunder by a lot of folks," Self said. "I watched him play in the Missouri state finals last year. I thought he was really good then."
Burks, who also considered Kansas State, scored 33 points and grabbed 13 rebounds in Grandview High's 80-70 loss to Brad Beal's St. Louis Chaminade High team in the 2009 state title game in Columbia, Mo.
"He is a good player and obviously fits Jeff's system well. He's hard to guard," Self said.
Third-year CU coach Jeff Bzdelik runs a Princeton style offense, which involves a lot of cutting and precision passing. It gave KU fits in the Jayhawks' 66-61 victory over the Buffs last season in Allen Fieldhouse.
"That Princeton offense is tough," KU center Cole Aldrich said. "They don't really have maybe that true center or even a true 4-(man), a guy who roams the paint. It's spread out. They love to shoot the ball, drive the ball and get into the paint."
Colorado's tallest starter in a four-guard offense is 6-9 sophomore forward Austin Dufault (6.8 ppg, 3.4 rpg). Marcus Relphorde, a 6-7 junior, and Nate Tomlinson, a 6-3 sophomore, average 10.4 ppg and 5.7 ppg respectively.
"I think Cornell did," Self said, asked if any 2009-10 nonconference foe helped the Jayhawks prepare for the Princeton style. "Michigan by far more than anybody else. They are very similar."
KU beat Cornell, 71-66, and Michigan, 75-64, in games in Allen.
"They try backdoor, play a lot of reads," said KU guard Tyrel Reed. "They have a whole lot of sets. It hurts us because you can't get out and pressure as much."
One thing is for sure. The Buffs, who are 10-1 at home and 1-9 away from Coors Center, will be energized against No. 1 tonight.
"Our players have a great desire, and they're getting better," Bzdelik told the Daily Camera. "We know that when we play well we can compete with anybody."
KU will return home to play Nebraska in a 5 p.m. tip Saturday.
More like this story on KUsports.com