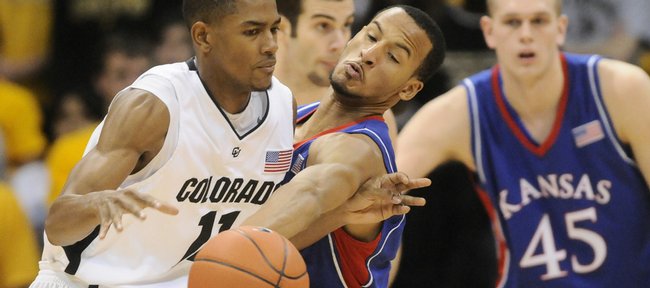 Boulder, Colo. — Third-year Colorado coach Jeff Bzdelik has the Buffs over the elusive .500 mark (11-10 overall, 2-5 in league) entering today's 8 p.m. home game against Kansas University. His first two CU teams went 12-20 and 9-22.
"It's a process as we build this thing," Bzdelik told the Boulder Daily Camera. "I've been very fortunate that the administration and fans have been so patient. But I also know it's about winning now. I feel good about the future."
A victory over No. 1-ranked KU tonight would be the biggest of his career and one of the biggest victories in CU history.
"I tell our team every time we take the floor, it's an opportunity regardless of who we play, especially when we take the floor against a Big 12 opponent," Bzdelik said on this week's Big 12 media teleconference. "More often than not, they (league foes) are ranked in the top 25 for example. It's always been about us and how we play regardless of who the opponent is. Certainly with Kansas being ranked where they are, it is a special opportunity ... you have only so many opportunities in life. Take advantage of it, and have no regrets when you are sitting in that locker room after the game."
Burks a big-time recruit
Alec Burks, a 6-foot-6 freshman sensation from Grandview, Mo., chose CU over Kansas State.
"I just loved it here (on campus visit)," Burks told the Daily Camera. "They had a football game (against West Virginia) on ESPN, and we won and everybody rushed the field. I wanted to be a part of that experience, so I committed here."
Burks (left knee sprain) will be a game-time decision for tonight's game.
The freshman, who has grown two inches since committing to CU, exploded on the national scene after averaging 23 points a game his senior season at Grandview High.
"I improved my overall game last year. I was just more aggressive and got better," Burks said.
Top prospect hurt
Shannon Sharpe, a 6-1 freshman point guard from Corona, Calif., was injured five minutes into his first practice at CU and is out for the season following microfracture knee surgery. He should return to the court in April.
Stats, facts
The Buffs have lost 33 straight Big 12 road games. They are 1-9 outside of Boulder this season and 10-1 at home. ... KU leads the all-time series, 117-39, including a 22-7 mark in Coors Center. KU has won 13 straight and 40 of the last 41 versus CU dating to 1991. CU's last win was a 60-59 decision on Jan. 22, 2003 at Coors. ... Since the inception of the Big 12, KU is 26-1 against Colorado — 25-1 in regular-season play and 1-0 in the league championship. ... CU has faced a No. 1-ranked team 12 times, the last meeting a 102-73 loss to KU on March 8, 2002, in Kansas City, Mo. CU is 0-5 against KU when the Jayhawks are No. 1.
KU, USC talk
KU and the University of Southern California are in discussions about a home-and-home series that would start next season in Allen Fieldhouse. KU senor associate athletic director Larry Keating said nothing has been finalized but the schools have discussed the series. The game would not be part of the Big 12/Pac 10 challenge. UCLA visits KU as part of the challenge next season.