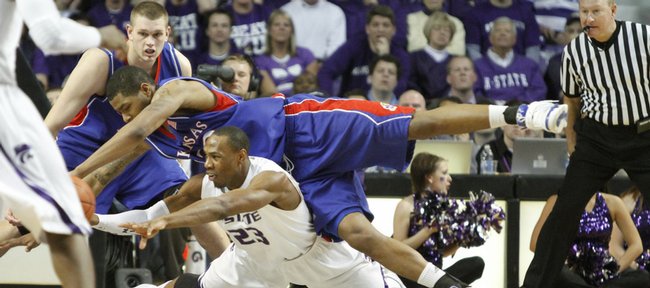 Bill Self didn't fit his Kansas University basketball players for shoulder pads last week, as he did before the Georgia Tech game in his second season here.
KU's seventh-year coach did bring a football mentality to hoops practice in days leading up to last Saturday's Kansas State game, however.
"I made practice ridiculous for our starters, our main players," Self said Monday. "They were getting tackled. They were doing a lot of stuff. Guys were basically, not complaining, but gave their own little body language symbol, saying, 'This is not right.'
"I heard them say, 'No, this is how it is,''' Self added of team leaders Cole Aldrich and Sherron Collins pointing out that getting roughed up by KU's scout team was the way to prepare for ultra-physical Kansas State — a team the Jayhawks outfought, 81-79, in overtime.
Aldrich and Collins were all for the physical workouts.
"It was like flag football, a little bit of bumping here and there," said Collins, who played football at Chicago Crane High School. "That was football practice right there."
"You can see right here. I don't know if that's from the game or practice," Aldrich said, pointing to a bruised forearm. "You get bruises, scratches and all that good stuff, because that's how you prepare for those teams."
Self said the most physical member of the scout team — the team that mimicked KSU — was red-shirt forward Mario Little.
"I thought he demonstrated excellent form, wrapped them up good. He missed his calling I think. He should be on a football field," Self cracked.
Sophomore Marcus Morris admitted the scout team's scratching and clawing proved frustrating at times.
"Every time we were going to the hole, they were fouling. Coach was saying, 'It's not a foul,' even though we all know it is," Morris said. "We did get mad. I think anybody would get mad if somebody just grabbed you out of the air or fouled you or pushed you in the back.
"We were playing like we didn't know each other, like we weren't on the same team. I think it's what got us ready for the game."
Coincidentally, KU beat Georgia Tech, 70-68 in overtime, the week of the practice in football pads on Jan. 1, 2005.
Self didn't promise similar workouts this week in preparation for Colorado (8 p.m. Wednesday in Boulder) and Nebraska (5 p.m. Saturday, Allen Fieldhouse).
"We'll go hard. This time of year you don't go that hard that often, anyway," Self said. "We did that against K-State to try to set the tone. Hopefully we've played guys the right amount of minutes where everybody's legs will be fresh and minds will be fresh in moving forward."
Congrats, Tyrel
Self said he sent a congratulatory text to Tyrel Reed while watching a replay of the KSU game early Sunday morning. Reed stripped the ball from Dominique Sutton as Sutton raced in for a possible game-winning layup.
"After seeing it on TV, I texted him saying, 'You saved the game,''' said Self, who didn't have a good view of the play in Bramlage Coliseum.
"Coach said, 'Hey that was a big play. I didn't realize it at the time,''' Reed said.
Reed agreed with the ref that a no-call was the right call: "I don't think I fouled him," Reed said. "I haven't seen the tape. I thought I got all ball. It was just a reaction to try to stop him from getting a shot up."
Injuries
KU freshman C.J. Henry, who suffered a severely bruised tailbone at practice on Jan. 22, is not practicing full-time. "He didn't chip his tailbone, but it's severe enough he's not practiced since then. He'll travel with us, but has not been comfortable enough to practice," Self said on Monday's Hawk Talk radio show. ... Colorado's Alec Burks, a 6-6 freshman from Grandview, Mo., who suffered a sprained knee in Sunday's 64-63 loss at Iowa State, remains "day-to-day." Burks practiced part-time Monday.
Marcus excelling
Self on the potential of soph Marcus Morris, who averages 18.0 points and 8.0 rebounds in KU's six Big 12 games:
"He can play himself to be a first-rounder. He can play himself to being a pro," Self said of Morris, who figures to remain in college at least three seasons. "He's still got some things he has to tighten up. He will not be a 4-man in the NBA. We've got to get to where he is better on the perimeter in doing some things. Marcus is one of our most gifted players because he can do a little bit of everything."
All-Star weekend
Self said he was hoping some of KU's players in the NBA would attend the Feb. 13 game against Iowa State, which takes place over All-Star weekend. Cleveland's Darnell Jackson has said he'll attend.
Prank calls
K-State students pestered KU's Markieff Morris with phone calls leading up to last Saturday's game.
"He just changed his number. It was major, but we got through it," Marcus Morris said. "You just try to ignore it as long as you can. But after a while, it gets annoying. He just had to change his number."
When did the fans call?
"All times of the night. Three o'clock, 4 o'clock in the morning. It just gets annoying," Marcus said. "He was not too upset because we won. It's off of him now."
• A previous version of this story was updated.