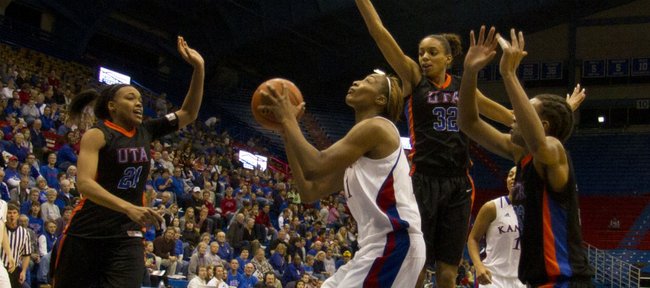 Following the Kansas University women's basketball team's 80-57 victory over Texas Arlington on Thursday, freshman Keena Mays walked into the interview room and picked up a copy of the box score.
As she scanned the sheet, Mays wondered aloud whether the Jayhawks' turnover total was accurate.
Mays may have lost count, but coach Bonnie Henrickson wore a postgame look that suggested she remembered each one of KU's 21 turnovers.
"We haven't really been that team, that's what's disappointing," Henrickson said. "We haven't looked that bad from a turnover standpoint all year. It was just casual and careless."
Three Jayhawks, including Mays, committed four turnovers in the game.
"I think we were just really, as coach would say, nonchalant," sophomore point guard Angel Goodrich, who had nine points, five assists, and three steals against three turnovers. "Just not straight-forward with our passes and just throwing 50-50 balls up and not getting (them)."
Henrickson has her reservations about the Jayhawk defense as well, which, aside from a few moments, gave up far too many easy layups on drives to the basket.
"We just played well a couple of possessions then fell asleep for a while," Henrickson said.
Consistent on-ball pressure is especially important for the Jayhawks, who thrive when they can force turnovers and get out in transition.
"I am just really concerned for us defensively," Henrickson said. "We've got to create some offense from our defense because we're not going to be able to sit in a half-court offense in this league and put 80 up on the board. That's just not going to happen. Nobody does that in our league."
Goodrich agreed with Henrickson and saw ties between the lapses on defense and the lackadaisical care of the basketball, insisting that going forward, KU won't be taking any plays off.
"It's an effort thing," Goodrich said. "And I think we've been really loose on that part."
The stretches where the Jayhawks (12-1) played well, though, were more than enough to easily take down the Mavericks (3-9).
Sophomore Carolyn Davis, in her customary efficient fashion, led the way with 26 points (10-of-14 shooting) and 12 rebounds, good for her second double-double of the season.
Mays added 13 points and four assists, junior Aishah Sutherland chipped in with seven points and 13 rebounds and sophomore Monica Engelman tallied 11 points.
"We have to get to a (point) where we're consistent throughout the whole game and not have so many spurts, and just continue to play and not take off," Goodrich said.
As the Jayhawks close out their non-conference schedule on Monday against UMKC at Allen Fieldhouse, Henrickson and company aim to shake off Thursday's uncharacteristically loose performance.
"We've practiced better than that," Henrickson said. "It's not like we've been that sloppy and that bad."
Notes:
• Former-Jayhawk standout Danielle McCray was in attendance. McCray, who graduated in May before being drafted 7th overall by the Connecticut Sun in the 2010 WNBA draft, finished her career as KU's fourth all-time leading scorer with 1,934 points. McCray played professionally for Rishon Lezion of the Israeli Women's League this season.
• Though every Jayhawk saw action in the game, Henrickson's rotation appears set heading into Big 12 play. Behind the starters (Goodrich, Mays, Davis, Sutherland, Engelman), guards Marisha Brown and Diara Moore will sub in the backcourt, while Krysten Boogaard and Tania Jackson will share minutes at forward.
More like this story on KUsports.com