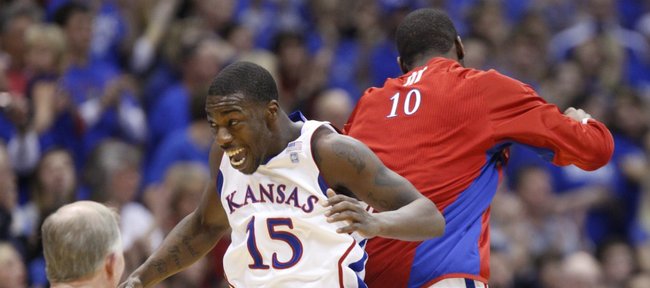 Kansas University guard Elijah Johnson is used to being subbed out when he gets tired.
That didn't happen Wednesday during KU's 82-57 victory over UT Arlington at Allen Fieldhouse.
"It felt good playing a large amount of minutes tonight, because I wanted to see exactly how far I could go," Johnson said after a career-high 26-minute effort.
The Las Vegas native said he wanted to prove to himself that he could push through fatigue on the court and could be a player that takes on "starter minutes," coming in the game when KU coach Bill Self felt like the chemistry was off or when the team needed to settle down.
"It just felt good to know that I can do it," Johnson said. "I always wanted to know that, and tonight, I got to know that by coach giving me that much time."
Starting in place of Tyshawn Taylor — who missed four practices this week after getting stuck in New Jersey because of bad weather — Johnson impressed as KU's main point guard.
The 6-foot-4 guard tied a career-high with 11 points to go with five assists, two steals and one turnover.
He also made three of his four three-point attempts, setting a career-high for three-point makes.
"It felt good, it looked good, and it was good," Johnson said with a laugh about his long-range shooting. "Just to sum it up for you, it felt good."
Quietly, Johnson has put together some solid offensive season totals. He has made 10 of his 18 three-point attempts (55.6 percent) and has 26 assists to just eight turnovers.
It was Johnson's first start since last year's La Salle game on Dec. 12, 2009.
"I can't lie and say it doesn't feel good (to start)," Johnson said. "It feels great to start, but it's just about what's most important (for the team) — if he (Self) needs me to be the eighth man or he needs me to start at point guard, whatever it is."
Self complimented Johnson, saying there was no question he was one of KU's best five players Wednesday.
Self said it was tough to know how to distribute the team's minutes at guard.
"You play Ty (Taylor), you play Elijah or you play Josh (Selby) or you play Tyrel (Reed)," Self said. "Tyrel's been our best perimeter player consistently throughout the preseason.
"It's kind of a coin flip right now, but it will make for some interesting practices moving forward the rest of this week."