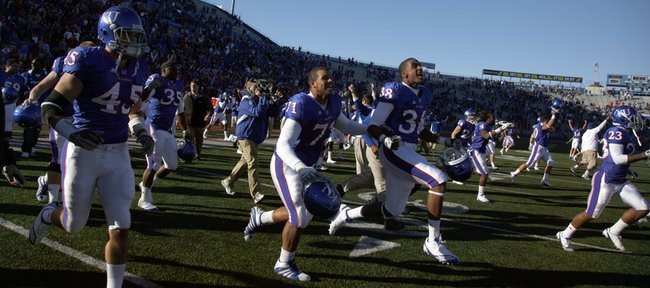 The 2010 college football season was as rough as we've seen at Kansas University for a few years. The Jayhawks, in new head coach Turner Gill's first season, finished 3-9 overall and won just one game in Big 12 Conference play.
The adjustment from the old regime to the new coaching staff was a rocky one, as switching to new offensive and defensive schemes was made even trickier by a new style of conducting business in the football facility.
In the end, though, 2010 was seen as eventful if nothing else. With the players and coaching staff already moving ahead to 2011, here's one final look back at the top stories of the 2010 KU football season, good and bad:
1. Record-setting comeback rocks Lawrence: Nov. 6
The Jayhawks scored 35 points in the final 11 minutes to beat Colorado, 52-45. The 35 fourth-quarter points set a school record for most points in a single quarter and the 28-point comeback (KU trailed, 45-17, in the fourth) also was a school record. Freshman running back James Sims tied a school record with four rushing touchdowns and junior quarterback Quinn Mecham eclipsed Todd Reesing's school record of 13 consecutive completions by stringing together 17 of his own. KU's victory was its lone win in the Big 12 this season and also marked the final game for CU coach Dan Hawkins, who was fired a few days later.
2. North Dakota State stuns Kansas: Sept. 4
KU coach Turner Gill got his Kansas career off to a rocky start, with a 6-3 loss to FCS foe North Dakota State in the season opener. The Jayhawks struggled throughout the night, looking out of sync on offense and unsure on defense. Third-year sophomore Kale Pick started at quarterback but was pulled after three quarters in favor of red-shirt freshman Jordan Webb. Webb fared no better and the Jayhawks fell to 0-1 on the season and dropped their eighth straight game overall.
3. Jayhawks storm back, shock Georgia Tech: Sept. 11
One week after an embarrassing loss in the season opener, Kansas bounced back with an impressive effort to knock off No. 15 Georgia Tech. James Sims ran for 101 yards and a touchdown in his college debut and junior wideout Daymond Patterson caught seven balls for 85 yards and a TD, including a highlight-reel, 32-yard run-and-catch that ended with Patterson diving head-first into the end zone. After the game, players and fans joined together on the Memorial Stadium surface to celebrate Gill's first victory with the program and the school's first home win against a Top-15 team since 1984.
4. Stuckey, Meier, Briscoe selected in NFL Draft: April 24, 2010
For just the second time this decade, the Jayhawks had more than two players selected in the NFL Draft, as safety Darrell Stuckey went in the fourth round to San Diego; wide receiver Kerry Meier went in the fifth to Atlanta and wide receiver Dezmon Briscoe was scooped up in the sixth by Cincinnati. All three players signed with their respective squads, though only Stuckey and Meier were able to stick. Briscoe was released by Cincy but later picked up by Tampa Bay, where he joined former Jayhawk Aqib Talib. Former KU players Jake Sharp, Maxwell Onyegbule and Justin Thornton also made it to NFL camps, with Thornton making it to the final cut with the Pittsburgh Steelers.
5. Prep standout from Colorado picks Kansas: Dec. 20, 2010
Still smarting from missing out on junior-college quarterback Zack Stoudt (who chose Ole Miss over KU on Dec. 13) the Jayhawks received a huge lift when highly-touted prep QB Brock Berglund, a senior at Valor Christian High in Highlands Ranch, Colo., decommits from Colorado and picks Kansas. Berglund, a 6-foot-4, 205-pound dual-threat QB, is the 13th-ranked quarterback in the Class of 2011 and may be on campus in January, which would give him a jumpstart on his quest to become KU's starting quarterback in 2011.
6. Gill heads home: Nov. 13, 2010
On the day Gill was hired, thousands of KU and Nebraska fans circled Nov. 13 as an important date. That was the day that the former Cornhuskers standout returned to Lincoln, Neb., to coach against his alma mater. Gill downplayed his battle against the Big Red all week but finally admitted after KU's 20-3 loss that it was a little emotional returning to the place he starred as a college quarterback. Because Nebraska is headed for the Big Ten in 2011, this game could very well go down as the only time in his career that Gill will have to coach against his former school. The Jayhawks played inspired football that night, especially defensively. However, NU's defense limited the Jayhawks to just 87 yards of total offense and Kansas never seriously threatened.
7. Gill backs up emphasis on recruiting: Feb. 3, 2010
Less than two months into the job, Gill made his first recruiting splash. When Gill met with the media to announce the 2010 recruiting class, it included two four-star players, including running back Brandon Bourbon, who picked KU after previously committing to Stanford. The other, Blue Springs, Mo., wide receiver/safety Keeston Terry, originally was recruited by the previous staff but decided to remain with Kansas after meeting Gill. Signing two four-star recruits was somewhat of a coup for KU, which only has had only 11 such players commit to the program since 2002.

8. Defensive end wins bigger battle off the field: Nov. 23, 2010
During a season in which few things went right for the Jayhawks, Gill announced one major victory for one member of the squad. Sidelined for more than a year because of Hodgkin lymphoma, sophomore defensive end D.J. Marshall was dubbed to be cancer-free in early November and was ready to return to football. Though his return came in a limited role, Marshall suited up in full pads for KU's practice on Nov. 23 and is hoping to be ready for spring drills in 2011.
9. Familiar face found on football field: April 3, 2010
With the starting quarterback position wide open, a popular member of the KU men's basketball team decided to throw his hat in the ring. On the third day of spring drills, former Rockhurst (Mo.) High QB Conner Teahan, a reserve guard for Bill Self's hoops squad, got into the competition. Teahan, 6-foot-5, 215 pounds, stuck with it all spring — through good moments and bad — and played a couple of series during the annual spring game, where he received the loudest cheer of the day. Ultimately, though, Gill and company informed Teahan that his future remained in basketball.
10. Arrest leads to Greene's dismissal: May 14, 2010
After a standout spring in which he emerged as a team leader, senior Jamal Greene was kicked off the team after being arrested on charges of attempted armed robbery. The arrest led to Greene's immediate dismissal and left a huge void on KU's defensive line, where the Kansas City, Kan., product was projected to be a starter. Greene later enrolled at MidAmerica Nazarene University in Olathe and joined the Pioneers football program.