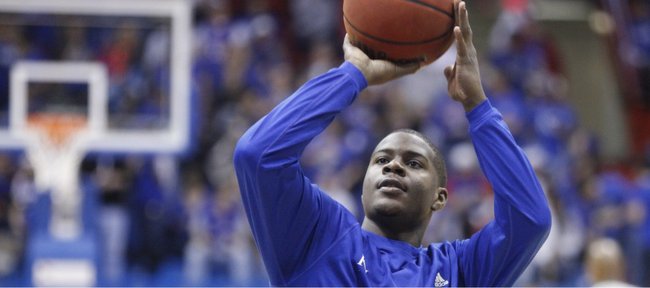 Videos
Self, players discuss holiday break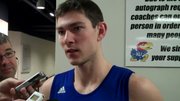 Kansas head coach Bill Self and players Tyrel Reed, Josh Selby and Marcus Morris discuss their holiday break.
Marcus Morris faced no NCAA-mandated suspension for committing a flagrant foul and getting tossed from Kansas University's heated 78-63 victory over the University of California last Wednesday in Berkeley, Calif.
He's encountered some discipline, Bill Self-style, however.
KU's junior small forward from Philadelphia will come off the bench for the first time this season — as the Jayhawks (11-0) go with a radically different look in today's 8 p.m. home contest against the University of Texas at Arlington (5-5).
"He's not going to start. For how long, I don't know," KU coach Self said, stressing that Morris will definitely play against the Mavericks of the Southland Conference.
"He had it right where he wanted it and let it get away from him," Self added of Morris.
Self reported that sophomore Thomas Robinson will start his first game of the season — second of his career — at power forward. He'll be in the same frontcourt as junior Markieff Morris, who started the first nine games before coming off the bench in the last two.
Freshman Josh Selby will make his first start at combo guard in three games, while Elijah Johnson lands his first start of the campaign and third in his two-year career at point guard. Senior Tyrel Reed, who has started all 11 games, will open in the backcourt as part of KU's three-guard lineup.
"We haven't given Thomas a chance to start. To be honest with you, he's played real well the last couple games — (been) really big for us," Self said. "We've been playing small, Travis (Releford, starter last two games) has done a nice job, still, we're going to play two bigs tomorrow and we'll switch some things up on the perimeter as well."
Tyshawn Taylor will come off the bench for the first time all season. He finally boarded a 5 p.m. flight Tuesday at Newark, N.J.'s snowbound airport, after missing four straight practices dating to Sunday night. Weary after arriving at the airport as early as 8 a.m., Tuesday, Taylor did indeed finally work out with the Jayhawks on Tuesday night in KU's practice facility.
"It's not his fault," Self said of Taylor's delayed return to Lawrence from holiday break, "but when a guy misses four practices in a row ... you wouldn't even do that (start) if a guy turns his ankle. At least I wouldn't do that.
"It's still his starting spot, but he definitely won't start (tonight). He'll be the first to tell you he shouldn't. How can you have any rhythm when he hasn't had a ball in his hand the last seven days?"
Selby, who scored 21 and 18 points versus USC and Cal, will remain at combo guard, with Johnson taking the heat off him — as Taylor did — at the lead guard slot.
"I don't worry about who starts. All that matters is who finishes," Selby said Tuesday.
Noted Self: "I think Josh is doing great. I think he's picking stuff up all the time. He's really trying hard. He's done a really nice job and a good job fitting in."
Self remains bothered by the flagrant foul Marcus Morris picked up after elbowing Cal's Harper Kamp in the face with 17:23 remaining.
"That was a very, very immature play that he made on his part," Self said. "He certainly has to be more mature than that because he's too valuable.
"He shouldn't have done that, but I think in some ways, things like that have a way of getting a guy's attention to the point where they get a lot better fast, where they understand the value of things coaches have been telling them all along."
Morris said he apologized to both Cal's Kamp and to his teammates.
"Of course I went back and looked at it (tape). It was all over ESPN for a while," Morris said. "It was a mental mistake by me. My team needs me. My coach told me I can't do things like that. I already knew by me being a captain it was a bad play."
Self doesn't designate official team captains. But with Morris being a first-team preseason all-Big 12 pick, it's obvious who the Jayhawks look to for leadership.
"The guys look to us for confirmation. We all know as a team who the captains are," Morris said. "Even for the young guys who look up to me and my teammates — for them to think I'd do something as stupid as I did to get myself thrown out of the game — it's kind of embarrassing to me and embarrassing to the fans, too."
He was asked if other teams will try to bait him.
"I expect everybody to do that," Morris said. "I mean, you try to get into the two best players' heads. 'Kieff .. they do the same thing with him. You just can't retaliate the way I did."
Morris said he should have taken a different approach.
"I really never let my temper get ahead of me, but I felt it was dirty play. I should have went to the refs and told them that something was going on. I retaliated the wrong way," he said.
Self realizes other teams may continue to try to get into the twins' heads.
"I guess there's always a possibility. You watch tape and if a guy gets that easily provoked," Self said. "There were some things if you really watched the game from the perspective we did — and tape is the true indicator — that was a pretty chippy game and it started right from the beginning. But Marcus has to be smarter than that."
Self praised Robinson for not losing his cool during a second half scramble for the ball in which he actually was knocked in the face by Cal's Jorge Gutierrez.
"Thomas handled himself beautifully," Self said. "It's about as good as a guy can handle himself when guys are on top of him squirming around."