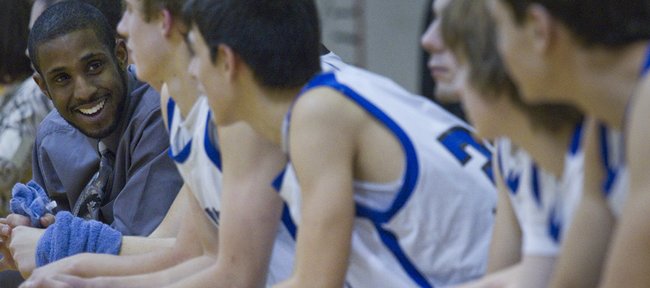 After his playing days were over, the desire to coach was, at first, only natural for Jeff Hawkins.
Hawkins, who played point guard at Kansas University from 2002-2006, looked at coaching as the next-closest option to still being on the court.
But last year, where Hawkins was a first-year assistant coach at Ellis High School, the wins — and the excitement — began to build. Thoughts like, "how would I do if I was a head coach?" kept popping into his head.
Still, he was considering staying on as an assistant at Ellis, until Perry-Lecompton principal J.B. Elliot called Hawkins with interest on hiring him on as head coach.
"Once (he) said that, it just kind of switched my whole mind-set," Hawkins said. "Like 'OK, I know I'm ready.' I just wanted to put both feet in this coaching and run wild with it."
Nearly halfway through his first year on the job, Hawkins and the Kaws — who finished 2-19 last season — are off to a 0-6 start, but Hawkins has admired the way his team has improved since the start of the season and says it's making strides in the right direction.
"It's kind of a learning process both ways," Hawkins said. "We're in the process of rebuilding the program, and the kids are in the process of having a new coach and learning a new system. I might have a bit more grey hair than I did last year as an assistant coach, but overall the transition has gone well."
It doesn't hurt that the kids are taking tips from a guy like Hawkins, who played in 113 games during his KU career.
"I think (having played) is a really big key in my teaching," Hawkins said.
Though the 27-year old Hawkins — who played briefly overseas and in the ABA — insists he's moved on from his dream of playing professionally, he still has a few moves.
"You've got to understand that you've got 30 other kids," Hawkins said. "When you can get out and show them all what you want (a certain play) to look like, it works better when you can show them as opposed to just tell them."
And it's even better when a guy like Moulaye Niang is right there to help out.
Niang, who played for KU from 2002-2005 before serving as a student assistant, coaches the JV team and works with players on their post technique. Hawkins said it's been invaluable to have Niang with him on the bench.
Not only do the Kaws have the benefit of having two former Jayhawks coaching them up daily, there's always the chance of a special guest showing up unannounced; like former KU standout Aaron Miles, who dropped in on Hawkins before the game on Tuesday, and offered up some words of advice to the Kaws afterward.
"I just appreciate the support that we have from the KU family," Hawkins said. "That's just how big it runs and how deep it goes."
The KU ties are indeed deep for Hawkins as he begins his new profession, and especially tough to ignore when considering the names he's played for.
"Before I even started coaching, I tried to figure out who I would model the most, coach Williams or coach (Bill) Self," Hawkins said. "I think a lot of the way I talk, a lot of the way I do things, kind of mimics coach Self a lot."
It's not only Self and Williams who Hawkins has drawn inspiration from. Hawkins said he's tried to soak up of all the best traits and bits of knowledge from each one of his coaches, "from biddy ball to high school."
"I just try to take them, put them in one pot and create a great coach," Hawkins said.
One notable trait of Self's has yet to make an appearance, though.
"We haven't hit the term 'boot camp'," Hawkins said. "But in some ways, I'm pretty sure they feel some of the wrath of boot camp, we just don't call it that."
Hawkins never liked the grueling conditioning programs, or practice itself, all that much — though he noted he always gave it his all. Now that he's behind the clipboard, Hawkins has changed his tune.
"As a coach, I now see what (coach Self) would mean when he'd say that sometimes he feels like the coaches are more pumped up for practice than the players," Hawkins said with a laugh.
As for this year's Jayhawk team? Hawkins is as careful an observer as any other basketball-loving Lawrence resident.
"It looks like a lot of KU fans are smiling," Hawkins said. "I like seeing KU fans smiling. I'm just really excited about their season.
"I see a lot of fire in this team," Hawkins continued, citing Wednesday's 78-63 victory at California.
Hawkins offered up a different take on the physical game, which featured a few scraps, a slew of technical fouls and an ejection.
"All of the players were rallying together," Hawkins said. "Through those hard times and scuffles, they were rallying together and they were all on each other's team picking each other up. And I haven't really seen that from KU for a while."
Though he's still a huge KU supporter — really, what else could you expect from a guy nicknamed JHawk? — Hawkins is dedicated to his new post.
"Every day my thought process is like, 'what can I do to help these kids get better,'" Hawkins said.
More like this story on KUsports.com