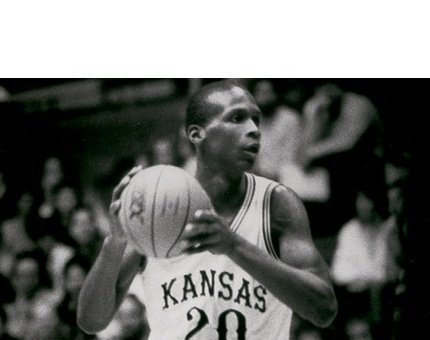 Principal Rodney Hull doesn't strike fear in his pupils while patrolling the halls of Nicholson Technology Academy on the far south side of Chicago.
The kindergarten-to-eighth-graders at the inner-city elementary school see the 6-foot-7 former Kansas University basketball player as a human teddy bear — somebody to love, not loathe.
"I have to run from the younger kids. They like to hug me, jump on me, grab my legs to pull me down," said Hull, a reserve KU forward during the 1984-85 and '85-86 seasons before finishing his career as a two-year starter at Chicago State.
"I'll go into classes and it'll be like a rock star walking through the door," added Hull, who is still in playing shape — he plays basketball three nights a week and competes in tournaments across the country — at the age of 44.
"Can you imagine being young and athletic enough to play football, baseball, softball, basketball and other sports with them every day? I still play basketball and softball with them," added Hull, who admits he gives the wide-eyed students a thrill when he slam-dunks for them.
Bonding with students, preparing them for high school and serving as a role model for life are some of the rewards of working in education the past two decades, Hull said.
He's been top executive at Nicholson Tech the past 10 years after working as assistant principal at his alma mater, Chicago's Simeon High, for three years. Before that, he paid his dues teaching in Windy City classrooms for eight years.
"I love it. At one time in my life my goal and ambition was to play pro ball. I quickly got past that," said Hull, who played professionally in Greece after averaging 35 minutes a game at Chicago State.
"The education process gives you the opportunity to enrich the life of a child. You can open up a child's mind if you can reach them. There's no child that can't be educated if you reach them early enough. They just need guidance and support."
Educators must push students to be the best they can be, said Hull, whose school is in an impoverished area.
"When I was in high school," Hull said, "the high school teachers always complained the grade schools don't prepare kids. When I went to (work at) grade schools, I wanted to dispel that and get my kids strong enough academically to go to any high school and be competitive.
"What I have found, in being here a long time and putting out great crops of kids every year, the kids who struggle at my school go on to high school and make the honor roll.
"I know we are preparing them academically for high school. Once they leave here and the support we have in place, it's easy to slip through the cracks and revert to being poor students. When you are in grade school, you are led to do everything. In high school, there's a little more freedom."
Hull encourages his students to stay in touch with him through high school and even college.
He tells the story of a student who returned to Nicholson Tech while on semester break at the University of Missouri.
"This student was with me probably from the second grade on," Hull said. "Before she left for Missouri, I told her where I went to school and the rivalry. It wasn't until she got there and Missouri got ready to play KU in football, she was, 'Oh my gosh, they hate KU here.'
"She said, 'It's all they talk about is beating KU.' I've not had too many of my kids go to the Big Eight, Big 12. Most go to Big Ten schools — Illinois, Michigan State, some to Purdue. She was the first to go to the Big 12."
Hull remembers his KU days well.
Coach Larry Brown's Jayhawks went 26-8 and placed second in the Big Eight his freshman year and 35-4, winning league and reaching the Final Four his second and final season.
"He was as tough as nails, real driven to succeed and win," Hull said of Brown, who this week was replaced as coach of the NBA's Charlotte Bobcats. "If he could teach and mold you into the player he wanted you to be, more than winning games, he'd settle for that."
Hull said he still stays in contact with former KU teammates Danny Manning and Calvin Thompson and speaks with Scooter Barry, Milt Newton and Chris Piper from time to time.
"I think we had the ingredients to win it all. We ran into Duke a couple times that season, and they beat us in New York and in the Final Four (semis)," Hull said of 1986. "They had Johnny Dawkins, (Tommy) Amaker … they were pretty well set."
KU, of course, had Manning, who remains KU's all-time leading scorer and rebounder.
"Danny is one of the greatest I've ever seen because he was so versatile," Hull said. "He was almost a pioneer in some of the things he could do — being able to handle the ball, having a nice touch on the outside and good court vision. A lot of people compared him to Magic (Johnson). He had all the tools."
Hull, who has not seen a game in Allen Fieldhouse since his playing days (he's busy during the winter working as a game official for the Illinois High School Basketball Assn.), was a player who simply could not handle a reserve role. He came to KU to play and wound up sitting the bench ... a lot.
"I remember being a freshman that first game. I didn't think I was starting, but I did not think I would not play, either. To sit there the whole game was to have the air let out of you, wondering what happened," Hull said.
"I can't imagine any highly touted freshman not being disappointed after expecting to play and not getting to play. I never sat on a bench in my life until I got to KU."
Hull averaged 18.1 points and 8.2 rebounds his senior year for 31-1 Simeon High.
"I went there because I met guys like Calvin Thompson and had a good feeling. Had I known I wasn't going to play from Day One, I probably would have asked that question and went to a Big Ten school."
He has fond memories of KU and enjoys visiting with the many KU graduates in the Chicago area, many of whom still recognize his name.
"The whole north shore here in Chicago is mostly kids of the '80s who went to KU," Hull said. "There's a huge following of KU in Chicago. I get invitations to go to events all the time."
He tells KU grads ...
"My favorite moments at Kansas were not the wins, because that was always expected," Hull said. "It was the day-to-day things, hanging out with the guys, your teammates. I loved the intensity of the practices and staying in shape. Making the Final Four was a once-in-a-lifetime thing, an experience in itself, something you can hold onto forever. But being with my teammates and working hard every day is what sticks with me."
Manning, now an assistant coach at KU, applauds Hull's career choice.
"Rodney is a great story," Manning said. "We came in as young freshmen together and have evolved as we've gotten older. Rodney has made a commitment to helping kids continue their education, being a principal in his hometown. He does some high school refereeing as well. He does a great job giving back to his community. He's a very good guy who is in the business of helping kids. That's what we are all in the business for."