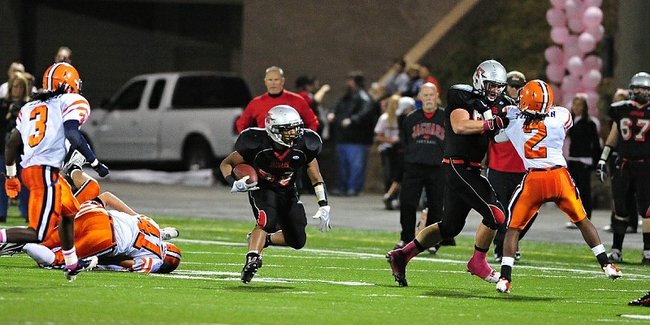 While most members of the high school Class of 2011 are still several months away from heading off to college, two nearby football prospects have their bags packed and are ready to settle in on the Kansas University campus.
Blue Valley West offensive lineman Dylan Admire and Blue Springs (Mo.) High running back Darrian Miller graduated last week and will begin taking classes at KU in January.
"It seems crazy that I'm graduating," Admire said. "It's gone fast, but my experience in high school's been great. It's hard to believe it's over, but I'm excited for the next step, the next chapter, to play college football."
Like Admire, Miller also said he was more excited about moving forward than he was nostalgic about the past, though he admitted last Wednesday that the reality of the situation had hit him.
"Honestly, it's something I wanted, and I'm excited about it," Miller said. "It's something where people ask me all the time if I'm scared. But I think they're more worried about me than I am worried about it."
Helping make things easier on both players is the fact that they're coming to KU together. Admire and Miller will room together at Kansas and, though they never played with or against each other, the two have become close.
"We've gotten to know each other a little bit, and we get along really well," Admire said. "Both of us are just excited to get up there. Whatever that leads to, if it means maybe not red-shirting, that's great. But it's really up to what the coaches think. We just want to help in any way possible."
KU coach Turner Gill said arriving early was a good first step. Now entering his second year in Lawrence, Gill has made one thing clear already: He will give every player on his roster the chance to prove they deserve to play.
And his goal is to put the best players on the field, regardless of age.
Gill said recently that arriving early will give both players — along with defensive end Julius Green, junior-college transfer Bo Adams and, possibly, quarterback Brock Berglund — the best shot at getting onto the field during their first year in Lawrence.
"I think it's a tremendous advantage," Gill said. "No. 1, they get acclimated before they go into football season. Guys that are coming in here in August are thrown right into football and the school adjustments. Getting here early, they don't have the football season with school so they can make a little adjustment."
The upside of arriving early goes beyond getting comfortable in their dorm rooms and figuring out which classes are in which buildings. There are plenty of football-related advantages, too.
"They get in our program right away," Gill said. "Not just from the X's and O's of football, but also strength and conditioning, getting to know their teammates better. They gain that whole six months and, as we get into the season, they're a little more acclimated to what they need to do and to us as coaches. They know how to get things done. So it's a tremendous asset to them and for us as a football program, too."
Players who arrive early are eligible to participate in the 15 spring practices that begin in March.
There, they'll get a headstart on learning KU's schemes and terminology as well as the chance to adapt to the weight and muscle they'll put during the next few months. Graduating early does not guarantee playing time, nor does it happen every year.
But KU is no stranger to the situation, with the most memorable example being former quarterback Todd Reesing, who came to Kansas in January of 2006 and was KU's starting quarterback by August of 2007.
Admire said heading to KU with a future teammate took some of the uneasiness out of the whole process.
"In an instance when you're the only guy, it can be tough," Admire said. "You can be an outsider because you're in between two classes. But we'll be able to hang out with the guys who are there, and then when the rest of the 2011 class gets here it might be a good thing for them that we've been there, and we'll be able to tell them how things go."
Arriving early won't do much to change their expectations. Both Admire, 6-foot-3, 264 pounds, and Miller, 5-10, 181, believe in their abilities and look forward to getting the chance to prove they belong on the field.
"I'm confident I can come in this year and at least help out in some way," Miller said. "I'm not expecting too much, but I'm not saying it couldn't happen. I just want to come in and help out as much as I can."
Asked what he brings that could help KU, Miller pointed to his reputation as a home-run hitter.
"I feel like (KU has) that in some aspects of the game," he said. "But I'm trying to bring that each and every play."
Miller leaves Blue Springs as Missouri's all-time leading rusher. He rushed for 2,226 yards and 30 TDs this season and set the Missouri big-class rushing record with more than 6,500 yards during his career.
Admire knows he doesn't have the same kind of eye-popping stats as Miller. But that doesn't bother him. His goal is to help Miller and the rest of KU's running backs continue to crank out those types of numbers.
"The only stats we get is pancake (blocks), and no one really cares about that except maybe me and my coaches," Admire said. "I had 67 this year, and if you're a line coach or something, you'll like that. The big thing Darrian and I have talked about is getting in there and making a difference. He's been a three-year starter and has done great things in high school. He just wants to get in there and work hard and maybe get some playing time next year, same as I do."
Miller will wear No. 3 at KU, a number that has belonged to some of KU's recent greats, including Aqib Talib and Charles Gordon. Admire said he was not sure what number he would wear, but revealed that he was in the process of working out a deal with red-shirt freshman, and former Blue Valley West teammate, Pat Lewandowski, to get No. 66.
"He said he'd give it to me," said Admire of the number he wore throughout high school. "So hopefully I can get that."