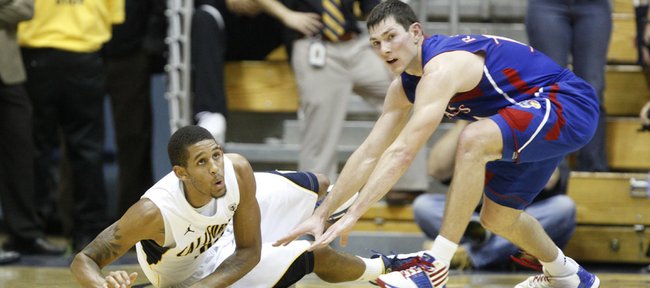 A fired-up Tyrel Reed pointed into the stands, thumbs up, after the final horn sounded in Kansas University's 78-63 victory over California on Wednesday in energized Haas Pavilion in Berkeley, Calif.
Considering the physical nature of the game, it seemed logical to ask the 6-foot-3, 185-pound senior what exactly he was doing.
Was he trying to communicate with the 4,000 or so KU fans on hand in the crowd of 11,250 or rub in the victory to the hostile Golden Bear supporters?
The answer of course, from the classy Kansan, was that he was thanking the KU supporters for showing up and helping the Jayhawks claim their fourth victory in as many tries against Pac-10 schools this season (Arizona, UCLA, USC, Cal).
"I mean it's amazing. We come all the way out here to California and having that kind of following ... it's amazing," Reed said. "It really is. We have fans all over the country. It's a blessing to be part of it."
Reed — he scored a career-high 18 points and grabbed a career-best seven rebounds — wasn't involved in any of the many incidents between the Jayhawks and Bears. He can understand why guys like Marcus Morris, Thomas Robinson and Brady Morningstar lost their cool at times, however. Morris was ejected from the game and Robinson and Morningstar received technical fouls.
"Both teams were competing hard, wanting to win right before Christmas," said Reed. "It's one of those things, as a team, we have to be smarter. We have to keep our cool, be mature about it.
"You want to protect your teammates as much as you can. The main thing is keep them out of situations they can get in trouble or get a dumb foul. It comes down to maturity and not put yourself in that position. As the season goes on, we'll continue to get better than that."
Reed's seven rebounds surpassed his previous career high of five versus Missouri on Feb. 9, 2009. His 18 points passed the 17 he scored versus UCLA this season.
"It's one of those things I needed to do a better job of," Reed said of attacking the glass. "I think all our guards need to do a better job of defensive rebounding. I'm not going to get offensive rebounds," added Reed, whose seven rebounds all were on the defensive end.
"I get back every time. It's what we do. Balls were coming to me, nothing out of the ordinary."
As far as his offense, Reed — he averages 10.2 points a game off 43.9 percent shooting (19 of 55 from three for 34.5 percent) — said he comes out firing every game.
"I never question my shot," Reed said. "It's one thing I don't do. I keep shooting the ball. Tonight I made threes (3-for-8 treys; 6 of 11 overall), some shots in the lane. I'll keep getting better. I won't lose my confidence and have to step up and make them."
The Jayhawks were pleased to notch their first true road win of the season. KU had won games on neutral courts versus Memphis, Ohio and Arizona.
"We handled it pretty well for our first road game," Reed said. "It was one of our best wins all year. They had a great crowd. I'm proud of the guys the way they handled it."
Freshman Josh Selby, who followed his 21-point debut with 18 in this road game, concurred.
"We needed this before our Christmas break," Selby said. "Because we hadn't played away. Coming in here and playing in California, just got us prepared for our conference games."
KU coach Bill Self was asked if Selby might make his first start in KU's next game, versus Texas-Arlington at 8 p.m., Dec. 29 in Allen Fieldhouse.
"Sure, sure," Self said of there being a chance to start the frosh. "We don't practice again until the 26th (when players return from a short break in their hometowns), but Josh deserves to be out there, so there's a great chance he'll be starting."
Self continued about Selby: "Josh played really well. He is going to get better. We trapped the post and he didn't give up a layup. He is starting to get it, but missed a lot of floaters he normally makes (on day he hit six of 13 shots). "He is a guy that can score when we don't really have a good offense. He needs to be out there."
Selby did a nice job of playing peacemaker, holding Robinson back during a second-half spat between the teams.
"I was doing what a player is supposed to do. Any time your big man gets in a situation like that, you are supposed to pull him away," Selby said, "to make sure he keeps his composure so he can stay in the game."
KU's out-of-state players flew out of San Francisco or Oakland on Thursday morning. The rest of the traveling party returned home via charter after the game, pulling into Allen Fieldhouse at 7 a.m., Thursday.