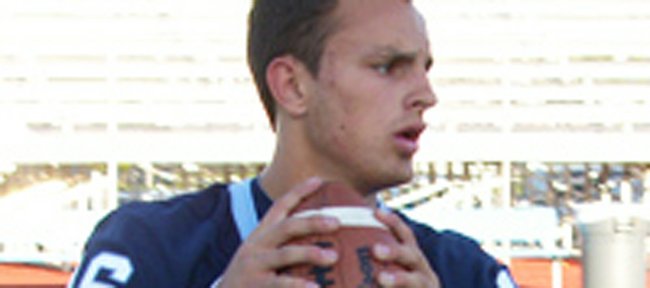 It takes less than five minutes of talking to him to realize two things about Brock Berglund, the latest Kansas University football commitment who orally pledged to join the Jayhawks on Monday.
First, Berglund is confident. Extremely. Second, he was born to be a quarterback.
Reached by phone Tuesday night, Berglund sounded as if he had just come off the gridiron after his team's state championship victory earlier this month. He was upbeat, enthusiastic and happy to share the details of what led him to Kansas.
But before getting into all of that, Berglund was asked one simple question: Whom do you resemble on the football field? He swung for the fences with his answer.
"I would say Tim Tebow, Michael Vick and Peyton Manning kind of all put together," Berglund said. "I'm not comparing myself to those guys or anything like that, but if I had to say what my skill-set was like, I would say those three guys."
Berglund continued: "My ability to make plays outside of the pocket is a lot like Michael Vick's. When it's third-and-27 and you're just trying to get a few yards to punt, he makes a first down or a touchdown. Tim Tebow's just a leader on the field and a motivator, and I like motivating. And I'd say I prepare like Peyton Manning does in the way that I watch tons and tons of film in a week and like to get ready for anything a defense can throw at me."
Berglund even went as far as to divulge that he has Tebow's patented jump pass in his arsenal.
"I do. We actually ran that in the state quarterfinals," he said. "It was a little different, but we got it from Florida. (It worked) for a two-point conversion."
During KU coach Turner Gill's first season with the program, a lot was made about the quarterback position and how Gill and offensive coordinator Chuck Long handled it.
Rightfully so.
Each week it seemed as if there was a major question surrounding the game's most important position, from which player had earned the start that week to an injury update. By season's end, after watching three different players start at QB for Kansas in 2010, one thing was abundantly clear.
"Right now, we do not have an established quarterback," Long said prior to KU's Nov. 20 game with Oklahoma State. "That's just something we don't have at this point in time."
For the most part, it seemed as if Gill and company did the best they could with what they had. However, throughout the season, talk about the future of the position continued to pop up. Gill and Long were asked nearly every week what the ideal quarterback for their system would look like. Without throwing any of their current QBs under the bus, the two former college quarterbacks always seemed happy to answer.
"We're open to all kinds of styles," Gill said on his weekly Hawk Talk radio show in early November. "We're looking for guys who are gonna be productive. We'd really like to have a guy who has a strong arm and can make plays with his arm but also can make plays with his legs."
Having the ability to hurt defenses in multiple ways was not the only criteria Gill outlined. At the top of Gill's wish list was a much more important quality.
"I'm looking for a guy who's a winner," Gill said. "I want to see on some form of his resume that he has been a winner. In high school, junior college, whatever. I want him to have that make-up about him. He has to have that in his background."
Though Gill went on to say he would not shy away from taking a guy who was more of a pure passer, the core of his comments seemed to reference Berglund, a senior at Valor Christian High in Highlands Ranch, Colo.
Berglund's commitment to Kansas came one day after he decommitted from Colorado and one week after junior-college quarterback Zack Stoudt passed on KU in favor of Ole Miss.
Though Stoudt, 6-foot-5, 235 pounds, seemed like a good fit for Kansas, Berglund sounds a lot more like the quarterback Gill and Long have been talking about all along. The 6-4, 205-pound, dual-threat QB, who wore No. 16 in high school, passed for 2,174 yards and ran for 945 yards during his senior season.
He saved his best for last, throwing for 280 yards (on 12-of-16 passing) and three TDs and rushing for 122 yards and another touchdown in Valor's 38-8 romp in the Class 4A title game.
Berglund, the 13th-ranked quarterback in the Class of 2011 and a three- or four-star prospect depending on where you look, dominated the high school ranks largely because he prepared like he was in college.
He watched hours of game film on his opponents and, in the days since his prep career ended, has taken it a step further.
"College is definitely a different world," he said. "There's no (high school) defense that's gonna look like Texas or look like Oklahoma. But one thing I have been doing is I've watched a lot of college film, just to get ready for that. I've watched some Pac-10 stuff, I was watching some Big 12 stuff, just looking at defenses and kind of breaking down what they do, just for a little football knowledge for myself."
Berglund continued: "I'm gonna compete, and wherever that takes me, that takes me. But I'm gonna put everything out there, and I'm gonna give it all I have. The second that coach Long can send me a playbook, I'm gonna get into that."
Berglund is trying to graduate high school early and said, if the academic side of things works out, he'll enroll at Kansas in January.
"If it's a possibility, I will probably end up there," he said. "But if it isn't, I'm gonna be out there for spring ball anyway. I'm gonna get out there. I'm gonna watch practice. I'm gonna be in meeting rooms. I'm gonna be a part of this thing either way, whether I'm in a classroom and I'm throwing this spring or I'm flying down 15 times for the 15 practices. Either way, I'm gonna be there."
More like this story on KUsports.com