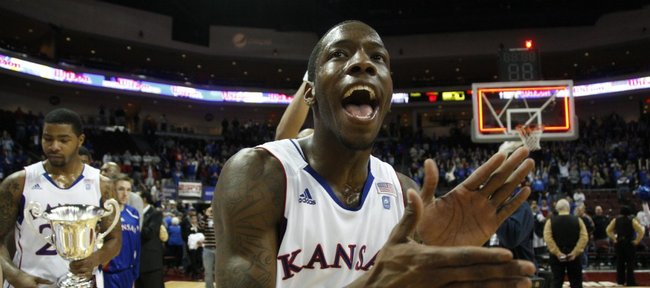 Through all the adversity he's faced at Kansas University, junior guard Tyshawn Taylor always had someone helping him through: best friend and current USC guard Jio Fontan.
"I was talking to him, texting him, everything," Taylor said. "He knows all my situations, all the trouble I've been in, all the good things I've done. He's been there. That's my man."
The two guards became best friends as teammates at St. Anthony High School in Jersey City, N.J.
Because of their similarities, Taylor said it was almost impossible for the two not to become attached. Not only were both of the players close to their families, they shared the same taste in clothing and also girls.
"We're kind of like the same person a little bit," Taylor said. "We've been through a lot of the same stuff."
The two guards also bonded in an unusual place: on the bench at St. Anthony basketball games.
"We weren't playing too much our sophomore years, so we were like, 'Yo, we're better than these guys. Why is (coach Bob Hurley) not playing us?'" Taylor said with a grin. "So we related in that way."
Later, at his high school graduation, Taylor spent an emotional moment with Fontan. The two — along with a few other teammates — huddled together and broke down, realizing that they were about to go their separate ways.
"It was crazy, because I spent every day with him. Every day. Out of school, in school, we were together all the time," Taylor said. " ... That (moment) was cool, man. That's when I realized, 'This is my man. He's my homie.'"
Fontan, a 6-foot guard from Paterson, N.J., will be playing his first game for USC today after transferring from Fordham.
USC coach Kevin O'Neill said this week that if Fontan had been eligible the whole year, his team would be 9-1 or 8-2 instead of 6-4.
"He's our best player, our best leader, our best scorer, our best defender, our best passer ... our best player," O'Neill said. "We'll all expect too much of him. But the players have tremendous confidence in him, and he's going to be a real difference on our basketball team."
Taylor said he's been talking all week with Fontan. The USC guard has been asking Taylor if he's ready for him. Meanwhile, Taylor has joked with Fontan that Fontan is rusty after sitting out for a year.
"He doesn't think I can play the point guard," Taylor said, "so we're about to show him."
Taylor also wants to show off KU to his longtime buddy.
"We come from a historic basketball program in high school, so he's big on basketball history. He's excited to come here and see all the stuff," Taylor said. "And I always hype Kansas up to him. He just wants to see for himself."