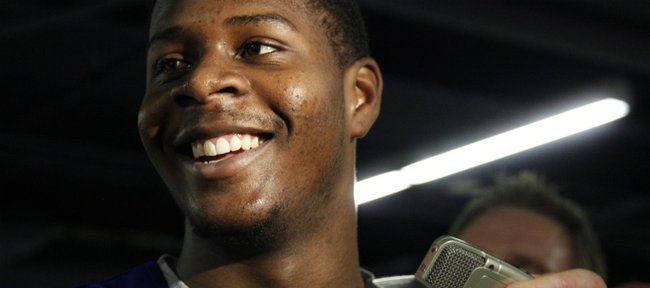 Josh Selby walks into an office on Kansas University's campus wearing a beige and black winter coat with writing on the left sleeve.
What kind of coat is that, Josh?
"Baltimore," Selby, KU's 6-foot-2 freshman basketball guard from Charm City, said proudly.
"Baltimore Black Sox," he added.
Selby's not necessarily a rabid fan of the old Negro League baseball team — Selby never played baseball — but he is a lover of his hometown, which he hopes to make proud during today's major-college debut.
Tipoff for the KU-Southern California game is 11 a.m. in Allen Fieldhouse. It's Selby's first game following his nine-game, career-opening NCAA suspension for accepting benefits from Carmelo Anthony's business manager, who also happens to be a family friend.
"Growing up in Baltimore ... it's special. We have our own swagger in Baltimore about hard work, dedication and have a style of play. Hopefully I can live up to it (during KU career)," Selby said. "I'm just focusing on winning a national championship and Big 12 championship."
Lots of eyes back home and around the country will be watching today's much-hyped Selby debut on ESPN.
"Not really," Selby said, asked if the days leading up to today's game were especially stressful, "because I was expecting this. I'm just ready to play Saturday and get this over with."
The expectation level is high for Rivals.com's No. 1 player in the recruiting class of 2010.
"I think Allen Fieldhouse will be as juiced as any game right before Christmas as in a long time, maybe ever, just because of Josh making his debut," said KU coach Bill Self. He will likely bring Selby off the bench, while starting Tyshawn Taylor at point guard, Tyrel Reed at off guard and Brady Morningstar on the wing.
"Josh has had an unbelievable attitude. Hopefully he'll not put too much pressure on himself, just be a kid and have fun."
Self outlined what he's envisioning.
"Josh is not going to average 20 (points) for us. He may have games where he has 20. We are not going to have anybody do that," Self said.
"I just look for consistency. I talked to him the other day. I said, 'Josh if you played every minute, which you are not going to, and everybody on the court has the ball the exact same amount of time, you'd only have the ball four minutes a game. What are you going to do the other 36 (minutes)?'
"What I'm basically trying to convince him how to play is play without the ball. I may see a lot of improvement other people may not see just because it won't be from a production standpoint."
If Selby has any problems today or down the line, he'll be able to lean on one of best buddies — KU veteran combo guard Tyshawn Taylor.
"We are like brothers. We call each other brothers," Selby said of he and Taylor.
Taylor can't wait to see what brother Selby can do with the bright lights shining.
"I'm excited. I think we've all been waiting for this and I think he's going to bring a lot to the table for us," Taylor said. "He adds a couple dimensions for us, another scorer, another creator, another body, another defender. I think it's going to be exciting."
KU (9-0) faces a (6-4) USC team that is welcoming in a newcomer guard of its own — former Fordham guard Jio Fontan, who was a teammate of Taylor's at St. Anthony High in Jersey City, N.J.
USC, which clubbed Texas, 73-56, on Dec. 5 in Los Angeles and lost at Nebraska, 60-58, in Lincoln on Nov. 27, is led by junior forward Nikola Vucevic (16.5 ppg, 10.6 rpg), freshman guard Maurice Jones (12.2 ppg, 4.2 apg), frosh guard Bryce Jones (no relation, 11.2 ppg) and senior forward Alex Stephenson (8.6 ppg, 8.3 rpg).
"USC arguably is the best team we've played defensively without question," Self said of coach Kevin O'Neill's Trojans. "They are going to guard us. They are good enough to beat Texas by 15 or 17 and we know Texas' talent level.
"It's going to be like the UCLA game in my opinion, not saying outcome or anything like that," added Self, whose Jayhawks topped the Bruins, 77-76, on Dec. 2. "There was so much talk about us going into the UCLA game. UCLA came in and said, 'Hey, we're still UCLA and we'll go play.' I think SC will have that similar mindset. They're going to be saying, 'Josh Selby? They think he can come in and dominate first time out? That's showing you disrespect.' That kind of stuff. I think it'll be an exciting game, a good game for us to get better."
How much better a team can undefeated KU be with Selby?
"I don't know how much better they (Jayhawks) can be. I guess we'll have to find out the 18th. I really don't know," Selby said, simply.