Saturday, December 18, 2010
KU vs. USC
Videos
KU vs. USC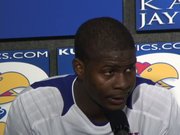 Kansas defeated USC, 70-68 on Saturday, Dec. 18, 2010 at Allen Fieldhouse. Freshman Josh Selby scored a game-high 21 points in his debut, including a three pointer with 24 seconds left in the game to give KU win.
It's been some time since anybody has put on a better show for those lucky enough to gain admission to Saturday's basketball game in Allen Fieldhouse as the guy whose picture was on the ticket.
Kansas University coach Bill Self and his assistants will find plenty of teaching points on the game film to make freshman Josh Selby better, but all the crowd could say after with their considerable volume was, "Thanks for the memory."
Coach Kevin O'Neill's hard-driving USC Trojans nearly spoiled Selby's debut by ending KU's fieldhouse winning streak, but Selby didn't let it happen, pushing the streak to 65 and leaving the audience with but one question: Why wasn't this charismatic shooting sensation from Baltimore hyped more aggressively in advance of his collegiate debut?
Oh, well, too late to change that.
Selby lit the crowd's fire shortly after checking into the game after the first TV timeout. From the left wing, he elevated smoothly and quickly flicked a shot at the apex of his jump. Perfect follow-through. Prettiest jumper in the program since Brandon Rush took his to the NBA. Three points. Nothing but net. Crowd went berserk.
The noise was nothing compared to the reaction to Selby's game-winning three-pointer from the right wing with 26 seconds left in KU's 70-68 victory that kept the Jayhawks undefeated in 10 games.
OK then, if Selby, who's such a hot shot he had 21 points in 27 minutes, and Kansas was ranked No. 3 in the nation without him, why did unranked USC, battling the Jayhawks and the crowd, nearly end the streak?
Easy. Basketball teams' performances aren't judged based on the sum of their parts, rather on whether the whole is greater or less than the sum of its parts. Even though Selby has practiced with teammates, playing with them against an opponent that doesn't show its cards represents a different challenge.
Offensively, Selby did a better job of playing with teammates than they did of playing with him. At times, they turned into spectators. Even players can develop tunnel vision and get lost watching a great talent for lapses, especially during a player's anticipated debut.
For a stretch during the first half, when Selby caught fire, it looked as if teammates followed his lead in quickly putting up shots, even though a great shot for one player is a bad one for another. Tyshawn Taylor had a particularly sub-par game, his worst of the season.
Selby rushed up a couple of shots he ought not to have taken, but for the most part, his game-high point total came without him forcing the issue. Defensively, the effort was there for Selby, just the instincts and knowledge were absent. He helped too aggressively off of USC's Jio Fontan and was burned for a three, and on a couple of other occasions he failed to rotate. That will take time. So will the team recapturing its offensive rhythm.
Even before that transition becomes smooth, an exciting team already has become more entertaining thanks to the addition of one talented guard who opened and closed his debut with a splash.
"That's what we expect of him," Taylor said of Selby. "Big-time players make big-time plays, and that's what he did today."
Asked to grade Selby, Taylor said, "A-plus. That shot in itself was an A-plus performance. If that was the only shot he made in the game, I think I'd still give him an A-plus. He's going to be real good in a couple more games."