Videos
Self, KU players discuss Mario Little's arrest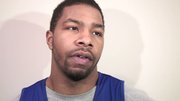 Kansas University senior basketball player Mario Little was arrested charges of battery, criminal damage and criminal trespassing on Thursday, Dec. 16, 2010. KU players Marcus Morris, Brady Morningstar and Tyshawn Taylor and head coach Bill Self discussed how it will affect the team.
Mario Little's indefinite suspension from Kansas University's basketball team will mean additional playing time for one or more players on the Jayhawks' deep roster.
"If we go small, we'll go real small with Travis (Releford)," KU coach Bill Self said of the 6-foot-6 sophomore possibly eating minutes assigned to 6-6 senior Little, who played both inside and out.
"The other thing is Jeff Withey (7-foot sophomore) has not had a chance to play really yet. He's been the odd man out. He's not the odd man out anymore. He's part of our big-man rotation.
"To this point in time, Mario has played better than Jeff, there's no question about that. As we get to moving forward, playing teams with bigger players like USC, (against) teams like that Jeff will become more and more valuable as we go forward. I think it's a great opportunity for Jeff."
Notes:
Self on Thursday was asked by a TV reporter if the Little suspension was a "delicate situation" because the woman cited as his girlfriend in a police report, explaining Little's battery charge, is also a basketball manager.
"She's not a basketball manager. She hasn't been for a few weeks, (which has) nothing to do with this," Self said. "She has a lot of stuff going on. This is a busy time of year, but we anticipate her coming back and working with the athletic department at some point in time. She has been a basketball manager, but to say she is now would be inaccurate. She has worked with us and done a good job. She is a nice young lady; certainly she needs to take care of some things on her own right now. We anticipated her at some point in time working her way back in the athletic department."
It is Journal-World policy to not identify victims of crimes.
KU's players commented on Little's suspension.
"It's a distraction. There's always a lot of distractions throughout the year," senior Brady Morningstar said. "You have to take them and learn from them and move on and come together as a team a little bit closer. You know you have to play well and focus on things on the court."
Noted Marcus Morris: "It's a learning experience and I think it's going to bring us closer together."
Added Tyshawn Taylor: "We're just going to stay positive and keep doing what we're doing. We've still got the same goal and the same mission. We're going to keep working hard and try to be better as a team."