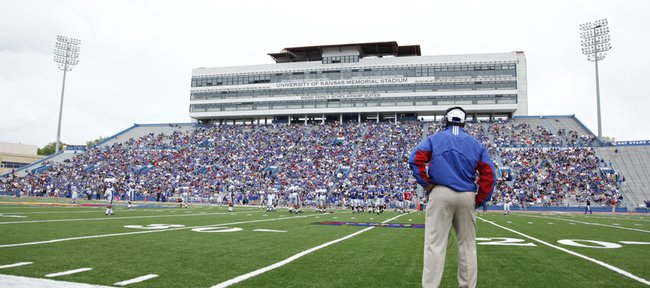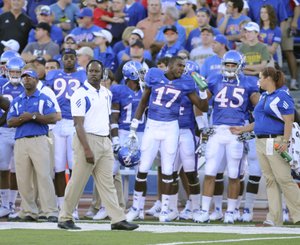 Tuesday marked the one-year anniversary of the date that Turner Gill was introduced as the next football coach at Kansas University.
Gill, a former star quarterback and assistant coach at Nebraska, came to Kansas after a four-year run at the University of Buffalo, where he turned the Bulls from a perennial bottom-feeder into conference champions.
At the time, Gill's hire was met with mixed emotions from several people close to KU. Many believed his charisma and sterling reputation would be just what the program needed to move forward from allegations of misconduct that led to the departure of former KU coach Mark Mangino. Others, citing Gill's 20-30 overall record as a head coach, wondered if the success he had in the MAC would translate to the Big 12.
So here we sit, 365 days later, without any clear answers, but plenty of ammunition to begin forming them.
During his first season in Lawrence, Gill's Jayhawks (3-9) were wildly inconsistent. The lows came first and were more prevalent throughout the season, as KU kicked off the Gill era with a 6-3 home loss to FCS opponent North Dakota State. The Jayhawks also opened conference play with three consecutive shellackings, falling to Baylor, Kansas State and Texas A&M; by a combined score of 159-24. Kansas closed the season with a 35-7 loss to archrival Missouri at Arrowhead Stadium.
Sprinkled in between all of the lowlights were a Week 2 victory against Georgia Tech, the defending ACC champions who were ranked 15th in the country at the time; and a comeback victory against Colorado in which the Jayhawks trailed, 45-17, with 11 minutes to play and went on to win, 52-45. The 35 points in the fourth quarter and the 28-point comeback both were school records.
Though many — including the coaching staff and players — were disappointed with the way the season played out, the prevailing thought was that it was unfair to judge him based on one year. After all, Mangino was just 2-10 during his first season (2002) and, five years later, was the consensus national coach of the year. Time will tell if Gill, who often speaks of a burning desire to build "a winning dynasty" at KU, will follow a similar path. But, while we're waiting, here's a look at what we've learned about Gill.
Reasons to hope
• When searching to put the best talent on the field, Gill is not afraid to move players around. Several players changed positions this season and, although not all of them were home runs, a few — Keeston Terry and Bradley McDougald to safety and Toben Opurum to defensive end — seemed to make the Jayhawks better and have the defense in better shape for the future.
• Gill has made no secret he wants his offense to be based around the running game. Personnel made that difficult this year, but the Jayhawks were more balanced than in recent years and the offense seemed to be at its best when the ground game was effective. True freshman James Sims (742 yards and nine TDs) is an emerging star and, with red-shirt Brandon Bourbon and incoming freshmen Darrian Miller and Dreamius Smith on the way, Gill already has recruited fast and talented backs to join Sims in carrying out his mission. That's not the only good news on the recruiting front, either, as several players who red-shirted in 2010 or will be true freshmen next season should improve upon KU's lack of depth and speed.
• Word coming out of the football complex is that the offseason conditioning program already is off to a much better start than it was during Gill's first offseason. Not only are the Jayhawks continuing to work on building strength, they're also running more, something they did less of last winter, when compared with the work they did under the old staff.
Reasons to fear
• Many were turned off by Gill's stoic nature on the sidelines and in front of cameras. Those who covered Gill as a player and coach have said that's just the way he is. However, when trying to energize a fan base that has lost faith and is quick to head to the exits, more emotion might help.

• Gill and his staff mismanaged the quarterback position throughout 2010 and still don't have a clear-cut, Big-12-caliber starter at the position. Missing out on juco prospect Zack Stoudt, who chose Ole Miss over KU, hurt. Now, the Jayhawks might enter 2011 having to pick between Jordan Webb and Quinn Mecham. Both started multiple games in 2010, but neither player performed well enough to win the job.
• Gill's team struggled mightily in the third quarter of games this season, especially in Big 12 play, where they were outscored, 97-17. Part of the problem can be attributed to poor conditioning and a lack of depth. But the team's halftime adjustments — or lack thereof — often seemed to be the bigger culprit. Major improvement in all areas is a must in 2011.
More like this story on KUsports.com