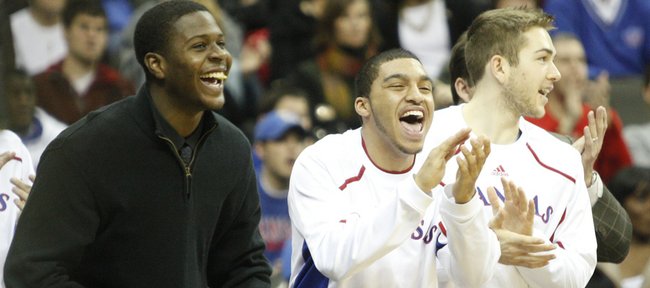 Off to a 9-0 start without Josh Selby, Kansas University's basketball players can only wonder how strong they'll be with the country's No. 1-ranked prospect in the lineup.
"We're good now. I think we'll be excellent when he gets here because he's a point guard and a 2 (off guard) who can shoot the ball real well," KU junior Marcus Morris said of the McDonald's All-American, who has completed his nine-game NCAA-mandated suspension and will be eligible to play in Saturday's game against USC (11 a.m., Allen Fieldhouse).
"A good piece of our team is about to join us. That's definitely a positive," Morris added.
Morris concedes the Jayhawks have fared well minus the 6-foot-2, 183-pounder out of Baltimore's Lake Clifton High.
"I don't think we need anything," Morris said of the No. 4-ranked Jayhawks, who whipped Colorado State, 76-55, on Saturday in Sprint Center in Kansas City, Mo.
"It's a luxury to have him. We can't wait to have him. I feel he's one of us day in and day out. Getting to know him on and off the court, I can't wait until he plays. He's like my brother, like the rest of the guys are."
Senior guard Tyrel Reed, who scored 11 points in 31 minutes Saturday, said he's ready for the team to take on its final part.
"I mean, it's going to be good. I'm excited for Josh. I think everybody is excited for Josh to get out there," Reed said. "He's one of our teammates. He's one of our own. He's been practicing with us. It's not going to be like he's just coming out of the blue playing for us."
If Reed's minutes must go down, so be it.
"That will be for coach Self to decide," Reed said of possible alterations to the rotation. Self has said Selby will have to earn his minutes, and the freshman is well aware of that.
"I don't think any of our guards are worried about it. We are all unselfish and excited to have another good player back there. He is going to help our team," Reed added.
After viewing the films: Self, who expressed disgust with KU's play during his postgame media session Saturday, reflected on the game Sunday on his weekly coach's TV show.
"The atmosphere was not a lively one (in Sprint Center stands), but we made it that way," Self said. "I was disappointed with our play, to be candid. To me, we are right there. Teams go through this all the time. It's nice to go through that and still win."
CSU had a defensive game plan that tested KU's big men.
"They crowded it in there so tight it was very, very tough to get easy baskets inside unless you are very patient," Self said. Markieff Morris had 12 points, Marcus Morris eight, Thomas Robinson seven and Jeff Withey two.
"When we were patient, we were able to pretty much get whatever we wanted."
Self added: "We didn't make shots yesterday really for the first time all year."
KU hit 25 of 54 shots for 46.3 percent. The Jayhawks made eight of 23 threes.
"I like the fact Tyrel was aggressive shooting the ball," Self said of Reed, who made three of 10 threes. "Elijah (Johnson, 2-for-2 from three) shot the ball very well the last couple games. Thomas (Robinson) was 1-for-7 from the free-throw line. We probably scored more points off his misses than we would have scored off makes because we got it back twice and scored," Self added, laughing.
Local player makes good: Self was impressed with CSU's Dorian Green, the former Lawrence High standout who scored 10 points in 30 minutes. He hit two of three threes.
"How 'bout Dorian?" Self said on his TV show. "How 'bout that range on his first shot (deep three to open scoring)? I really wanted us to play a lot better. I don't think we played well at all. But I was happy for Dorian. He was able to come home and play well. He was terrific, especially the first half."
More like this story on KUsports.com