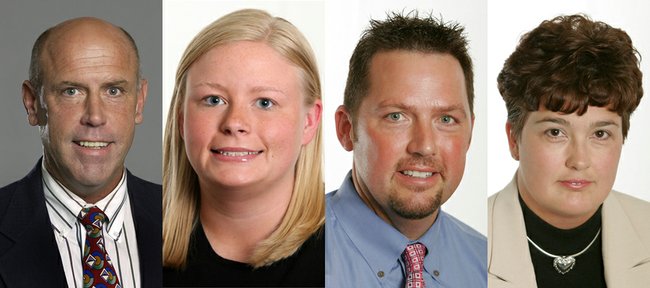 Wichita — While four of her former colleagues were entering not guilty pleas in U.S. District Court, Kansas Athletics' former director of ticket operations was taking steps to change her plea and — perhaps — begin cooperating with investigators.
Kassie Liebsch, the only individual among the five former KU officials indicted last month not to appear at an arraignment hearing before a magistrate judge in Wichita Wednesday afternoon, is now scheduled to be at a change of plea hearing before U.S. District Court Judge Wesley E. Brown at 10:30 a.m. Jan. 21.
There's no question about her intent, said Jim Cross, a spokesman for the U.S. Attorney's office in Kansas.
"Pleading guilty is pleading guilty," Cross said. "A change of plea hearing means a hearing for the purpose of pleading guilty."
Liebsch's attorney, David Bell, declined to comment on his client's plans.
Two other former athletic officials, Jason Jeffries and Brandon Simmons, went through a similar process earlier this year. Those defendants pleaded guilty to misprision — failing to inform authorities about illegal ticket operations — and agreed to cooperate with prosecutors. They now await sentencing.
Lanny Welch, who handled prosecutors' responsibilities during Wednesday's arraignments and serves as criminal division chief for the U.S. Attorney's office, declined to discuss any arrangements that may be in place with Liebsch.
"I can't comment in any further investigation," Welch said, in the courtroom of U.S. Magistrate Judge Kenneth Gale.
Minutes earlier, each of the other four defendants had pleaded not guilty to a charge of conspiracy to commit wire fraud for their roles in an alleged ticket scheme involving tickets to football and basketball games from 2005 to 2010. They are:
• Charlette Blubaugh, former director of ticket operations.
• Tom Blubaugh, Charlette Blubaugh's husband and a former paid consultant to Kansas Athletics Inc.
• Rodney Jones, a former assistant athletic director in charge of the Williams Educational Fund.
• Ben Kirtland, Jones' former boss and former associate athletic director for development.
Each of the four, and their attorneys, declined to discuss either Wednesday's proceedings or their plans going forward.
Prosecutors say that tickets were stolen, converted or taken by fraud, then distributed to the defendants for sale to third parties — marketed through individuals and ticket brokers. A separate investigation conducted for Kansas University concluded that more than 19,000 regular-season tickets were involved: more than 17,000 for men's basketball, and more than 2,000 for football.
Prosecutors allege that the conspirators realized "illegal proceeds" of more than $3 million from the scheme.
"We will proceed toward a plea or jury trial with them, as we did with Liebsch," Cross said.
Prosecutors also plan to seek forfeiture of up to $5 million from group — excluding Jeffries and Simmons, who are not charged in this latest case.
The Blubaughs, Jones and Kirtland all surrendered their passports Wednesday to authorities, and now remain free on bond. They also signed documents outlining that they would pay $25,000 if they failed to show up for court or otherwise comply with pretrial conditions.
No trial dates have been set.