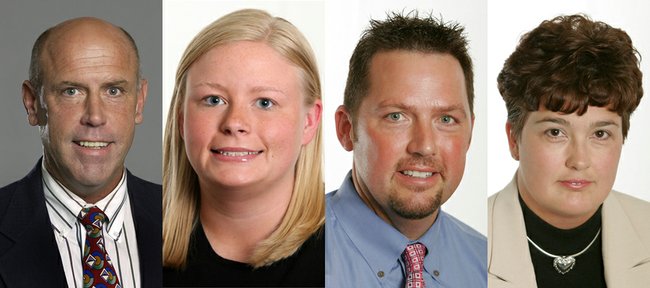 Five people who raised money from Kansas University ticket buyers, oversaw KU ticket operations or worked to help manage the school's ticket operations are headed to federal court to face charges they stole tickets from the university and together cost Kansas Athletics Inc. up to $5 million.
Five defendants are scheduled to make their initial appearances at 1:30 p.m. Wednesday in U.S. District Court in Wichita, each facing a charge of conspiracy to commit wire fraud for their role in an alleged ticket scheme involving tickets to football and basketball games from 2005 to 2010:
• Charlette Blubaugh, former director of ticket operations.
• Tom Blubaugh, Charlette Blubaugh's husband and a former paid consultant to Kansas Athletics Inc.
• Rodney Jones, a former assistant athletics director in charge of the Williams Educational Fund.
• Ben Kirtland, Jones' former boss and former associate athletics director for development.
• Kassie Liebsch, former director of ticket operations.
The five are scheduled to appear before U.S. Magistrate Judge Kenneth Gale. Each may choose to waive Gale's reading of the indictment, which had been filed Nov. 18.
The defendants will be required to plead not guilty to the charge, and Gale also will consider other procedural matters, such as setting bonds and scheduling hearings. A conviction would be punishable by up to 30 years in prison and a fine of up to $1 million.
The case already has been assigned to U.S. District Judge Wesley Brown.
Two of their former coworkers already have pleaded guilty to failing to inform authorities about the ticket scheme, and are awaiting sentencing. Those employees — Brandon Simmons and Jason Jeffries — entered their pleas at separate hearings immediately following their first appearances, and agreed to cooperate with prosecutors.
Simmons and Jeffries were not named in the latest indictment, one that was reached by a grand jury in Topeka.
The indictment outlines a "scheme" and "conspiracy" that started in 2005, when Charlette Blubaugh is alleged to have started taking tickets and distributing them to the others for sale to third parties — through individuals and ticket brokers — in violation of university policies.
The indictment alleges that the individuals entered false information into a computer system designed to prevent ticket theft; paid kickbacks to third parties not connected with the ticket office; had checks written to third parties; and had checks written by ticket brokers to third parties.
The indictment also alleges that they concealed the receipt of their outside income on reports required by NCAA rules.
Prosecutors have indicated that they plan to seek a judgment of $3 million to $5 million from the defendants.
An investigation financed by and conducted on behalf of KU determined that the scheme involved more than 17,000 tickets for men's basketball and more than 2,000 tickets for football, all for regular season games.