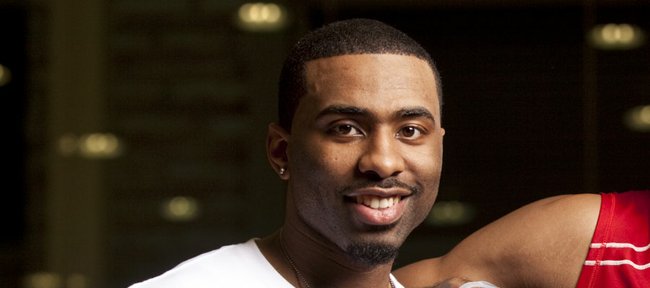 It feels good to be back in the saddle, both starting practice for the season and writing in a Kansas newspaper. It's funny because I'm sure a lot of the journalism professors from when I was in school are gritting their teeth now.
Don't worry, professor, I won't give any "props of the day," lol.
On second thought, I will give props because I'm not bound by the handcuffing criteria by which we sometimes have to learn. So props go to a very special person that is long overdue, not only props, but 'thankyous' and 'Godblessyous' from me.
See, this past year, turning 26 was an incredible year for me. I was able to make incredible strides as a man, in my career (ching ching!), and thoroughly have started to appreciate what matters most. At the end of the day it's always about the people in your life, the impressions you make, smiles and frowns you give, lives you touch.
This past year I have read about everything from the hardships of Darnell Jackson to the incredible status Sherron Collins has propelled himself to and recently the full-circle story written about my younger brother (Justin Wesley), who is now playing at KU, that made me ponder about my "story," so to speak.
In reflecting upon my time at KU recently I wanted to give a piece of my life these last five years. Before any of that, I absolutely have to atone for maybe the biggest mistake I made while at KU.
Kudos to Susanne Shaw
During my Senior Day speech in 2005, I thanked everyone who played an intricate part in my success, but the other day while in conversation it dawned on me that I left one person out, and I couldn't believe it. That person is Susanne Shaw, my advisor from the J-school.
From the time I met her as a junior until I left KU, that woman was there for me like no other! Not only in an academic sense but in a motherly, advising, supporting way. She was in my corner like you wouldn't believe, and I regret whole-heartedly that I didn't have the chance to personally thank her in front of 16,300.
So Susanne, I love you and thank you for every second of the time you spent on me. I truly miss the many conversations we had in your office from how I played to discussions about Seattle and your many travels. Thank You! Whew! I literally just took my heart out and put it on paper.
One confused kid
Five years ago I left KU as confused as the day I arrived. Life as I knew it was over. I was undrafted, bitter about injuries and the way my senior year ended, upset that I didn't take advice from agents in New Orleans my sophomore year after we beat Marquette (true story: I saw D-Wade a few years later and he acknowledged the whooping!) to enter the draft.
Disappointed in coach (Roy) Williams and pointing fingers at coach (Bill) Self, I set off into a world of professional basketball that I was not prepared for. Not from a standpoint of talent — even though I did need to improve — but I was coming off a period of real adversity that I didn't know how to deal with.
Before setting off into basketball purgatory as I now refer to it, I was trying to heal from my senior year. See, what a lot of you may not know — as a matter of fact none of you know because it was kept secret — was that my senior year I battled issues with low kidney function.
Before everyone assumes I'm sick, I want to be clear that it was the result of an allergic reaction. Point being that it was difficult for me to bite my tongue and let people assume I had the flu or a stomach virus when I watched the Big 12 tourney and spent a week leading up to the NCAA tourney in a hospital bed.
How'd Keith get so sick?
I had sprained my ankle in the first game against Mizzou in their new arena, and I wanted to play so badly I took a couple different injections that none of us had any idea I was allergic to, and it started from there. I can remember the days after not being able to use the bathroom and getting bloated like crazy.
I called our trainer in the middle of the night, and he'd agreed to meet me at the training room, but I couldn't walk over, and luckily former football player Greg Heaggans was in the parking lot of the Towers and was able to help me get to the training room.
After getting to the hospital, the doc says, "Well, Keith, your kidney function is declining, but we don't know why," and all I'm thinking is, "Then why the hell are you talking to me? Go figure it out." So here I am in a hospital bed knowing the guys are practicing and getting ready for the postseason, but no one ever visited.
I watched the first game or so of the Big 12 tourney and then was finally able to join the guys on the bench in a suit, which honestly is one of my favorite pics to this day (thanks LJW). After the Big 12 tourney, we were getting ready for Selection Sunday, and all the interviewers were asking me questions about a flu bug and stomach virus.
It was difficult not to tell, but I knew the team was trying to respect my privacy and not make things seem as bad. The only thing was, it backfired!
Message-board madness
During that time, the players spent plenty of time reading message boards. I hope they don't now, because it can be a guy's confidence-killer if they don't have thick skin.
I read so much about me being this and that, messing up the team, "Langford suck it up." The whole time I'm thinking, "(Bleeps), I was dealing with real issues." Not to mention the year before in January after we played Oklahoma I found out after some exams that I needed microfracture surgery.
Upon finding out, I was given the option to red-shirt and rehab or play out the year while taking painkiller injections before every game. It's obvious I chose the latter, but point being I was being ripped, no one knew what I had given up or been through for the team, and here I was reduced to a guy whom people wanted out and had missed one of the most important stretches of his career because of a stomach virus. It was awful.
One resentful kid
I resented everyone and everything. Myself for not leaving (after two seasons), teammates and friends for convincing me not to transfer or leave, and anyone who knew the real story of what was going on with me but didn't stand up for me in the midst of criticism I came under during that time.
Then to not start my last game as a Jayhawk (a loss to Bucknell in NCAAs) was tough to swallow, but coach did the right thing because I was in no condition to play. I can remember us looking at each other when he called my name to come in the game, and we both kind of had that look like, "You better go because this might be it."
It's weird looking back on it now because I held so much in and just didn't communicate what I was really feeling. That must be the difference in a 21-year-old kid and a man who will turn 27 in a month. Knowing what I do now, I can only smile and tell my story enthusiastically because I understand God had a plan for me the whole time.
Unveiling the plan
See, I let basketball become everything I was about. The glory, newspaper clippings, women, potential earnings and the lack of attention to class. There was no way I could be the man I'm turning into now by being spoon-fed every step. A friend of mine a long time ago told me that sometimes we have to learn the hard way. The ones who get the fairy tale, hey, good for them, but honestly, there is nothing like being able to exhale, fall to your knees and be thankful for what you have been through to get where you are.
After a poor start and strong finish in the NBA's D-League, I was able to sign my first six-figure deal in Europe and, upon that experience, my eyes opened to so much more.
I started to understand what making a living meant and how to adapt in difficult situations. Hey, if you can go through coach Self's Boot Camp, then putting the wrong gas in your car and being stuck on the highway in Milan, Italy, is a piece of cake.
Those times of adversity and change at KU helped me tremendously. I play for the head coach of the Spanish National team, Sergio Scariolo, who has quite the reputation as a dictator in the Euro basketball world.
There is no way I could handle the criticism and mental pushing if it weren't for coach Self. Playing in the Euroleague, which is the second-best league after the NBA, has no pressure in comparison to playing in the fieldhouse (more props to fans) and playing in two Final Fours with countless Big 12 battles.
I figured out that while you can't use adversity while you're going through it, the key to the 180 comes from being able to apply it in life's future ups and downs because as we all know they arrive always.
Still a work in progress
I'm no finished product by any means. I'm still learning (from) experiences with people in Russia, business endeavors, my fiancee and developing into a leader for my family. As for the NBA, I have no problem saying I'm a fan just like the next man.
No longer am I the bitter athlete who blames the world without looking in the mirror. I can honestly say I have career averages of 1 point and 1 rebound in the NBA. Lol!
That's crazy to me coming from where I did. What's even crazier is that if I ever have the opportunity to go back, I would have to take a pay cut if I earned the minimum as weird as it sounds. I have my (San Antonio Spurs) jersey hanging in my house and it will be there to show my kids one day and for anyone whom ever inquires.
Will another jersey hang ... in Allen?
I often get asked in interviews or by people if I feel my jersey should be retired. I actually think that's a dumb question. Um, hell yeah I do, lol! Criteria changes every year, and I'm waiting on the day when they change it to guys that make the all-tourney team (in NCAA Final Four).
I'm ecstatic to think about the other names on the all-tourney team from New Orleans! Dwyane Wade, Carmelo Anthony, Nick (Collison), Kirk (Hinrich), then throw my Langford in the mix! That's off the chain!
Sorry about the outburst, but any fan of ball has to get excited about achieving something like that. It's more than just being on an all-Final Four team. Simple fact is, numbers don't lie.
Points means productivity, and there have only been six more people in the history of KU men's basketball who have been more productive from that standpoint.
Not to mention being ranked highly for mpg and three-point field goals made. Lol, yea, I said it! I can hear the haters saying, "Well, Langford played all four years. Blah blah blah." Hey, it's not my fault other guys left early. Maybe I would have, too, had I known (what I know) now, but things work the way they do for a reason.
Some of the guys who left early accomplished things I didn't and vice versa. I'll never be a first-round pick, and they'll never be in the top 10 scoring at KU. Life's not fair, I guess. None of that would have been possible without every teammate I ever had. That's from Aaron Miles and every member of my class to (Christian) Moody, (Stephen) Vinson, (Brett) Olson and (Nick) Bahe. (Hey, guys, remember the night we killed everybody at pickup? Classic!) Just like anyone else who works or does well in school ... at the end of the day people just want to be appreciated for what they have worked hard to accomplish.
Chad Ford was right and wrong
Lastly, I remember after the pre-draft camp reading where ESPN "insider" Chad Ford wrote something about me not being able to play in the NBA and advising me to get my passport. Well, Chad was right and wrong. I did make my way to a couple of checks from the Spurs, but his advice to get my passport was the best thing I could have ever done after going through what I did.
I just accepted everything that I am as a player. I am a shade over 6-3 without shoes, and depending on what kind I wear I might be 6-4 or so. I do go left a lot, and though I do shoot more jumpshots now, I will keep penetrating by anyone if I so choose.
So, in taking Chad's advice I was able to become a millionaire, buy my fiancee a nice engagement ring, expose my family to things we never could before and become one of the most important players in European basketball among other things. THANKS CHAD! Life has a funny way of turning around for you when you feel you hit rock bottom. I just encourage anyone reading this to pray, love and live. Everything else falls in between.
— To reach Keith Langford, email Gary Bedore at gbedore@ljworld.com and he will pass the notes on to Langford in Russia.
More like this story on KUsports.com