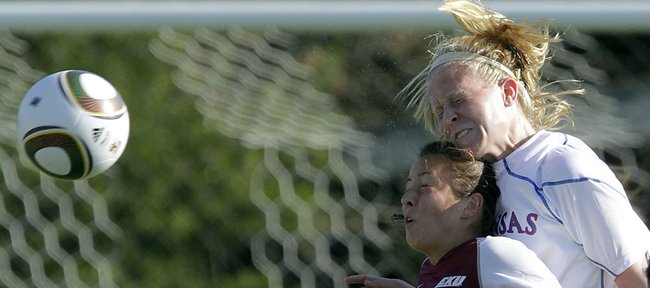 Kansas University's soccer team, which went scoreless in its only exhibition game, exploded offensively in a 3-0 season-opening victory over Eastern Kentucky on Friday at Jayhawk Soccer Complex.
Caitlin Noble, Caroline Kastor and Whitney Berry scored goals on a day the Jayhawks outshot the Colonels, 20-6. Eight of KU's shots were on goal.
"We created a lot of offense today," said KU coach Mark Francis, whose squad had been blanked by Creighton, 3-0, in the preseason. "If you have 20 shots, you would hope to score more than three goals. Eight on goal is quite a lot, too. You probably would hope to score more than three goals.
"You aren't always going to get that many opportunities. Today I thought we did a good job of creating a lot of chances, but we need to be a little more clinical."
Noble, a 5-foot-9 senior out of Olathe East, flicked in an Erin Lewis corner kick in the 14th minute to give the Jayhawks their first goal of the 2010 season.
"Yesterday we got our set pieces and we were practicing them. Each time I would connect with the ball it would go way wide. I said, 'Don't worry guys. I'm just saving it for the game tomorrow,''' Noble said.
"Then I get up there and everybody was like, 'Come on, Noble!' It was just one of those things. The ball was perfect, and I knew what to do. It was just perfect."
KU once again took advantage of a corner kick right before the end of the first half. Erin Ellefson found Kastor at the top of the box to put KU up, 2-0. Just 11 minutes into the final half, Berry blasted in a shot from 22 yards out.
Kastor, a freshman out of Mt. Carmel Catholic in Wichita, finished with three points, the best freshman debut since Emily Cressy's in 2008, when Cressy also had a goal and an assist.
More like this story on KUsports.com