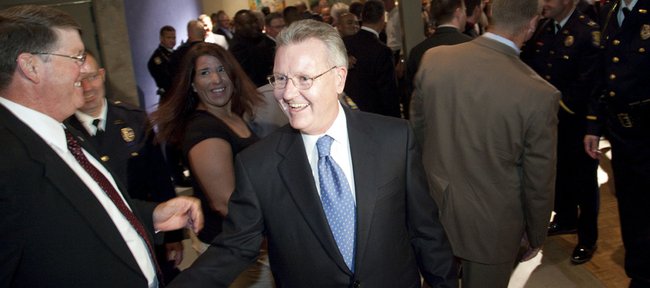 Lawrence's retiring police chief will begin work next month at Kansas Athletics as the director of security/internal controls.
Ron Olin will retire as Lawrence's police chief on Aug. 31 and will begin work at KU on Sept. 1.
In the newly created position, Olin will evaluate a wide range of Kansas Athletics' internal controls, policies and procedures; identify weaknesses that may put Kansas Athletics at a security, regulatory or reputational risk; and suggest improvements where appropriate.
"Ron will advise Kansas Athletics in security-related risk management and security for event-management activities," athletics director Lew Perkins said in a release. "He will also advise us in our efforts to ensure the highest level of safety for student-athletes, staff and personnel."
Jim Marchiony, a KU associate athletics director, said that Kansas Athletics felt the need to create the new position and that Olin was a perfect fit.
Though Kansas Athletics has had a bumpy ride over the past few months with a ticket scandal grabbing headlines, Marchiony said Olin's hire didn't have anything to do with that situation.
"Lew had talked to Ron off and on for probably close to a couple of years," Marchiony said. "Lew told him, 'If you ever do decide to retire, let's talk.'"
Olin served as Lawrence's police chief from December 1987 until his retirement this summer. He will make $115,000 a year in his new position, just slightly more than his city salary of $112,863.
He said he was interested in the job because of discussions with Kansas Athletics officials in the past, and because it allowed him to stay in the city he loves.
"I've been recruited for many police chief positions, but they all entailed leaving Lawrence," Olin said. "I love Lawrence, I love KU, and this is a new chapter in my career that keeps me here."
He has taught several courses at KU, and has earned a doctorate in developmental psychology. He said he looked forward to bringing his skills as a police leader to the athletics department, and hoped to be able to work on a wide variety of issues from student-athlete security to helping Kansas Athletics become aware of issues relating to crime in Lawrence.
Olin said he had been honored to serve in the police department and the city, and called the police chief job "a blessing from heaven."
"To be able to grow up in a city and then to become the police chief in the same city is almost unheard of," he said. "The fact that I have an opportunity to stay in Lawrence with a new opportunity after a 39-year career. ... I had to make some serious decisions and I think I made the right decision."