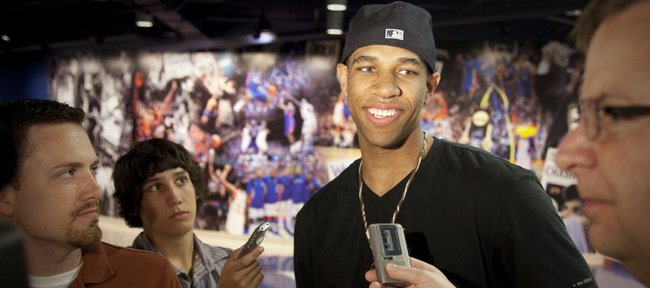 One of these days, when he finally signs his NBA rookie contract, former Kansas University guard Xavier Henry will be a millionaire at the ripe young age of 19.
In the interim — as Henry's agent, Arn Tellem, and Memphis Grizzlies owner Michael Heisley haggle over about $300,000 — the former Kansas University guard is "working out" and "chilling out" on KU's campus.
"It's not really stressful. I just get anxious. I'm just waiting for something to happen," Henry said Wednesday in Allen Fieldhouse. "It's been awhile (since June 24 NBA Draft) so I'm just hoping every day something new pops up so we know where I'm at. All I can do is keep working out and getting better.
"I'm going to let my agent handle it. He's one of the best. I know he knows what he's doing way more than what I do (so), I'm letting him handle it."
Henry ultimately will be awarded between $1.7 and $2 million during the 2010-11 season, followed by approximate sums of $1,809,700 (give or take $300,000) his second season and $1,936,000 his third campaign.
Henry admits he's a bit envious of former KU teammate Cole Aldrich, who already has signed his rookie deal with the Oklahoma City Thunder. Aldrich apparently was not asked to sign a contract with incentives, such as earning a berth in the All-Star weekend's rookie challenge or a spot on one of the two all-rookie teams.
"It'd be easier. I could already be in Memphis working out, getting good with my coaches and learning all my plays and stuff," Henry said. "But I'm not sure what I'm supposed to be doing right now, so I'm just working out and getting myself the best chance to be in shape and be ready to compete."
He hopes Grizzlies fans don't hold this contract impasse against him.
"I would hope they don't think it's me trying to hold out to play like I'm a stingy person or anything," said Henry, a 6-6 guard from Oklahoma City. "The basic principle is if everybody gets what they are supposed to get, then there's no problem. They are trying to change it a little this year (adding incentives). I respect that, so I'm just going to do what I have to do — me and my agent."
He arrived in Lawrence on Monday night and will be here until Sunday when he drives back to Oklahoma City. After that, he'll pack and fly to California to work with a personal trainer until the start of preseason camp in October.
On Tuesday, after dining with KU sophomore Elijah Johnson, Henry decided to follow Johnson to class.
"It was some science class, a big lecture class," Henry said. "I wouldn't go to a small class where they'd be like, 'You are not in my class.' I just went back there and chilled out.
"I think it's great I can come back, even if it's for a week. I love it here at KU and love my teammates."
He's been working with KU academic advisers on advancing toward a degree.
"I'm still trying to work on my online classes while I'm doing everything," said Henry. "I'm going to try hard for one. It's going to take me awhile because I'm going to be busy with basketball, but I'm going to be persistent."
Of course he's hoping for a long NBA career.
"This is a dream come true," he said. "Everything you did since you were a kid, it leads up to where you want to play in the NBA. When you finally make it, then you feel like, 'OK, I need to keep this going as long as I can.' That's what I'm working for."
His brother, 24-year-old C.J. Henry, announced last week he was leaving KU's team.
"I have no clue yet," Xavier said of C.J.'s plans. "He decided to leave here, and I don't know where he's thinking about going or where he's going to go.
"He can do a lot of things. He can still do baseball (he played in the minor leagues three seasons). He can keep playing basketball. I'm trying to see where his head is at, too. He doesn't have that long to make a decision."
Of KU's current team, Xavier said: "I think they'll be real good. They reloaded kind of this year. They've got Josh Selby coming in. I've seen a couple of the other freshmen. They can play, too. With Marcus (Morris) getting better and Tyshawn (Taylor) getting better and everybody evolving, I think they'll do real well this year."