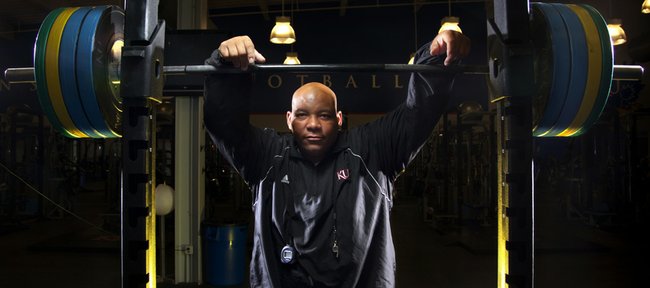 After talking about themselves, their positions, their new coaches and just about every other aspect of Kansas University's football program, several Jayhawks were asked about John Williams.
"Who?" asked one.
"John Williams?" questioned another.
"Who's that?" queried another.
You know, John Williams. Your new strength coach?
"Oh, Big John," all three replied, smiling. "Big John. Yeah."
Rest assured, the Jayhawks aren't unaware of their new weight-room guru. They're just not accustomed to referring to him by his proper name.
It's fair to say Big John has made quite an impression on the Jayhawks in his short time on Mt. Oread.
For proof, there's head coach Turner Gill's opening remarks at KU's media day.
Unprompted, Gill opened his remarks with big praise for Big John.
"I first want to comment on our strength staff," Gill said. "They have done a tremendous job in our offseason program this summer. In the last four of five days of practice, I can see our strength staff did a great job of getting the players into shape."
Williams, who has served at North Carolina, Oklahoma State, Baylor and, most recently, South Carolina State, shrugged off the compliments.
"Hey, things are good," Williams said. "The guys are working hard. We've got a great facility and a clear direction from coach how he wants the guys trained. We just prepare them for that."
Williams would be the first to admit that there aren't a lot of secrets in the weight-training game. Everybody strives toward bigger-stronger-faster.
"You don't reinvent the wheel," Williams said. "There is no sprinkle dust. I think the biggest thing is, we try to educate the kids. There are no secrets. You're doing this exercise for this result, and it translates on the field to this skill. You never do stuff just to do stuff. We tell 'em all the time, if our objective was just to get 'em tired, I'd put 'em in a 50-pound vest and tell 'em to chase my truck."
So, no weighted truck-pulling, huh?
"Now, that doesn't mean I wouldn't do that," Williams said with a laugh. "I've done all sorts of things throughout my career. We're willing to do some things as long as it doesn't harm them."
Williams especially likes activities that incorporate competition: vehicle pulling, tug of war, even kickball.
"Anything we can do that doesn't put a kid in danger that might stimulate a little extra interest," he said.
His new charges seem to have difficulty putting a finger on just how the program is different than it was under previous strength coach Chris Dawson a year ago.
"They focus a lot more on flexibility and strength in the weight room," linebacker Drew Dudley said. "All of us have been able to put on a little weight. It's not completely different. I think with coach Dawson we ran a lot more."
"I haven't noticed too much," countered defensive end Jake Laptad. "It's a different routine, but you're still going in there and working hard. It's definitely less running."
"It's a big change," added defensive tackle Darius Parish. "We're more on performance. We're working to win games, not just trying to get in shape. We're getting ready to play games, getting ready to win games."
Part of that preparation involves more than squats and presses and plyometics. In fact, Williams' system — which he refers to as the SOUP system, for System Of Ultimate Performance — stresses intangibles every bit as much as it concerns itself with how much iron the Jayhawks can move.
"It's team accountability," Williams said. "It's our character system that brings an air of consistency. No one person is bigger than the team. … And a big part of it is, all we can do is provide the plan. The players provide the effort, and they've done that. The intangibles, the work, the volunteer workouts, being punctual … if the players are inconsistent in their approach, you don't get the result. And it's a credit to them that they've bought in and put in the effort."
Williams said he studied under the training system employed by the Indianapolis Colts, and he wants to apply that approach to KU.
"They always seem to have smaller guys, but they're fast and strong and all that," Williams said. "What we do, we make sure to optimize those guys building to be on the field. We need to keep those guys on the field. We don't get caught up in what they're benching and how much they're squatting one rep. We use those numbers along the way, but that's not our focus. Our focus is to match their performance and their physical preparation and their mental development to their skill set.
"The biggest thing coach Gill does is action. Everything we do results in actions. We play fast, we train fast. We train intense. Everything we do in the weight room, we try to have a connection to the game. We don't just talk about doing things. We do things."