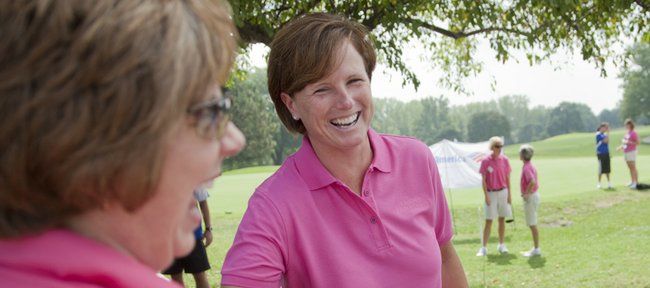 If there's one color, other than crimson or blue, that best suits Kansas University women's basketball coach Bonnie Henrickson, it's pink.
Saturday, pink dominated the scene at Alvamar Golf Course, where Henrickson and crew put on her sixth-annual golf tournament for charity.
Decked out in bright pink polo shirts, Henrickson and several current and former members of the KU women's basketball program treated more than nearly 300 golfers to a day of fun and philanthropy on the public and private courses at Alvamar.
All of the proceeds from the day's event went to breast cancer research via the KU Breast Center and Lawrence Memorial Hospital.
Henrickson, like so many who played in the event, has experienced the loss of someone close to her due to the dreadful disease.
"I lost my aunt about eight years ago," Henrickson said. "And then our coaches association, with the loss of coach (Kay) Yow from N.C. State (who lost her fight with cancer in 2009), lost just one of the best people and best professionals in the business. Because it has touched so many lives, we're just excited, in a minuscule way like this, to be part of a cure, eventually."
In the past, Henrickson spent her day at the tourney sitting on a par-3 hole, hitting tee shots for each team as the groups came through. However, with this year's entry list so large and spread out, the seventh-year KU coach hopped into an oversized Jayhawk golf cart to make sure she could mingle with everyone who participated.
Because of the size of the cart and the fact that its Jayhawk decor made it rather noticeable, Henrickson was easily visible wherever she went.
"I don't really get to sneak up on anybody," Henrickson joked.
Dozens of Alvamar employees turned out to help run the event, including president Dick Stuntz, as well as course pros Randy Towner and David Dunn. For them, the event was special for several reasons.
"We're really supportive of the cause, and our association with the University of Kansas is one we're really proud of," Stuntz said. "When you have someone like Bonnie lend her name to the event, it just accents that association and makes it a great event."
Added Dunn: "You can always tell when it's a KU-sponsored event because you can see that 30-foot Jayhawk out here. And let me tell you, people love that thing."
The giant Jayhawk, which sat in front of the clubhouse on the public side, only added to the carnival atmosphere, which included plenty of smiles, photo opps and fanfare.
Dozens from KU participated in the event, including athletic director Lew Perkins, several athletic-department officials and many assistant coaches.
Two Jayhawks, former men's basketball standout Bud Stallworth and current journalism professor Malcolm Gibson, battled for the unofficial title of best dressed. Gibson donned navy blue knickers, Argyle socks, a white KU golf shirt and a huge smile.
Not to be outdone, Stallworth rocked creamsicle orange plaid pants, a blue polo shirt and a dark blue beret.
Though Henrickson did not play in this year's tourney, she had some fond memories of her past attempts. She said chipping and putting were the best parts of her golf game and recalled a tee shot, from a few years back on a par-3, that landed very close to the hole.
"Back when I played the par-3 with everybody, when the camera was there, I hit it to within six or eight inches from the cup," Henrickson said. "After that, I was terrible. But at least I was good under the gun. But this is just about the chance to see the fans, and it's a great time because it's kind of in that lull when everybody's waiting for football to start. It's casual, it's fun, and it's for a great cause."
More like this story on KUsports.com